When Will Republicans Learn? Heritage Isn't Helping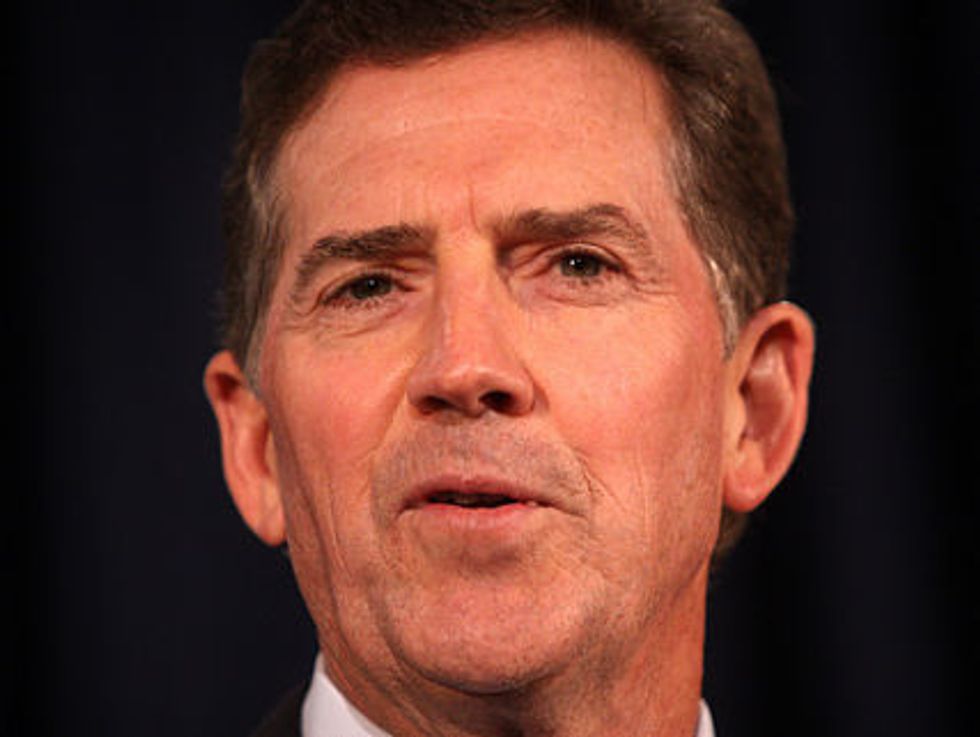 After congressional Republicans' total surrender finally ended the government shutdown that they caused, and removed the country from the brink of a calamitous debt default, Senator Orrin Hatch (R-UT) joined MSNBC's The Daily Rundown on Thursday morning to break down the costly political defeat.
In Hatch's estimation, the Heritage Foundation and its political arm, Heritage Action for America, deserve a good portion of the blame.
"Heritage used to be the conservative organization helping Republicans and helping conservatives and helping us to be able to have the best intellectual conservative ideas," the seven-term senator explained. "There's a real question on the minds of many Republicans now…is Heritage going to go so political that it doesn't amount to anything anymore?"
"Right now I think it's in danger of losing its clout and its power around Washington, D.C.," Hatch added.
If Republicans are smart, they should be doing everything possible to make sure that Hatch is proven correct. Arguably no single force has been more destructive to the Republican Party since the 2012 election than Heritage.
After President Barack Obama routed Mitt Romney among Latino voters by an overwhelming 71 to 27 percent margin last November, many Republicans — including the Republican National Committee — accurately diagnosed the GOP's performance among the rapidly growing demographic as a huge impediment to winning national elections in the future. Most focused on comprehensive immigration reform as the best solution to the problem. And while fixing the broken immigration system would not be the cure-all that many Republicans hope, there's no question that a sincere effort to solve the crisis would go a long way toward erasing Latino voters' memories of "self-deportation."
Ignoring that logic, Heritage stepped in to stop congressional Republicans from helping the nation — and themselves.
As debate over a comprehensive immigration reform bill heated up in Congress, the Heritage Foundation released a report claiming that the bill would cost a minimum of $6.3 trillion over the lifetimes of the 11 million immigrants who could gain legal status as a result. The report utilized a deeply flawed methodology — even many Republicans scoffed at its shoddy accounting — and quickly turned into a public relations nightmare once it was revealed that one of the authors admitted that he hadn't even read the bill in question, and the other had posted inflammatory articles about Latinos' inferior intelligence to a "white nationalist" website. In other words, Heritage managed to neatly personify the ignorant bigotry from which the Republican Party was desperately trying to distance itself.
Heritage Action would go on to strongly warn Republicans against passing any serious immigration reforms. And although they were unable to prevent the comprehensive bill's passage in the Senate — with the support of 14 Republicans — it kept up the pressure on the House of Representatives, which is full of more conservative members with more reason to fear challenges from the right (due to their two-year terms and extremely conservative districts).
Heritage's efforts have been successful so far; almost four months after the Senate passed the immigration bill, it appears to be dead in the water in the House. Meanwhile, 75 percent of Latinos now disapprove of congressional Republicans. Additionally, by encouraging the right to rise up against immigration reform, Heritage may have dealt a fatal blow to Senator Marco Rubio's (R-FL) chances of navigating the 2016 Republican presidential primaries, potentially removing a top-tier presidential candidate from the board.
Heritage also damaged the GOP by politicizing the farm bill. Usually the legislation, which contains both subsidies for farmers and food aid for working Americans, is one of few initiatives to gain bipartisan support in both chambers of Congress. This year, however, Heritage Action demanded that the bill be split into two sections: a "farm-only bill" containing the agricultural subsidies, and a separate bill dealing with food aid — and mandating sharp cuts to the Supplemental Nutrition Assistance Program (more commonly known as food stamps).
Rep. Marlin Stutzman (R-IN) put forth an amendment to split the farm bill, as Heritage Action proposed, but it failed to pass. Heritage Action then "keyed" a no vote on the bill, leading 62 House Republicans to oppose it — enough to prevent its passage, due to the opposition of Democrats who were appalled by its harsh cuts to food aid.
The bill's failure was a tremendous black eye for House Speaker John Boehner (R-OH), and clearly established that he was at the mercy of the right wing of his caucus — a condition that helped lead him into the disastrous shutdown and debt ceiling standoff.
Two weeks later, the House would pass a split bill without any funding for food stamp and nutrition programs — reinforcing the party's damaging image as a group that does not care about the struggles of everyday Americans. And for their trouble, Heritage Action slammed those Republicans who voted for the bill that it had supported just weeks earlier, now claiming that the legislation "would make permanent farm policies—like the sugar program—that harm consumers and taxpayers alike."
Heritage Action's reversal infuriated many Republicans, and even led the influential House Republican Study Committee to ban the group from its meetings. But it ultimately did very little to reduce Heritage's reach within the party, as the government shutdown would show.
As Time's Zeke Miller has reported, nobody did more to cause the shutdown than Heritage Action. Although Republican leadership had hoped to avoid another politically disastrous budget battle, they did not anticipate the right's commitment to battling over the law — a fervor that was whipped up by Heritage. Heritage Action CEO Mike Needham took a nine-city bus tour with Senator Ted Cruz (R-TX), demanding that conservatives stand up against Obamacare, whatever the costs. The group spent $550,000 on a digital advertising campaign criticizing Republican congressmembers for perceived weakness on the issue. It keyed votes against any government funding bill that wouldn't dismantle health care reform. It aggressively used social media to promote Senator Cruz's 21-hour non-filibuster against the Affordable Care Act. And it assured Republicans that provoking a crisis over the law would not cripple them politically.
As we now know, that was not the case. The shutdown totally failed to stop the Affordable Care Act's implementation, but it did send the GOP's poll numbers into a freefall, and seriously jeopardize the party's once-bulletproof House majority. And once again, for their troubles, right-wing Republicans who followed Heritage into battle got stabbed in the back almost immediately.
"Everybody understands that we'll not be able to repeal [Obamacare] until 2017," Needham said during a Fox News appearance on Wednesday. Apparently "everybody" didn't include dozens of House Republicans, or Heritage Foundation president Jim DeMint. Just as with the farm bill, Heritage led Republicans further and further to the right — then turned on them as soon as it became convenient.
There's no reason to believe that Heritage will change its pattern any time soon — as long as there is money to be raised from the far right, Heritage has no incentive to stop pressuring Republican politicians to take more extreme positions. Quite simply, that is their business model. It also seems very unlikely that Speaker Boehner will change his pattern of allowing the far right to pressure him into supporting Tea Party-backed plans in exchange for letting him keep the Speaker's gavel.
Perhaps the business community — which is well represented on the Heritage Foundation's board of trustees — will attempt to moderate the group's political activities, in an effort to counteract their disastrous economic effects. Or perhaps Republican voters will finally run out of patience for Heritage's preferred brand of governing by self-created crisis.
If not, the Republican Party is in trouble, because the evidence is clear: Heritage simply does not have its best interests at heart.
Photo: Gage Skidmore via Flickr