While America Mourns, Gun Manufacturers Profit From Spiked Sales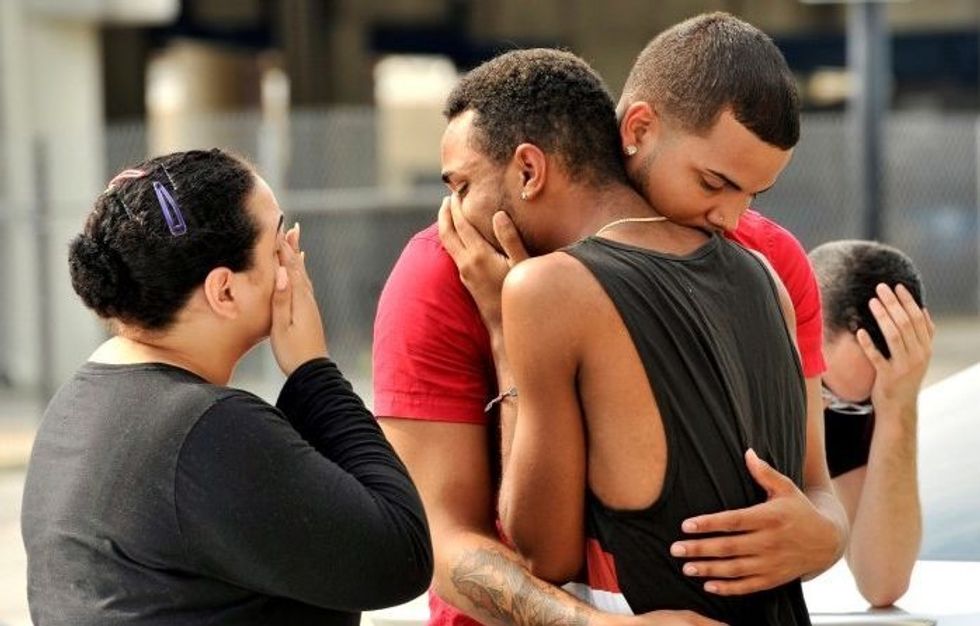 As the nation mourns the 49 victims of the Orlando Pulse nightclub shooting, some are experiencing the benefits of a mass shooting: gun manufacturers.
On Monday, the stocks of the two leading gun manufacturers, Smith & Wesson and Sturm, Ruger & Co. went up by 8.8 percent and 4.5 percent respectively.
Gun sales usually spike following mass shootings. According to an analysis of federal background checks by The New York Times, "fear of gun-buying restrictions has been the main driver of spikes in gun sales."
Gun lovers, apparently fearing an attempt by the Obama administration to "take their guns," buy weapons at increased rates immediately after mass shootings.
Last January, guns sales jumped up after President Obama announced an executive action to expand background checks and bolster licensing requirements for dealers as a response to the attack in San Bernardino, which killed 14 people. The FBI ran more background checks than in any other January on record.
The number of background checks is currently the best way to estimate gun sales, but that figure only counts transactions, not the number of guns bought in each sale, and it excludes private gun sales in 32 states which do not require a background check for private sales.
After the Paris terrorist attacks, shares of Smith & Wesson and Sturm, Ruger & Co. also went up because of high sales. In fact, just two weeks after the attack, on Black Friday, more Americans background checks run on them in order to buy guns than on any other day on record, according to data released by the FBI. That December, more guns were sold than in any other single month on record.
The previous record month is December 2012, the month of the Sandy Hook Elementary shooting that killed 26 people, of which 20 were children.
The Sandy Hook sparked a gun control debate, and as the NRA fired up their efforts, encouraging Americans to defend their 2nd Amendment right and stop scary Democrats from passing gun control laws, huge amounts of money poured into the National Rifle Association, which received $96.4 million in contributions and grants in 2013, 11.5 percent more than the previous year.
Money manager Louis Navallier noticed there was a big opportunity for profit when he realized stocks went up after the Bataclan Concert Hall attack in Paris. He started buying stocks and accumulating positions in both Smith & Wesson and Sturm, Ruger & Co. That investment would greatly pay off. After both the San Bernardino shooting and President Obama's executive action announcement, stocks once again rose.
"Mr. Obama is the best gun salesman on the planet," Navellier, who is the chairman of the investment firm Navallier & Associates, told CNBC in January, before adding that none of his investors had concerns about the moral implications of profiting from gun sales. "They just want us to make money." He said.
The NRA has remained silent on the Orlando tragedy, something it tends to do after mass shootings. When they do comment on tragedies like this, it is often hours or even days after the fact. Sometimes, as in the Colorado Springs Planned Parenthood shooting, they just ignore the tragedy altogether. That Friday, they wished "shooters" a "happy Friday."
When they do comment on shooting tragedies, the NRA's response is usually to call for more gun sales, sticking to their core argument that "only a good guy with a gun can stop a bad guy with a gun." That was their response to the Sandy Hook Elementary School tragedy that killed 26 people, of which 20 were children. After waiting a couple days to comment, the NRA suggested that teachers ought to carry guns.
"Why is the idea of a gun good when it's used to protect the president of our country or our police, but bad when it's used to protect our children in our schools?" NRA president Wayne LaPierre asked.
There was an armed guard at the door of the "Pulse" nightclub.
Friends and family members embrace outside the Orlando Police Headquarters during the investigation of a shooting at the Pulse night club, where as many as 20 people have been injured after a gunman opened fire, in Orlando, Florida, U.S June 12, 2016.  REUTERS/Steve Nesius