White House Ends DHS Program Aimed At Far-Right Terrorism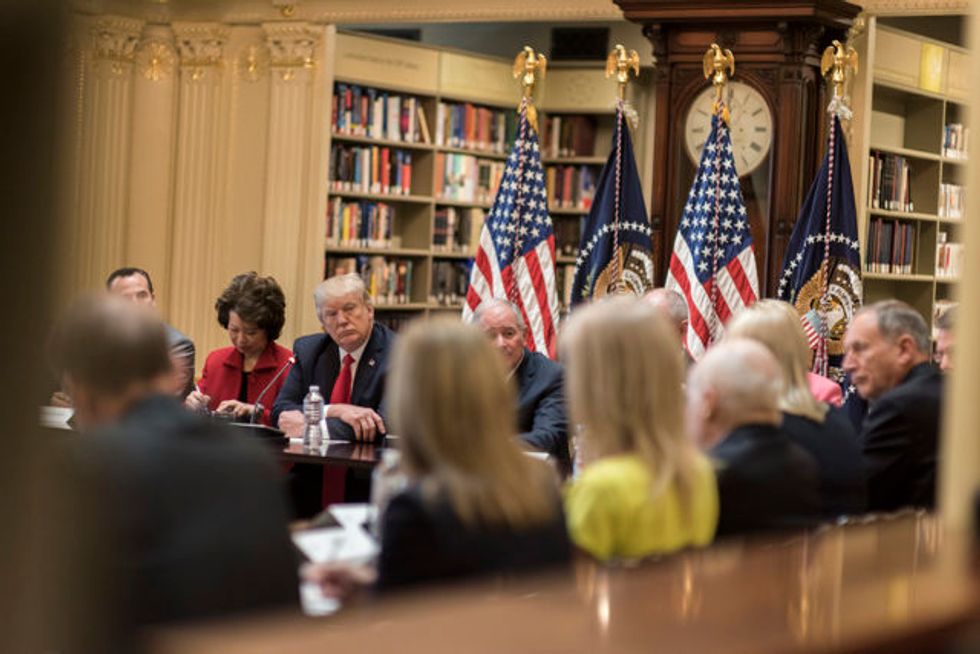 Reprinted with permission from Shareblue.
On the heels of the deadliest act of anti-Semitic violence in American history, the Trump administration is planning to shut down the Department of Homeland Security's (DHS) Countering Violent Extremism Grant Program, according to a new report.
The anti-extremism program was initially established under the Obama administration for the purpose of funding groups around the country that work to counter domestic terrorism.
Since Trump took office, funding for certain projects — particularly those focused on stopping far-right violence — has been cut and/or withheld, but the program itself is still operational.
Now that's about to change. NBC News reports that the Trump administration is not going to renew funding for the program, despite recent high-profile acts of violent extremism and a nationwide spike in white supremacist violence and far-right extremism.
Currently, that funding goes toward the development of new approaches to preventing domestic terrorism and identifying early warning signs of extremism. "Programs that develop training materials for law enforcement, mental health counselors and schools to better identify warning signs of extremism so that terrorism can be averted were designated to receive funds," according to NBC News.
If the Trump administration moves forward with the reported plan to end funding, none of those programs will get the grants they were slated to receive.
That's what happened last year to a program called Life After Hate, the only program in the country devoted solely and specifically to countering neo-Nazi and white supremacist ideologies. It was supposed to receive $400,000 in grants. Ultimately, it received nothing.
DHS has not yet publicly confirmed that funding will be canceled for the Countering Violent Extremism program. But the Office of Terrorism Prevention Partnerships, which is housed within DHS, has taken down any mention of future funding from its website.
The Countering Violent Extremism program is at least the second domestic terrorism program that the Trump administration has gutted.
According to a recent report in The Atlantic, the interagency task force on Countering Violent Extremism — which included experts from the FBI, the National Counterterrorism Center, and the Departments of Justice, Education, and Health and Human Services — has gone inactive and exists only in name now.
George Selim, the former director of the Office of Community Partnerships, which oversaw the task force, told The Atlantic that "there's been a precipitous decline in the dedicated staff and program funding devoted to combatting ideologically motivated violence" under the Trump administration.
All of this comes amid a growing threat of homegrown extremist violence, particularly from white supremacist groups.
The FBI concluded in a 2017 report that white supremacists killed more Americans from 2000 to 2016 than "any other domestic extremist movement," and would likely continue to pose a growing threat of lethal violence in the year to come.
And they did.
According to the Anti-Defamation League, white supremacist murders doubled in 2017. White supremacists "were directly responsible" for 18 out of 34 extremist-related deaths nationwide — double the number of deaths attributed to Islamic extremists. Overall, 2017 was the fifth deadliest year on record for extremist violence in America.
But officials in the Trump administration continually deny these facts, and instead point to Islamic extremism and illegal immigration as the primary domestic terror threats in America, despite evidence to the contrary.
On top of that, national security agencies are being directed to focus on threats other than white supremacist terrorism, even though white supremacist violence poses the greatest domestic terror risk.
According to The Daily Beast, DHS convened a conference call with more than two dozen current and former government officials on Tuesday, just three days after the deadliest anti-Semitic attack in U.S. history.
The topic of the call? The so-called "caravan" of asylum-seekers slowly working their way towards the U.S.-Mexico border.
Trump claims to be "making America safe again," but his own anti-immigrant fervor and white supremacist sympathies may actually pose the greatest risk to national security.
Published with permission of The American Independent.