Tuesday Night Massacre: Who Really Believes The White House Rationale For Firing Comey?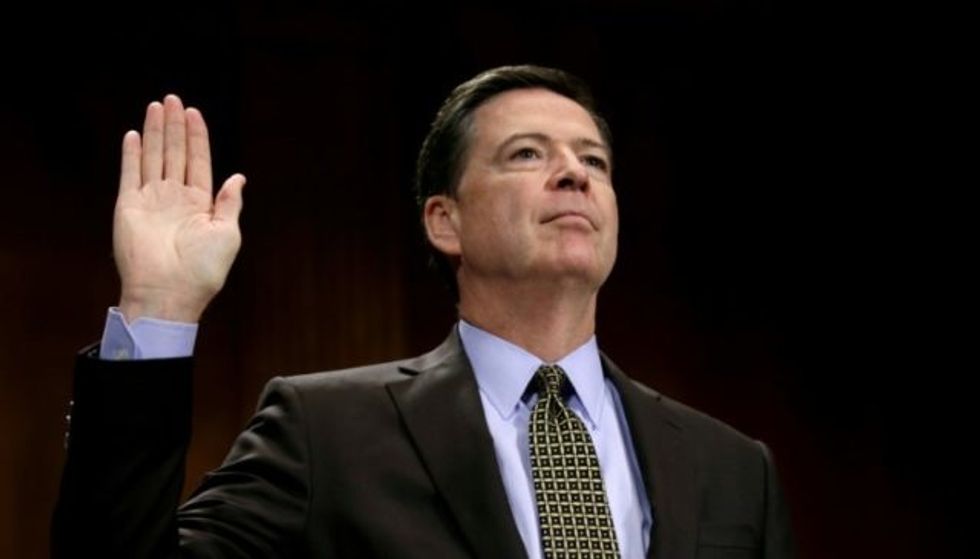 Does anyone believe the Trump administration's explanation for the sudden firing FBI director James Comey last night? Certainly some will pretend to believe that Trump fired Comey now because of his controversial actions in the Hillary Clinton email investigation last year — the same actions that Trump praised for "restoring the reputation" of the FBI and has never criticized.
But no sentient person can accept the rationale offered by the White House for this dismissal.
The rationale for firing Comey — as stated by Attorney General Jeff Sessions and Deputy Attorney General Rod Rosenstein — is obviously false for several reasons, even aside from the fact that Trump had welcomed Comey's behavior toward Clinton in 2016 and literally embraced the FBI director in the Oval Office last January.
Although what Comey did to Clinton was indeed troubling, unfair, and in violation of Justice Department guidelines, that conduct was already under investigation by the department's inspector general. No legitimate purpose was served by firing Comey in advance of that investigation's conclusion. And in fact, the Rosenstein letter is further discredited by the signature of Sessions, who had promised to recuse himself from any role in the probe of Russia's aggressive interference in the 2016 election — and instead directed the removal of the nation's top law enforcement official who was overseeing that case.
This coup against constitutional legality bears all the hallmarks of a Trump operation, from incompetent presentation to gas-lighting defense to audacity that is stunning. Most audacious of all is the timing, which arrives just as the Russia probe increasingly threatens Trump and his cronies.
In the curt dismissal note the president sent officially firing Comey, he feebly attempted to suggest that the FBI director had cleared him of any wrongdoing in the Russia probe. Yet only weeks ago, Comey testified on Capitol Hill that the FBI is pursuing alleged collusion between the Kremlin and the Trump campaign.
The Russia investigation is far from complete, but all indications are that pressure on Trump has been increasing. Among the latest developments is the news that grand jury subpoenas have been issued to associates of fired National Security Adviser Michael Flynn, and that Senate investigators have asked the Treasury Department for financial information on Trump and his associates.
But perhaps the clearest sign of panic was an angry question tweeted by @realDonaldTrump on the morning before he fired Comey: "The Russia-Trump collusion story is a total hoax, when will this taxpayer funded charade end?" Evidently he could wait no longer for the answer he wanted.
IMAGE: FBI Director James Comey is sworn in to testify before a Senate Judiciary Committee hearing on "Oversight of the Federal Bureau of Investigation" on Capitol Hill, May 3, 2017. REUTERS/Kevin Lamarque/File Photo