White House Says Trump 'In Meetings' As He Posts Enraged Tweets
@KailiJoy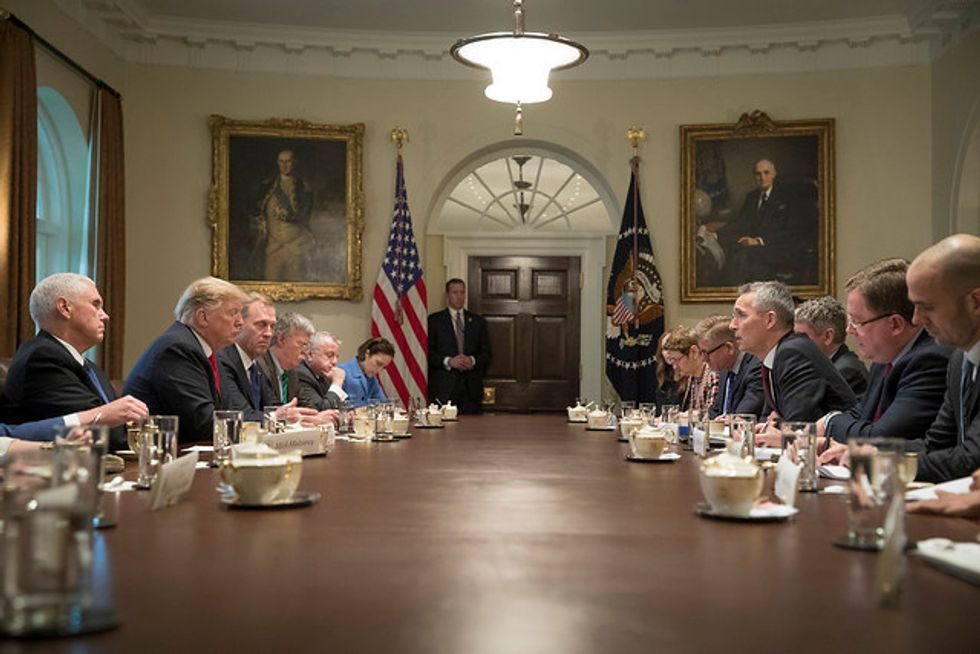 While the country continues to reel from two mass shootings that claimed the lives of more than 30 people over the weekend, Trump has other things on his mind.
White House spokesperson Hogan Gidley told reporters Tuesday afternoon that Trump has no public events on his schedule for the day because he's "meeting with staff on a wide range of policies, having conversations in prepping for his trip to these communities."
Trump is planning to visit El Paso, Texas, and Dayton, Ohio, later this week — the two cities devastated by deadly shootings, although in his carefully scripted statement Monday, Trump referred to "those who perished in Toledo."
"This is a very, very serious moment in our country's history," Gidley said Tuesday. "This president recognizes the gravity of this moment. You saw that manifest in his speech in the Diplomat Room."
But as Gidley was insisting to reporters that Trump was focused on, and aware of, the gravity of the moment, Trump was rage-tweeting about Google's involvement in the 2016 election and accusing it of "very illegal" behavior.
Trump claimed that Google CEO Sundar Pichai assured him "that they didn't help Crooked Hillary over me in the 2016 Election, and that they are NOT planning to illegally subvert the 2020 Election despite all that has been said to the contrary."
Trump's citation for this allegation is Fox host Lou Dobbs, whom Trump frequently quotes on Twitter. Trump also cited Peter Schweizer, the right-wing author of the widely debunked book Clinton Cash, tweeting that Schweizer "stated with certainty that they suppressed negatives stories on Hillary Clinton, and boosted negative stories on Donald Trump. All very illegal. We are watching Google very closely!"
As Matt Gertz of Media Matters noted, Trump's baseless theories about Google — which he was tweeting about earlier in the morning but for some reason decided to tweet again in the middle of the day — come from watching Dobbs on Fox.
"The Trump-Fox feedback loop is particularly salient in giving the president targets for his ire, and the network's obsession with tech platform bias has repeatedly resulted in angry Trump tweets," Gertz explained. "This is at least the third time Trump has responded to Fox segments by tweeting that his administration would take action against Google."
It's bad enough that Trump is baselessly accusing companies of "very illegal" behavior just because he saw it on Fox News. But for the White House to insist that Trump is in fact spending his day having conversations that show he understands the "gravity of the moment" — when that is demonstrably not true — is insulting to the American people and to those communities Trump is supposedly thinking about.
Published with permission of The American Independent.