Who Are These Outlaw Bikers?
@FromaHarrop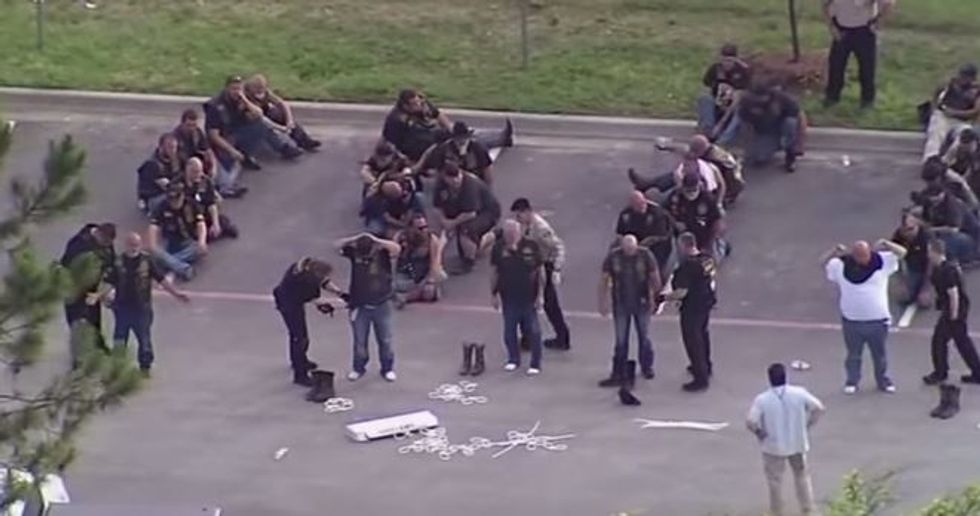 Count me among those mystified over the biker gang melee in Waco, Texas — a shootout that left nine dead. Why are these guys committing grown-up violence over the seemingly adolescent concern of who belongs to their group and who doesn't? Who are they?
For answers, I consulted James F. Quinn, a University of North Texas sociologist who has studied the Bandidos and other outlaw biker "clubs."
Many of the members came out of the military with skills of war and low tolerance for ordinary civilian life. They borrow their imagery from the old Western outlaws, having traded horses for motorcycles. Billy the Kid would be a model biker.
They engage in drug trafficking, prostitution, extortion and the like. But so do cartels and other powerful organized crime syndicates. (Texas law enforcement considers the Bandidos a Tier 2 threat, with Tier 1 reserved for the cartels.)
But are these (mostly) white guys on Harleys making real money?
"A few people are making a very large sum of money," Quinn said, "and some people are just getting by." Some also have day jobs. They run the gamut.
As most of us know, the outlaw bikers have little in common with the lawyer/teacher/retiree motorcyclists dressing the part on weekends. My only complaint on meeting many biker couples headed to the annual motorcycle rally in Sturgis, South Dakota, was that they hogged the washing machines at Motel 6.
Some reports say the riot at the Twin Peaks sports bar started in a battle over a parking space. Others, an exchange of words in the men's room. Yet another, a "provocation" centered on the wearing of a Texas patch by members of the Cossacks, a gang rival to the Bandidos.
Quinn sees the explosion as the result of a two-year buildup of tensions between the gangs.
"When one club dominates an area, they don't want others coming through without their permission," Quinn said. "They believe the other clubs should be subservient."
The Bandidos fancy they run Texas from the seats of their Harleys. A counter view is that Texas is run from skyscrapers in Dallas and Houston by men who drive Lexuses and Mercedes-Benzes.
In any case, men who join outlaw biker clubs are in it for more than the money. "A lot of it is about excitement, male camaraderie," Quinn said. "They want to live in that masculine excitement. It's a hyper-excitement kind of atmosphere."
Women are not invited. Women are never members of a "1 percent club," a reference to the tiny percentage of motorcyclists not considered law-abiding citizens. Women are there to serve, which is why the Waco bikers gravitated to a Hooters clone restaurant, where the waitresses wear tops cut low and shorts cut high.
As for the violence in Waco, Quinn believes that even the bikers didn't foresee the enormity of what occurred. He hesitates to speculate on what will happen next. An amazing 170 arrestees are facing criminal charges, but not many of them are in jail.
"There are going to be a lot of funerals, people coming in from out of town," Quinn said, "but for the next few weeks, we're going to see quiet because they know they are being watched."
What fascinates the outside world about these outlaw bikers is the extraordinary energy they expend for a sense of belonging and a right to bully. Many comments following the Waco coverage ridiculed their hairy faces and paunchy middles.
In the end, one observes all those able-bodied men looking for action and concludes: What a tremendous waste of all that manpower.
Follow Froma Harrop on Twitter @FromaHarrop. She can be reached at fharrop@gmail.com. To find out more about Froma Harrop and read features by other Creators writers and cartoonists, visit the Creators Web page at www.creators.com. 
Screenshot via KXAN/YouTube