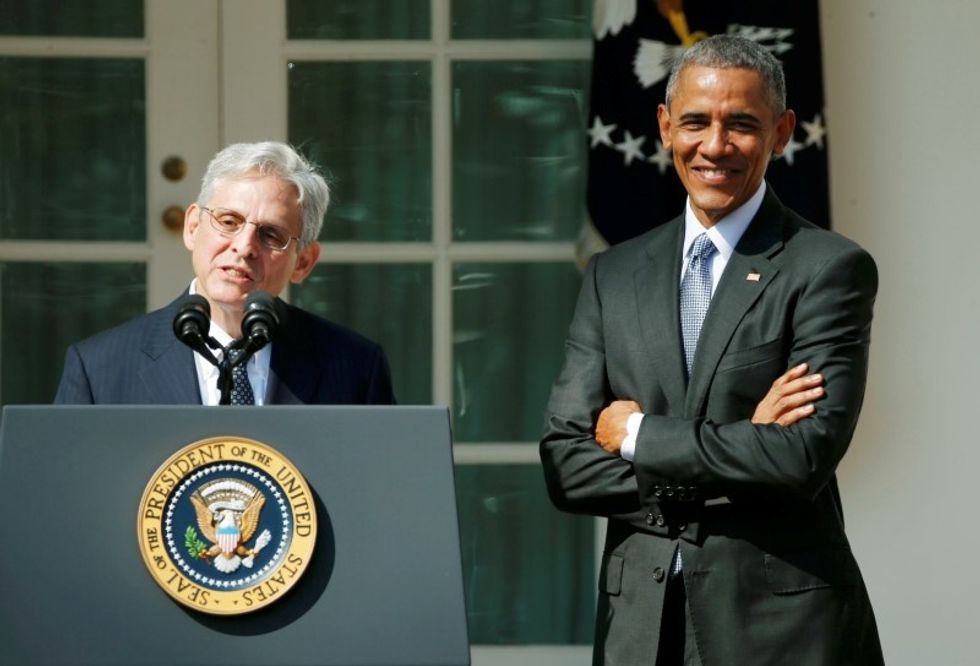 Merrick Garland, a D.C. Circuit Court judge for the past 19 years, was nominated to the Supreme Court to fill the late Antonin Scalia's seat by President Obama today.
Considered a moderate and well-liked by both Democrats and Republicans — President Obama noted that in his three Supreme Court nominations, the one name that repeatedly came up from advisors of both parties was his — the 63 year-old Chicagoan has a reputation of being compassionate and fair-minded.
Garland said the most notable work he's ever done was in Oklahoma City, where he led the prosecution against bomber Timothy McVeigh.
Describing the effects of the case on his judicial philosophy, he spoke of the importance of assuring the families of victims and perpetrators "that the justice system could work."
"I saw up close the devastation that can happen when someone abandons the justice system as a way of resolving grievances, and instead, takes matters into his own hands," he said. "We promised that we would find the perpetrators, that we would bring them to justice, and that we would do it in a way that honored the Constitution… People must be confident that a judge's decisions are determined by the law and only the law. For a judge to be worthy of such trust, he or she must be faithful to the Constitution and to the statutes passed by the Congress."
Obama was particularly taken with how Garland went about the case:
Throughout the process, Merrick took pains to do everything by the book. When people offered to turn over evidence voluntarily, he refused, taking the harder root of obtaining the proper subpoenas instead, because Merrick would take no chances that someone who murdered innocent Americans might go free on a technicality.

Merrick also made a concerted effort to reach out to the victims and their families, updating them frequently on the case's progress. Everywhere he went, he carried with him in his briefcase the program from the memorial service with each of the victims' names inside, a constant searing reminder of why he had to succeed.
Garland has an impressive resume — he was valedictorian of his public high school where he won a scholarship to Harvard, graduating summa cum laude and then attending Harvard Law. He clerked for two Eisenhower appointees, Henry Friendly and Chief Justice William Brennan, before entering the international law firm Arnold & Porter, where he became partner after four years.
According to Obama, he took a 50 percent pay cut when he left the firm in 1989 to work as a federal prosecutor under George H.W. Bush, later moving to the Justice Department where he was Deputy Assistant Attorney General for the Criminal Division and then Principal Associate Deputy Attorney General. He was confirmed to the D.C. Circuit Court, often considered the second-highest court in the land, in 1997 by a 76-23 vote.
Garland was undoubtedly picked because it will be difficult for Republicans to refuse his candidacy. Obama infused his speech with requests for the Senate to fill its constitutional duty by giving the man a fair hearing:
If you don't, then it will not only be an abdication of the Senate's constitutional duty, it will indicate a process for nominating and confirming judges that is beyond repair. It will mean everything is subject to the most partisan of politics, everything. It will provoke an endless cycle of more tit for tat and make it increasingly impossible for any president, Democrat or Republican, to carry out their constitutional function.
Senate Majority Leader Mitch McConnell (R-KY), along with a spate of other prominent Republicans in the Senate, have declared that they will oppose any nominee Obama puts forth, insisting that the confirmation process waits until after the presidential election, going against precedent.
The president is making it very, very hard for Republicans to say no — especially Senator Orrin Hatch of Utah, who'd been effusive in his support for Garland and then kowtowing to the party line.
It's not just Garland's temperament and accomplishments that should make his nomination path clear for Republicans. He also fits the mold of a Supreme Court justice. Via USA Today:
Like five current justices as well as the late Antonin Scalia, who he would replace, Garland attended Harvard Law School. Like Samuel Alito and Sonia Sotomayor, he's a former prosecutor. Like Scalia, Chief Justice John Roberts, Clarence Thomas andRuth Bader Ginsburg, he comes from the powerful D.C. Circuit court.

Garland isn't even the first Supreme Court nominee to earn undergraduate and law degrees from Harvard, clerk for Judge Henry Friendly of the U.S. Court of Appeals for the 2nd Circuit, work at the Justice Department, become a partner at a major Washington, D.C., law firm, and serve on the D.C. Circuit. Roberts did all that.
For those who lament that Obama didn't suggest a judge who would more squarely fit into a progressive agenda — or who merely wasn't a white man — one thing should give them hope: Many of Merrick's former law clerks have gone on to clerk for left-leaning justices, including Stephen Breyer, Ruth Bader Ginsburg, Elena Kagen and John Paul Stevens, who is retired.
Photo: President Barack Obama smiles after announcing Judge Merrick Garland (L) of the United States Court of Appeals as his nominee for the U.S. Supreme Court in the Rose Garden of the White House in Washington March 16, 2016. REUTERS/Kevin Lamarque