Who Is Rachel Mitchell, Prosecutor Hired To Question Ford?
@alexvhenderson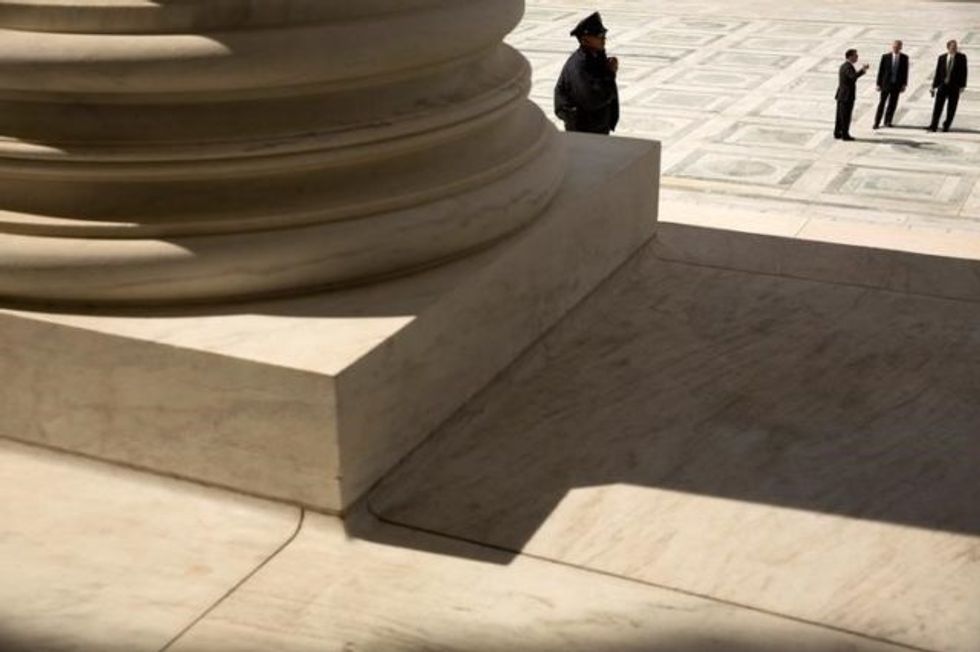 Reprinted with permission from AlterNet.
Although Republicans on the Senate Judiciary Committee have adamantly refused Christine Blasey Ford's request for an FBI investigation into her accusation against Supreme Court nominee Brett M. Kavanaugh—who, she alleges, attempted to rape her at a party when they were teenagers back in 1982—they have agreed to a hearing on the matter. The hearing is scheduled to take place this Thursday, September 27, and the person Senate Republicans have chosen to question both Ford and Kavanaugh at the hearing is veteran Maricopa County, Arizona prosecutor Rachel Mitchell, a Republican.
Chuck Grassley, Orrin Hatch and others on the Senate Judiciary Committee will not be questioning Ford, and their move was obviously strategic. With Ford's accusations against Kavanaugh bringing back memories of the 1991 Senate confirmation hearings for Justice Clarence Thomas—who Anita Hill had accused of sexual harassing her when she worked for him in the 1980s— Grassley and his colleagues realized that questioning Ford themselves would not be a good move. And they specifically looked for a woman to question Ford.
Here are five facts about Rachel Mitchell.
1. Mitchell Has a Long History of Prosecuting Sex Crimes
In the Maricopa County Attorney's Office, the Special Victims Division has two separate bureaus. One deals with family violence, while the other deals with sex crimes—and the latter was where Mitchell worked for 12 years. During her 12 years heading the sex crimes bureau, Mitchell aggressively prosecuted crimes like rape and child molestation.
2. Mitchell Was Appointed Head of Maricopa County's Special Victims Division
When Mitchell was appointed head of Maricopa County's Special Victims Division, that put her in charge of both the sex crimes bureau and the family violence bureau. Previously, she only headed the sex crimes bureau.
3. Mitchell Aggressively Prosecuted Former Catholic Priest for Child Sex Abuse
Before this week, Mitchell's most high-profile activity involved Paul LeBrun—a former Catholic priest accused of child molestation. LeBrun's prosecution resulted from an investigation into child sexual abuse allegations against the Roman Catholic Diocese of Phoenix, and Mitchell was assigned the LeBrun case in 2005. The investigation led to six priests facing criminal charges; some of them accepted plea deals, with former bishop Thomas O'Brien receiving immunity from prosecution in exchange for his testimony. But LeBrun opted to go to trial, and Mitchell successfully prosecuted the case. Convicted of multiple child sex abuse and molestation accounts, LeBrun was sentenced to 111 years in prison in 2006.
4. Mitchell Never Worked for Former Sheriff Joe Arpaio
For many years, Mitchell and the notorious Sheriff Joe Arpaio worked in the same county in Arizona. But Mitchell never worked for Arpaio, who was accused of numerous civil rights abuses and found guilty of criminal contempt of court in 2017 (Trump gave him a presidential pardon). In fact, the Maricopa County Sheriff's Department and the Maricopa County Attorney's Office are two separate agencies. And the Associated Press, in 2011, reported that there had been some tension between the two agencies and that from 2004-2007, the Maricopa County Attorney's Office reported hundreds of alleged sex crimes to the Maricopa County Sheriff's Department for investigation—and they were poorly investigated. In other word, the so-called "America's Toughest Sheriff," Joe Arpaio, dropped the ball badly when it came to investigating sex crimes.
5. Mitchell, a Republican, Was Honored by Democrat Janet Napolitano
Mitchell has won various awards. In 2003, she was honored as Outstanding Arizona Sexual Assault Prosecutor of the Year by Terry Goddard (Arizona's state attorney general at the time) and Arizona Gov. Janet Napolitano—a centrist Democrat who was reelected governor of Arizona in 2006 and went on to become secretary of the U.S. Department of Homeland Security under President Barack Obama.
Alex Henderson is a news writer at AlterNet and veteran political journalist. His work has also appeared in Salon, Raw Story, Truthdig, National Memo, Philadelphia Weekly, Democratic Underground, L.A. Weekly, MintPress News and many other publications. Follow him on Twitter @alexvhenderson.