Who's The Worst Possible Person To Chair A Voting Commission?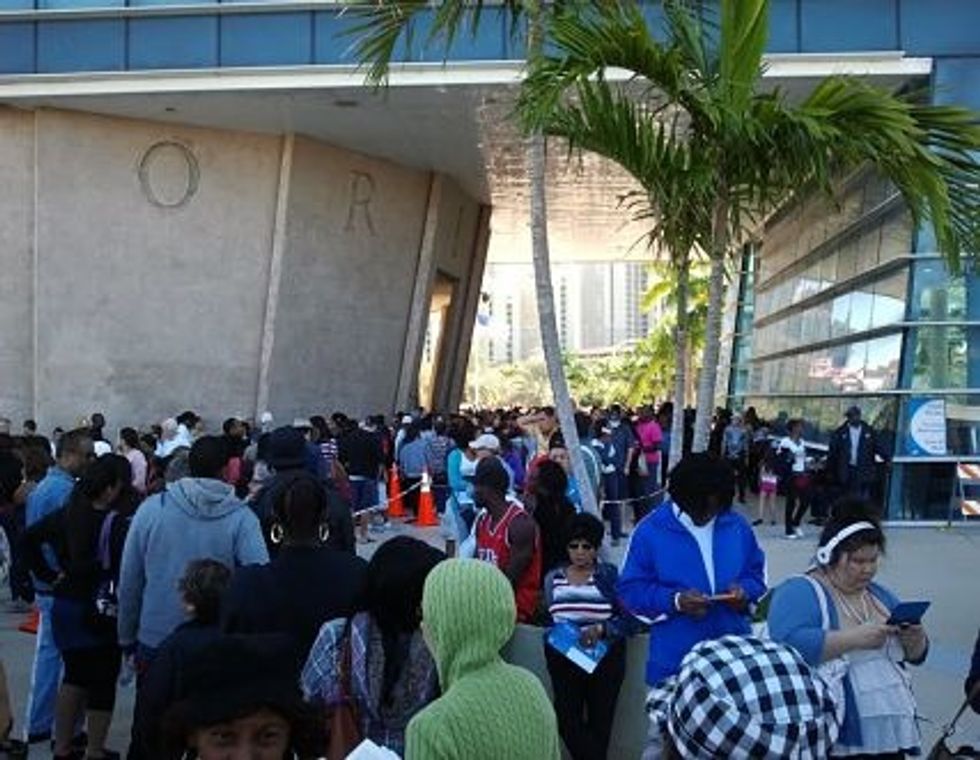 Just a few hours before the State of the Union address, officials from the Obama administration leaked what many voting rights activists saw as somewhat promising news: The president would be announcing the creation of a commission to investigate the troubles that plagued Election Day 2012.
You know by now that many voters in Florida — including 102-year-old State of the Union guest Desiline Victor — had to wait hours in line just to cast a ballot. If the election had been closer, these waits — which were the direct result of Republican governor Rick Scott's efforts to limit early voting — could have stolen the presidency for Mitt Romney.
On election night, President Obama acknowledged these onerous barriers to voting, saying, "…by the way, we have to fix that."
So a commission could be the start of a real effort to fix our very serious voting problems, depending on who runs it. And here's the bad news. Who would you say is the worst person to chair a voting rights commission?
Okay, that would probably be Karl Rove. Charles Koch would be pretty terrible, too. But near the top of that list would be Ben Ginsberg.
Why does that name sound familiar? The Nation's intrepid Ari Berman explains:
Ginsberg helped lead the 2000 recall effort for George W. Bush. He was forced to resign from the Bush campaign in 2004 after it was revealed that he was also advising the vile Swift Boat Veterans for Truth. In 2006, Ginsberg said, "Just like really with the Voting Rights Act, Republicans have some fundamental philosophical difficulties with the whole notion of Equal Protection."
Of course Republicans have problems with "equal protection," a notion which has led to many of the civil rights advances since the 1950s. Ironically, they did not object when conservatives on the Supreme Court invoked "equal protection" in 2000 to stop Florida's recounts and hand George W. Bush the presidency.
Ginsberg most recently served as counsel to the Romney campaign, which is why picking him is such a conciliatory move. However, it doesn't bode well for this new commission, which many, including Berman, now expect to resemble the Election Assistance Commission created after the 2000 election — commission that had no power and achieved nothing.
With the GOP's persistent effort to restrict voting and Section 5 of the Voting Rights Act at serious risk of being struck down by the Supreme Court this session, the right to vote has not been so threatened in half a century.
Now was the time for real action to make sure that long lines and unequal access to the ballot didn't swing the results of another election, as many think it did in 2004, when thousands of voters in Ohio left their lines and went home.
Instead, we get Ben Ginsberg.
Photo via Daily Kos