Who's Weirder: Tea Party Rep. Ted Yoho, Or His Role-Playing Primary Opponent?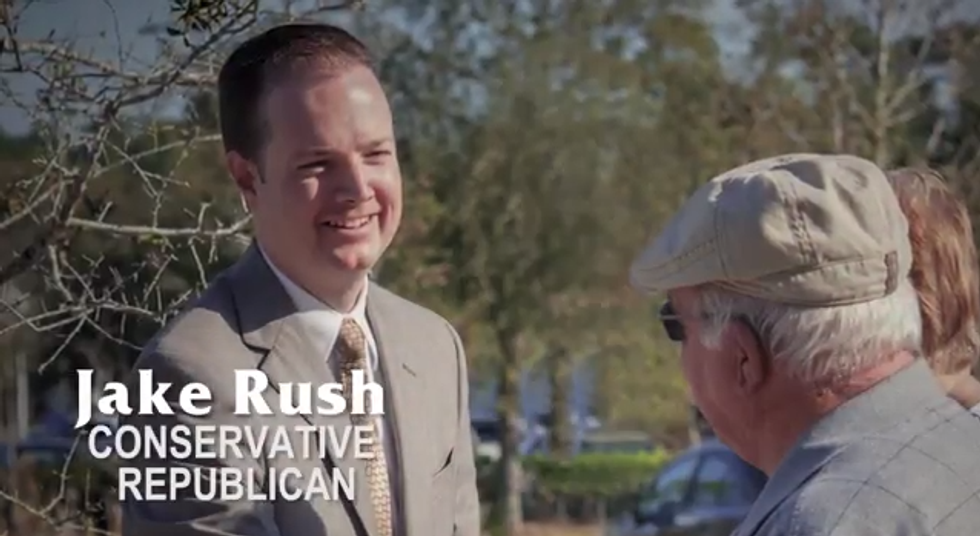 Photo via
SaintPetersBlog
Move over, Georgia: There's a new craziest primary in the 2014 midterms.
Earlier this week, SaintPetersBlog reported a hilarious and disturbing story on Jake Rush, a conservative attorney challenging freshman U.S. Rep. Ted Yoho for the Republican nomination in Florida's 3rd congressional district. According to the report, Rush is a longtime member of the Mind's Eye Society, "a nationwide community of gothic-punk role players who come together to take on personas of vampires and other supernatural beings (known as Kindred), dealing with night-to-night struggles 'against their own bestial natures, hunters, and each other.'"
A role-playing past is nothing to disqualify a candidate from office in itself, but the actual details of Rush's experience with the Mind's Eye Society — some of which are shared here — seriously call his real-world persona as a conservative, family-values straight-shooter into question.
Of course, his opponent in the Republican primary has his share of past controversies as well. When it comes to extreme eccentricity, it's hard to beat Congressman Ted Yoho.
What follows is a brief comparison of some of Rush and Yoho's greatest hits, and a question: Which candidate for House in FL-3 is weirder?
Jake Rush

When Rush launched his congressional bid with a slick campaign video, he declined to mention that he had dozens of alter-egos in the Mind's Eye Society, including Chazz Darling, Staas van der Winst, Johan Gambrys, Zane Daily, The Kriesler, and Archbishop Kettering.
Ted Yoho
Photo: Gage Skidmore via Flickr
When he was running for Congress back in 2012, Yoho offered the following explanation for why he'd make a good congressman:
"Intimidating is going up to a growling Rottweiler and having to squeeze his anal glands, or going up to a stallion that weighs 1,200 pounds and telling him you're going to take his testicles off," the former large-animal veterinarian told The Atlantic's Ben Terris. "That's intimidating. I think I can handle Congress."
In the same profile, Yoho noted that he had added photos to his bumperstickers to clear up any confusion for voters like Ben Childers, who told Yoho on the campaign trail that "I had to look you up to make sure you weren't a Jap."
Jake Rush

Photo via SaintPetersBlog
As recently as last year, Rush was uploading photos to the "Kindred of Gainesville's" user-edited community page, including:
Burning books
Aiming shotguns at dogs
Dressed as a vampire
Dressed as a demon
Satanic symbolism
Being chained and gagged
Bloody angel wings
And, in a nice Akin-esque touch, SaintPetersBlog reports that in 2009 Rush uploaded a since-deleted photo titled "Put On My Rape Face."
Ted Yoho
Photo: Gage Skidmore via Flickr
In October, this is how Yoho explained his belief that Congress shouldn't raise the debt ceiling, even if it leads to the nation defaulting on its debt: "I think, personally, it would bring stability to the world markets."
Either Yoho doesn't understand what the debt ceiling is, or he doesn't understand how the world markets work, or he doesn't know the definition of the word "stability."
Jake Rush

Photo via SaintPetersBlog
In 2010, as Chazz Darling, Rush posted the following message on a Yahoo! board:
At first I thought you were just stupid and I wanted to stick my d— in your mouth to shut you up while I snorted a line off my new machete that was blessed by Rui (sic) but then I remembered that you were typing so my d— would really have to be in your hands to keep you from typing but since you are walking in Omaha that's not really realistic right now.

I'm sorry, I tried.

Rae tells me that you are a Maiden, and it's your job to be kind of stupid and that I'm not supposed to have intercourse with Maidens.

You shouldn't believe everything that people tell you or you're going to end up naked and sore, tied to the floor of a van marked "Free Candy."

And stop letting people torpor (sic) you.

–Chazz Darling
Power of Discord
Important member of the LS

Ted Yoho
Photo: Gage Skidmore via Flickr
Last August, Yoho told a town hall meeting why the Affordable Care Act's 10 percent excise tax on indoor tanning services makes it a racist law:
I had an Indian doctor in our office the other day, very dark skin, with two non-dark skin people, and I asked this to him, I said, 'Have you ever been to a tanning booth?' and he goes, 'No, no need.' So therefore it's a racist tax and I thought I might need to get to a suntanning booth so I can come out and say I've been disenfranchised because I got taxed because of the color of my skin.
Much like "stability," it's fairly obvious that Yoho does not know what "disenfranchised" actually means.
Clearly, both candidates are rather odd (to put it mildly). No matter what happens in the primary, it seems that the citizens of FL-3 will lose — and political satirists will win.

You May Also Enjoy: This Week In Crazy