Why Donald Trump Will Campaign On The Most Conservative Republican Platform In Decades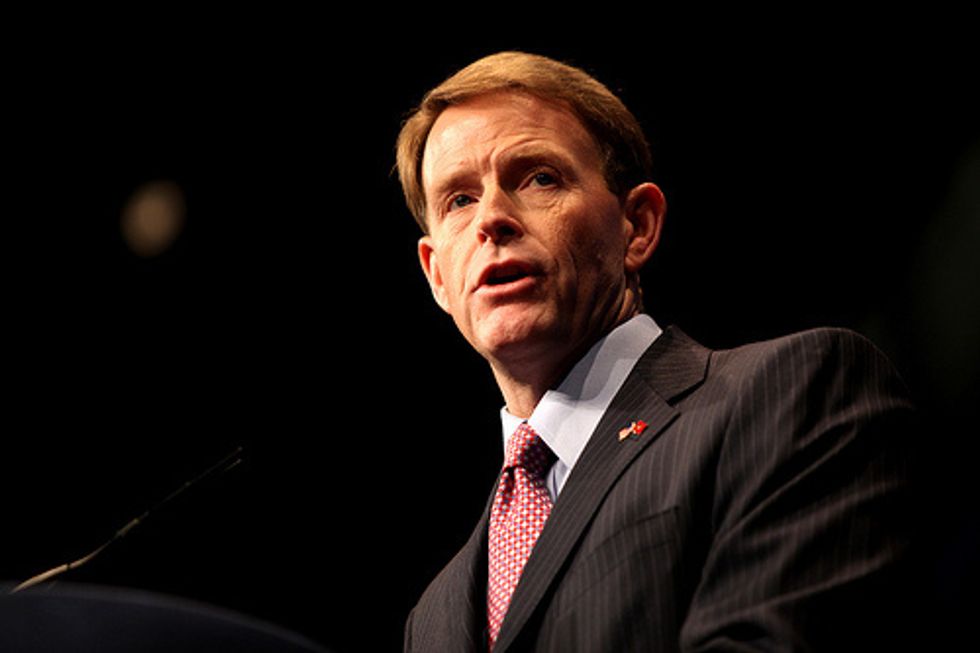 The Republican platform may be more conservative than any time in decades, but that wasn't Donald Trump's choice.
Evangelical Republicans are celebrating a victory as their party's platform falls far to the right of its usual stances on key social issues — and even further right than Trump's more moderate views on things like gay rights and abortion.
This odd discord between the candidate and the platform isn't yet a sign of resurgent movement conservatism in the GOP, but rather owes itself to an unusually distant approach to policy from the nominee. Rather than pushing his own views onto the platform, as in past elections, Trump's campaign instead looked to rally the Christian base so he could secure the nomination despite murmurs of mutiny.
Without a strong presence from Trump, social conservative Tony Perkins — who leads the anti-gay, pro-life Family Research Council — was able "to show his hands in dozens of amendments," the New York Times' Jeremy Peters reported. Notably, Trump has had a rocky relationship with Perkins and other evangelical political influencers, hundreds of whom met with him at a daylong conference in May to "seek mutual understanding."
On gay rights, for instance, Perkins and other evangelicals squashed any liberal impulses in the platform, which now supports gay conversion therapy and opposes marriage equality. The president of the Log Cabin Republicans, a conservative gay group, called it the "most anti-LGBT platform" in the party's history.
Even a proposed amendment that sought to recognize gays as targets of ISIS was shot down with the rationale that it would be playing into identity politics and inappropriately singling out a specific group, according to Peters' Times story.
During an appearance on MSNBC's Morning Joe, Peters explained that — along with his choice of judges and running-mate — the platform was one of a few ways Trump could rally the evangelical base and affirm his (sometimes questionable) credentials as a conservative.
"This is the most socially conservative platform the Republican Party has ever adopted, and that's in no small part because Donald Trump and his campaign did not take much of an interest in the social aspects of this," he said. "Now you have a platform that is basically — I mean, I described it to one person the other day, as Tony Perkins' platform."
Notably, the GOP's platform also supported restrictions that would force trans people to use the bathrooms for gender they were assigned at birth instead of their identified gender, in step with North Carolina's HB2 legislation. Trump has vocally expressed the opposite view, saying that he would allow Caitlyn Jenner, a trans woman, to use the women's bathroom at Trump Tower — as indeed she has. 
And the platform condemns all types of abortion, though Trump has stated his support for the choice in cases of rape, incest, or health complications, NBC News reported.
A proposed amendment on medical marijuana — another policy that Trump said he supports — was shut down by socially conservative delegates, one of whom even suggested that "all of the mass killings that have taken place… they're all smoking pot," according to a CNN report.
In short, the conservatives' victory in the platform committee is perhaps less significant than it may seem: The platform only ended up so far to the right because Trump needed to draw support from evangelical leaders. As with Democrats, Republican elected officials are not bound by the language in the platform. But it does set the tone for the months ahead.
Currently, when it comes to the polls themselves, Trump doesn't need to go any further right.
Unlike their political leaders, most evangelical voters — a whopping 78 percent, according to a recent Pew study — have already committed to voting for Trump, despite his more centrist views on abortion and gay rights. (A Christian news site reporting on the same study has nonetheless declared that evangelical voters "will vote Trump, but not for Trump".)
The unusually conservative Republican platform, then, seems like it's more a ploy to get leadership including Perkins and likeminded delegates (like Mary Frances Forrester, who successfully pushed for an amendment calling porn a "public health crisis") onboard — at least through the end of the weekend.
Photo: Tony Perkins via Gage Skidmore / Flickr