Why Isn't Cable News Reporting On Attempted Murder By Neo-Nazis In Florida?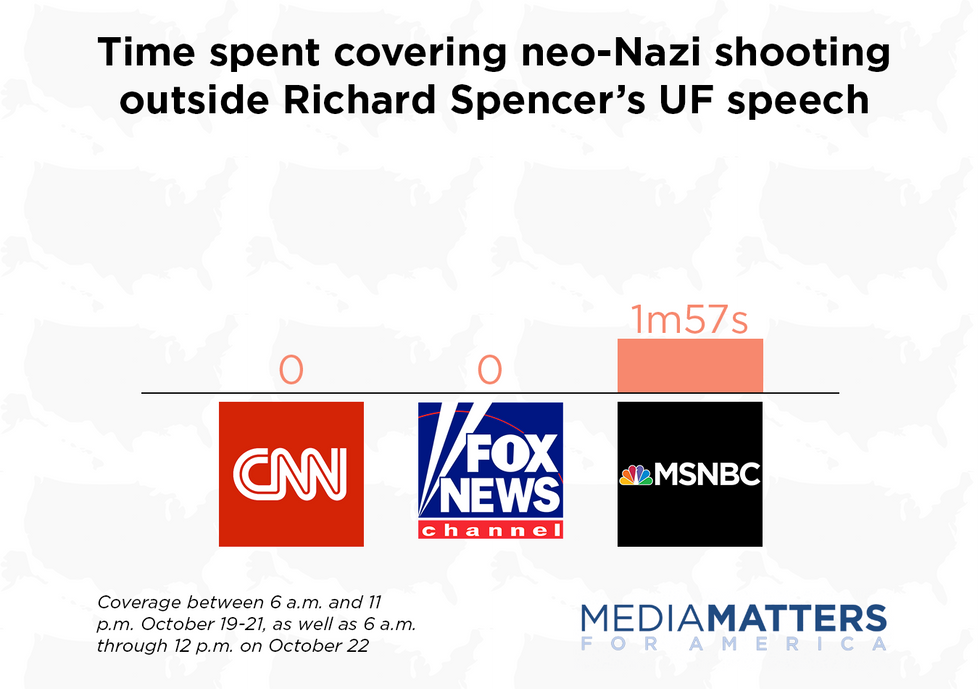 Reprinted with permission from MediaMatters.
Since white nationalist Richard Spencer's October 19 speech at the University of Florida, there has only been one mention across the three major cable news networks — CNN, MSNBC, and Fox News — that three of Spencer's supporters were charged with attempted homicide for allegedly shooting at counter protesters outside the event.
NBCNews.com reported that three of Spencer's apparent neo-Nazi supporters — Tyler Tenbrink, William Fears, and Colton Fears — were arrested outside of Spencer's speech, after one of them fired "one shot, which hit a nearby building" after the others in the car urged him "to shoot at the protesters." NBC News also noted that the supporters "displayed Nazi salutes and shouted chants about Hitler."
Spencer is "one of the country's most successful young white nationalist leaders" and was one of the leading forces behind the violent August 12 white supremacist and neo-Nazi rally in Charlottesville, VA, where 32-year-old counterprotester Heather Heyer was killed.
Across the three cable networks, MSNBC's AM Joy was the only program that mentioned that the Spencer supporters were arrested after they "literally fired shots at anti-fascist protesters." During the segment, ProPublica reporter A.C. Thompson noted that he had interviewed Tenbrink after his involvement in the Charlottesville rally, and that Tenbrink told Thompson, "'I hate the leftists. The leftists are evil. They're bringing degeneracy to our country. … I'm fighting against multiculturalism, the press of multiculturalism on Western society, and I'm fighting for my children.'" Thompson added, "Fast forward to this week, he shows up in Florida at the Richard Spencer event, and according to police, opens fire on counterprotesters with a handgun."
Terrorism perpetrated by right-wing extremists and white nationalists is often undercovered in the media. When the Trump administration released a list of supposed "underreported" terror attacks, it neglected to include numerous instances of terror and killings committed by white nationalists. In fact, white extremists are currently more dangerous than other extremist groups in the United States. As Foreign Policy reported in August, "the FBI and the Department of Homeland Security in May warned that white supremacist groups had already carried out more attacks than any other domestic extremist group over the past 16 years and were likely to carry out more attacks over the next year"
Methodology
Media Matters searched SnapStream transcripts for CNN, MSNBC, and Fox News Channel from 6 a.m. to 11 p.m. from Thursday, October 19, the day of Spencer's rally, through Saturday, October 21, and between 6 a.m. and 12 p.m. on Sunday, October 22, for the terms "Spencer," "Tenbrink," "Fears," "white nationalist," "white supremacist," "Florida," or variations of the term "shot" and "shoot."
Header image by John Whitehouse / Media Matters