Why Senate Republicans Confirmed John Kerry But Stalled Chuck Hagel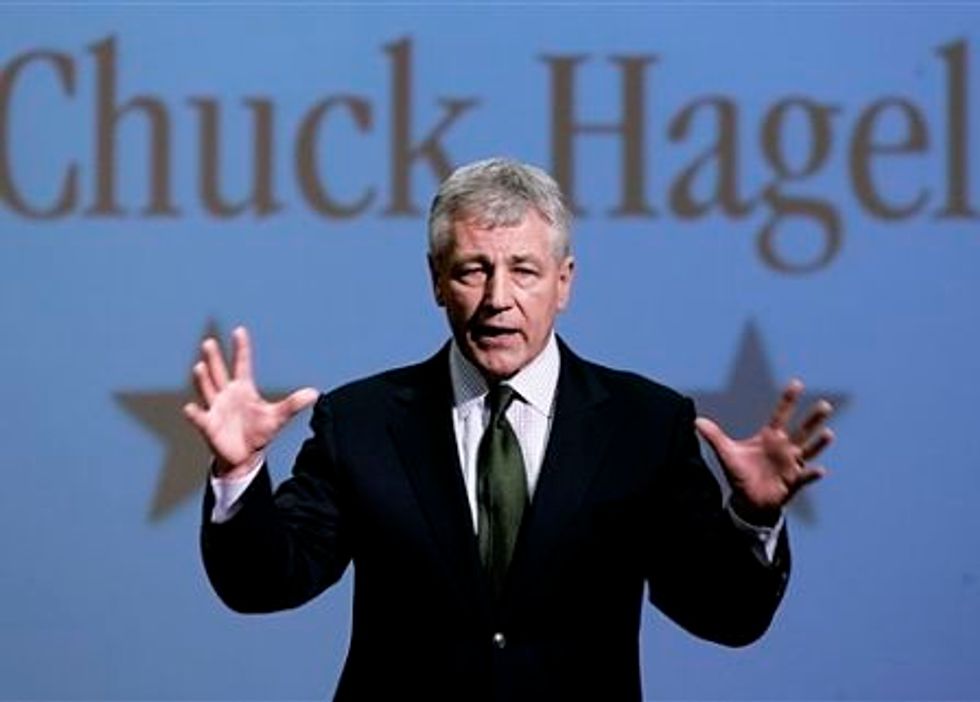 The Senate Republican vendetta against Chuck Hagel – acted out in the filibuster that has derailed his nomination as Secretary of Defense – seems extraordinarily petty — if John McCain (R-AZ) is telling the truth. The Arizona senator publicly acknowledged that his party's rejection of Hagel, a fellow Republican and decorated Vietnam veteran, was motivated by old grudges dating from the Bush administration.
"There's a lot of ill will towards Senator Hagel because when he was a Republican, he attacked President Bush mercilessly and said he was the worst president since Herbert Hoover and said the 'surge' was the worst blunder since the Vietnam war, which was nonsense," McCain told Fox News after the vote on Thursday. "He was anti-his own party, and people…don't forget that. You can disagree but if you're disagreeable, people don't forget that."
So bent on vengeance were the Republicans that they even tolerated the McCarthyite diversions of Senator Ted Cruz (R-TX), a freshman whose resemblance to the late Wisconsin demagogue emerged in his repeated insinuations that Hagel had secretly accepted money from North Korea and Saudi Arabia. This seemed to disturb McCain, but he admonished Cruz in the mildest terms possible, and without naming him.
When the Cruz smears fell flat, it became plain that the assault on Hagel's nomination wasn't based on any concern that rose to the level of Constitutional principle, national defense, or substantive foreign policy. Among the Republican senators who promoted the filibuster against Hagel were several, including Minority Leader Mitch McConnell (R-KY) and John Cornyn (R-TX) who had insisted when George W. Bush was president that every single one of his nominees deserved an "up or down vote" – and thus should not be subject, as a matter of presidential authority in Article II of the Constitution, to tactical delay.
But then all the rules are different, now that Barack Obama is (and remains) president.
Worse than their inconsistency over the filibuster — which at least is a bipartisan hypocrisy shared by Democrats — the Republicans have claimed that Hagel's policy views are so far from the mainstream that he cannot be confirmed.
But the same senators almost unanimously confirmed the nomination of former senator John Kerry (D-MA) as Secretary of State, virtually without questioning any of his positions. Kerry, a superb and highly qualified choice, won that easy approval despite holding positions practically identical to those of Hagel concerning Mideast policy, Israel, Iran, North Korea, nuclear disarmament, and many other critical and controversial issues.
In fact, Kerry has ventured even further than Hagel on certain specific questions, such as the final status of Jerusalem in a potential peace settlement between Israel and the Palestinians, or the fate of Jewish settlements in occupied territory.
During his senatorial travels abroad over the years, Kerry became an outspoken advocate for international action against climate change – an activist stance that could hardly have endeared him to Senator James Inhofe (R-OK) and the other mossback climate deniers on the Senate Foreign Relations Committee who so eagerly rubber-stamped his nomination. Yet Hagel, a climate-change skeptic during his senatorial career, was harangued and vilified for eight hours during his nomination hearing, and then denied a vote on the Senate floor.
The contrast between the swift confirmation of Kerry and the blockading of Hagel also pointed up the phoniness of Senator Lindsey Graham (R-SC). As a condition of permitting a vote on the Hagel nomination, Graham insisted that he must have additional information from the White House about the jihadi attack on the US consulate in Benghazi. But if that information is so essential, why didn't Graham, McCain, and their fellow Republicans hold up the nomination of Kerry for the same reason? As everyone in Washington knows, the answer is an example of their partisan venality: They hoped that Kerry's vacated seat might be filled in a special election by their former colleague from Massachusetts, Republican Scott Brown.
By the time that the Senate adjourned, it was clear that Hagel was short of only a single vote to achieve cloture – and that the Senate Democrats, determined to win his confirmation, will eventually achieve their goal. They must, not only because Hagel is a qualified nominee selected by the Commander in Chief, but because the Senate cannot accord veto power over the president's national security nominations to Republican extremists.
Photo credit: AP/Nati Harnik, File