What Will Become Of Right-Wing Bergdahl Billboard?
@DavidNeiwert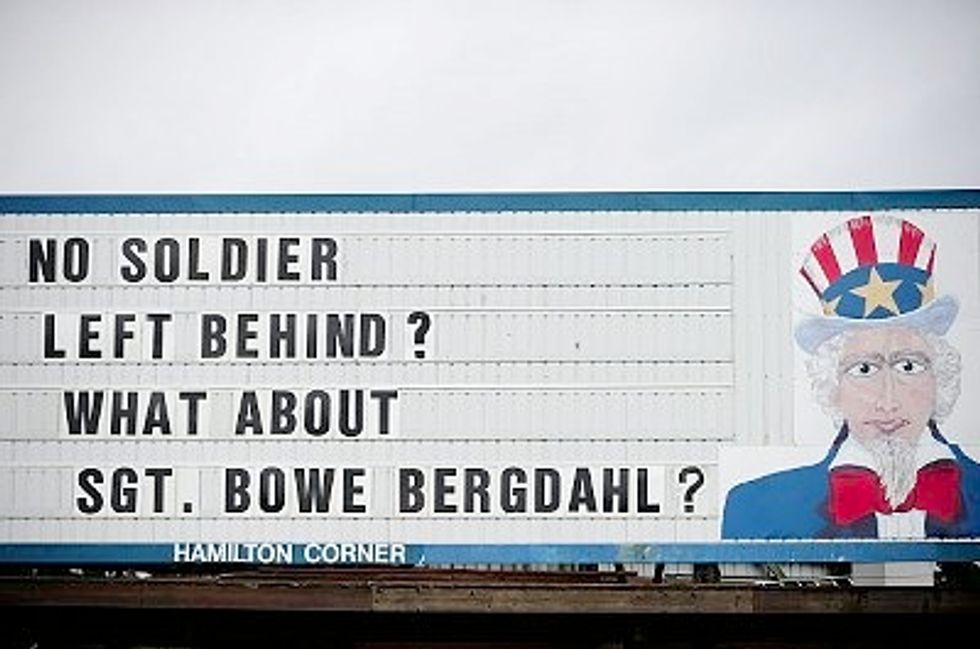 Among the bellwethers of right-wing politics in western Washington state is a popular and iconic billboard perched next to the northbound lanes of Interstate 5, almost exactly halfway between Portland and Seattle, featuring a cartoon image of Uncle Sam pointing his finger at the reader, while the crude block letters next to him form not-infrequently-misspelled messages proclaiming the cause of the moment. Not so long ago, that sign – like a number of right-wing pundits and politicians whose tweets along similar lines have been swiftly deleted – was denouncing President Obama for his ostensible failure to secure the release of then-prisoner of war Sgt. Bowe Bergdahl from his Taliban captors in Afghanistan.
"The Uncle Sam billboard," as it is known, featured the message: "No Soldier Left Behind? What About Bowe Bergdahl?" for a duration of at least a month last spring. I saw it there on March 3 during a drive from Portland, while another photographer shot the image above on April 3.
The billboard is well known to drivers in the state, especially those who make the trip on I-5 regularly (it's estimated that more than 50,000 drivers use that stretch every day). It has been there since the early 1960s, when the owner of the land on which it sits, a farmer named Alfred Hamilton, erected it and began posting his iconoclastic messages.  Always of an arch-conservative bent, they frequently wobbled into Bircherite conspiracism, especially on the subject of the United Nations.
Before Al Hamilton retired in the 1990s, the messages were changed weekly; ever since then, however, they have changed monthly. The elder Hamilton died in 2004, but one of his sons has continued the tradition and posts fresh messages monthly.
So far, there's no word on whether the Uncle Sam billboard will change its tune about Bergdahl, since the old message is no longer operative in conservative circles – which are now loudly denouncing Obama for negotiating Bergdahl's release.
Image © Alex Milan Tracy/Demotix/Corbis