Will Comey's Testimony Take Trump Down?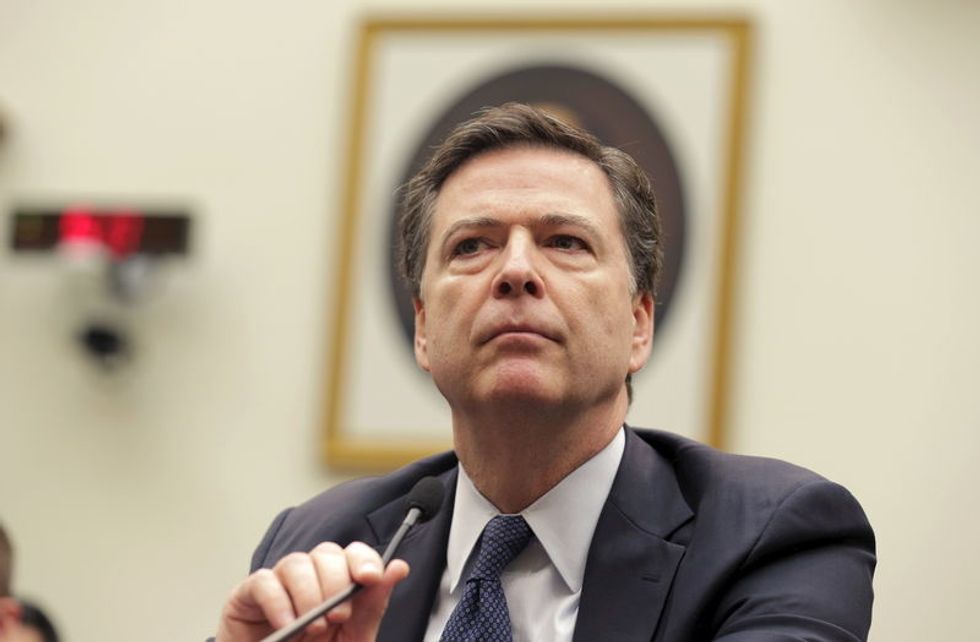 Reprinted with permission from Alternet.
"Those were lies, plain and simple," former FBI director James Comey said, when asked about President Trump's explanations of his firing in the opening minutes of Comey's dramatic appearance before the Senate Intelligence Committee.
Over the next two hours and 40 minutes, Comey amplified his previously released prepared remarks to present a devastating portrait of the president as a liar and a threat to the FBI investigation of Russian interference in the 2016 election.
Rejecting Trump's claims that the Russia investigation is "fake news," Comey repeated his certainty that Russia interfered in the 2016 election:
"They did it with purpose. They did it with sophistication. They did it with overwhelming technical efforts. And it was an active measures campaign driven from the top of that government.…It's not a close call. That happened. That's about as unfake as you can possibly get. It is very, very serious."
Comey called for bipartisan support of the investigation three times. "This is about America, not about a particular party," he said.
The spectacle before the overflow crowd and a national TV audience was extraordinary: The nation's former top cop stated, under oath, that the sitting president is an untrustworthy liar who seems indifferent to allegations that a foreign power intervened in the U.S. electoral process.
'Lies, Plain and Simple'
Comey responded indignantly to Trump's comment, made to Russian officials the day after his firing, that he was a "nutjob":
"The administration chose to defame me and more importantly the FBI, by saying that the organization was in disarray, that it was poorly led, that the workforce had lost confidence in its leader. Those were lies, plain and simple. And I am so sorry that the FBI workforce had to hear them, and I'm so sorry that the American people were told them."
Comey deflected Republican efforts to exonerate the president. When Sen. Marco Rubio (R.-Fla) pressed Comey to agree that the president is not currently under investigation, the former FBI director agreed. He repeated the point several times, but he took care to explain that he did not accede to Trump's request to make that statement publicly because it would create what he called "a duty to correct."
By that, Comey meant that if Trump subsequently did become the target of an investigation, the FBI would have a legal obligation to say so publicly. Law enforcement officers naturally prefer that their targets not know they are under investigation, even (especially) if one is the president of the United States.
In other words, Comey did not rule out the possibility that Trump might become the target of an investigation. Indeed, he strengthened the case that Trump should be investigated.
'Stunned'
Comey amplified the most damning passages of his prepared remarks.
1. He distrusted Trump even before the conclusion of their first meeting on January 6 in Trump Tower. "I was honestly concerned he might lie about the nature of our meeting, so I thought it important to document" the meeting as soon as it ended, he said.
2. Comey was 'stunned' by Trump's request to drop the FBI investigation of Gen. Michael Flynn's account of his conversations with the Russian officials. Comey said he understood the request as an order. His senior FBI colleagues, he added, were "as shocked and troubled by it as I was."
3. Comey concluded that Trump's actions required legal investigation. Comey disclosed that he leaked his account of his meeting with the president to the New York Times with the hope of triggering the appointment of a special prosecutor to take over the investigation of possible collusion between the Trump campaign and Russian officials.
That is exactly what happened when Deputy Attorney General Rod Rosenstein appointed former FBI director Robert Mueller to investigate.
Collapsing Defense
In a sign that Comey's testimony raises potential legal problems for Trump, the president did not tweet during Comey's appearances, as aides had told reporters he might. Instead, the president's personal attorney, Marc Kasowitz, released a statement attacking Comey that revealed the precariousness of Trump's defense.
Comey's testimony confirmed that Trump "never sought to impede the investigation," Kasowitz claimed in defiance of the facts.
In fact, Comey, while refraining from conclusory statements, strengthened the case that the president did in fact seek to impede the investigation.
Asked by Sen. Marco Rubio why he was fired, Comey replied, "I was fired because of the Russia investigation. Something about the way I was conducting it, the president felt, created pressure on him that he wanted to relieve."
Kasowitz called for an investigation of Comey for sharing his account of his meeting with Trump with the New York Times. Since there's no law against a private citizen sharing unclassified information with a reporter, there's no potential violation of the law to investigate. As a legal claim, it has no value.
The president's retreat from Twitter is proof that his legal defenses are crumbling. We now know there is one thing that can get the president to stop tweeting: the threat that his words will be used against him in a criminal investigation.
After Comey's testimony, Trump knows better than anyone that threat is real and gathering.
This article was made possible by the readers and supporters of AlterNet.