IS Will 'Soon' Pose Threat To United States: Top General
@AFP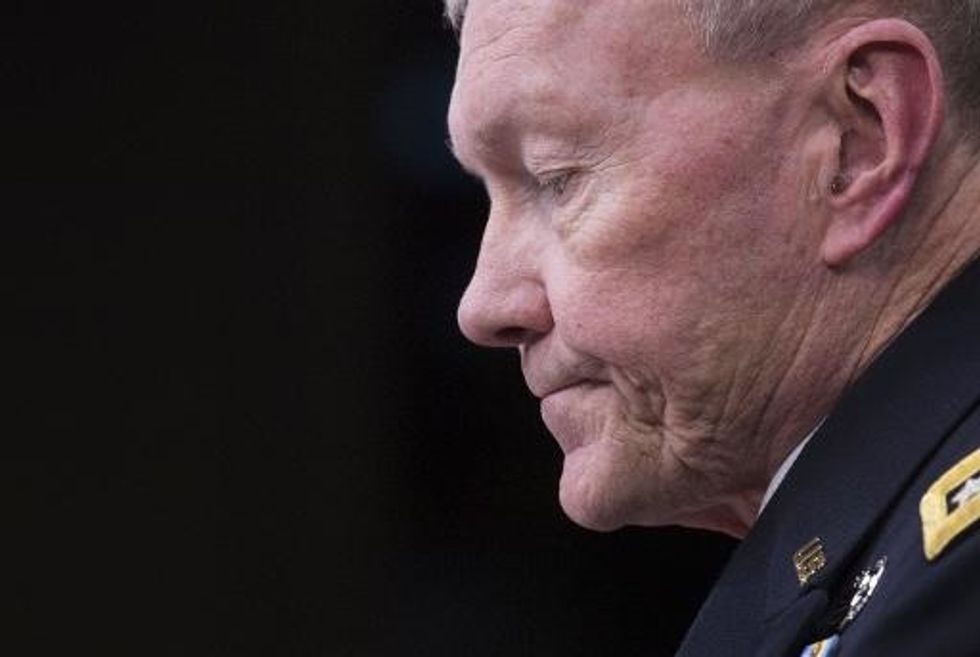 Washington (AFP) — The U.S. military's top general believes Islamic State extremists will "soon" pose a threat to America and Europe and that an international coalition will be needed to confront it, his spokesman said Monday.
U.S. commanders are preparing possible "options" to counter IS jihadists both in Iraq as well as Syria, according to General Martin Dempsey's spokesman, Colonel Ed Thomas.
Defense Secretary Chuck Hagel adopted a more strident tone last week at a Pentagon news conference, suggesting the IS militants presented a dire threat that surpassed the danger posed by the Al-Qaeda network.
But Pentagon officials insisted Hagel and Dempsey shared the same views on the IS.
Dempsey "believes that ISIS (Islamic State) is a regional threat that will soon become a threat to the United States and Europe," Thomas said in a statement.
"He (Dempsey) believes that ISIS must be pressured both in Iraq and in Syria," he added.
"He believes that it will be necessary to form a coalition of capable regional and European partners to confront the ISIS threat so that their cloak of religious legitimacy is stripped away."
Dempsey, chairman of the Joint Chiefs of Staff, has consistently portrayed IS as a regional threat that could evolve into a direct threat to the United States and Europe, as foreign fighters with Western passports could try to stage terror attacks.
Dempsey's "current mission is to protect U.S. persons and facilities and that includes, of course, actions necessary to protect the homeland wherever those threats reside," Thomas said.
In consultation with the U.S. Central Command, which oversees American forces in the Middle East, Dempsey "is preparing options to address ISIS both in Iraq and Syria with a variety of military tools including airstrikes," the statement said.
Defeating the jihadists, who have seized territory in Syria and northern and western Iraq, will require "a sustained effort over an extended period of time and much more than just military action," it added.
U.S. warplanes have been carrying out bombing raids in Iraq against the IS militants since August 8, with most of the nearly 100 strikes targeting jihadists in the north near Mosul dam. Iraqi and Kurdish troops have seized back control of the dam since the air attacks began.
The Obama administration has said all options remain open on potential military strikes in Syria, but there has been no decision to go ahead with bombing the extremists there.
AFP Photo/Saul Loeb
Interested in world news? Sign up for our daily email newsletter!