Will The GOP Be The Party Of Trump? This Week May Tell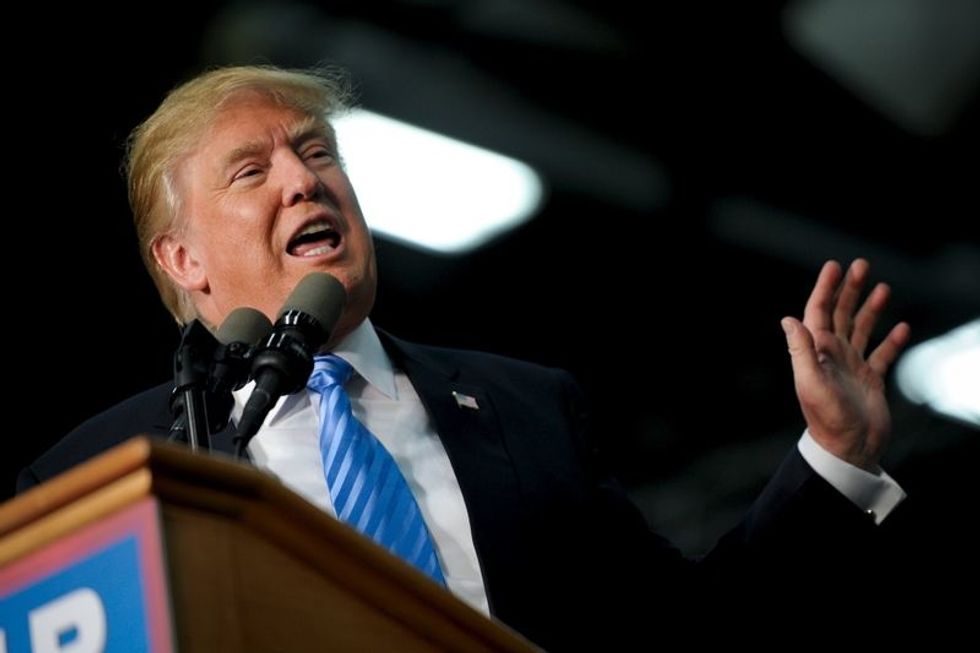 By David Lightman, McClatchy Washington Bureau (TNS)
WASHINGTON — Republicans face starting the election year branded as the party of Donald Trump and shutdown showdowns.
Or the party could emerge as the home of common-sense politicians promoting conservative ideals, while governing effectively and working with Democrats.
We'll know by the end of this week.
Events on Capitol Hill and at a Las Vegas resort will leave images of the Republican Party likely to persist through the holidays and linger into 2016.
While Washington Republicans slug it out with Democrats and one another trying to craft a spending plan and avoid a government shutdown, the party's presidential candidates will duel at Las Vegas' Venetian hotel in their final debate of the year. On tap is a battle between establishment figures challenging front-runner Trump as he defends his insults to women, Latinos and people with disabilities, and his call to bar Muslims from entering the United States.
"This is not where the Republican Party expected to be at the start of the election year," said Larry Sabato, director of the University of Virginia Center for Politics.
The Republican brand is reeling. A mid-November Bloomberg Politics Poll found that 36 percent of Americans viewed the party favorably, compared with 46 percent for the Democratic Party. Voters under 30 favored a Democrat in the White House by 56 to 36 percent, a Harvard Institute of Politics survey found.
Republican leaders had worked hard to avoid this turmoil. The GOP issued a lengthy report after the 2012 elections explaining how it needed a more tolerant image. At the Capitol, Republicans took control of the Senate this year, giving them majorities in both chambers. Voters signaled in strong terms last year that they wanted Washington to govern, but once again lawmakers are struggling.
The government had been set to run out of money last Friday. Unable to reach an agreement that would pass Congress and win President Barack Obama's approval, the deadline was extended until Wednesday night. Hard-core conservatives want a budget deal that could include limits on Syrian refugees entering this country.
"It's a big sticking point," Rep. Matt Salmon, R-Ariz., said of the refugee issue. "I think it'll cost votes. I'm not going to vote for it without the refugee language in the bill, and I know there's a lot of people of my same thought process."
To get the spending plan approved, Republicans probably will need Democratic votes.
House Speaker Paul Ryan, R-Wis., is trying mightily to calm the staunch conservatives and also project the self-assured image of a leader with a blueprint for governing. Forget Trump and the presidential free-for-all, suggested Ryan, who as chairman of the 2016 Republican convention is neutral in the presidential primary race.
He wants to produce an agenda on his own timetable.
"I don't think that we have the time to wait until a nominee arrives, which could be as late as, I don't know, June or July, to then come up with an agenda to show the country who we are and what we believe in," Ryan said.
Peacemakers such as Ryan say the party's differences are over tactics, not ideology. Once the party picks a nominee, this thinking goes, it can unify around shared views and contrast them with those of Democrats.
"We don't run for office in a vacuum," said Rep. Mario Diaz-Balart, R-Fla. "If the Democratic nominee is Hillary Clinton, that's certainly a damaged brand we can run against."
A similar drama is playing on the presidential stage. Trump remains the front-runner, arguably as strong as he's ever been, but he's alienating a huge chunk of swing voters. Two-thirds of independent voters in last week's CBS News-New York Times poll said they were concerned or scared about a Trump presidency.
The concerns about Trump have made a lot of Republican leaders nervous, and they've grown more critical since he proposed barring Muslims from entering the United States.
©2015 McClatchy Washington Bureau. Distributed by Tribune Content Agency, LLC.
Photo: U.S. Republican presidential candidate Donald Trump speaks at a campaign stop in Spencer, Iowa December 5, 2015. REUTERS/Mark Kauzlarich