Wing-Nuts Spinning As Scandals Finally Force Pruitt To Resign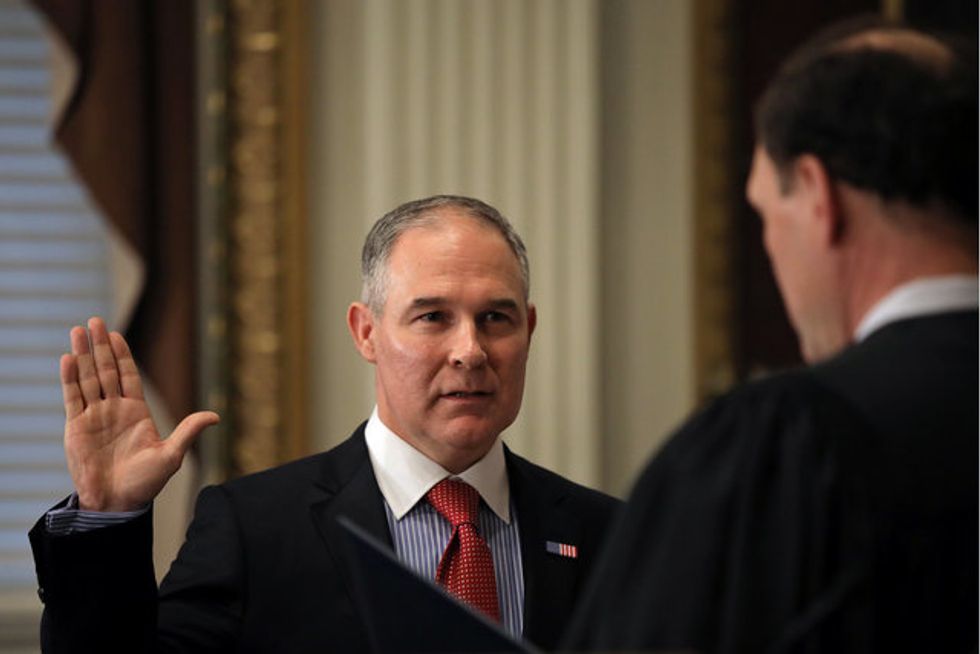 Reprinted with permission from AlterNet.
As conservative darling and EPA administrator Scott Pruitt collapsed under the weight of his own mountain of corruption and scandals Thursday, conservative media figures were already working to spin the Cabinet member's long-overdue resignation as some kind of nefarious liberal plot.
"Well funded and media coordinated #bootpruitt movement finally gets its scalp," tweeted Mollie Hemmingway, an editor at The Federalist. "Would have taken hours, not months, in a typical GOP admin but now that it has had its success, expect it to be repeated with other Trump cabinet officials."
Kimberley Strassel, the relentless defender of President Donald Trump at the Wall Street Journal, wrote: "Lesson to other Trump officials from Pruitt resignation: Give the left/media/organized greens any molehill and they will turn it into K2. Most of the accusations were overwrought, but the barrage was overwhelming. Let's hope an equally reformist successor denies them a repeat."
Conservative radio host Hugh Hewitt agreed with Strassel.
"Scott Pruitt is a good friend and a very good man, caricatured by left and MSM. I hope he sets to work on a memoir ASAP and deals out a tenth of what he took. He's a man of great faith and perseverance so he probably won't, but the attacks on his family were unconscionable," he wrote.
The spin was preposterous. News agencies did what they're supposed to do: uncover wrongdoing by people in power. When they investigated Pruitt, they found a lot — so much that he's the subject of at least 12 different investigations.
Trump and White House press secretary Sarah Sanders, who are typically vociferous critics of the media, never actually called the reports of his abuses and corruption "fake news." Sanders repeatedly said that the White House was looking into the charges against Pruitt.
When even Trump and Sanders think the accusations against a Cabinet member are credible, we know it's bad.
Cody Fenwick is a reporter and editor. Follow him on Twitter @codytfenwick.