Wisconsin Gov. Walker To Test The Presidential Waters At Iowa Gathering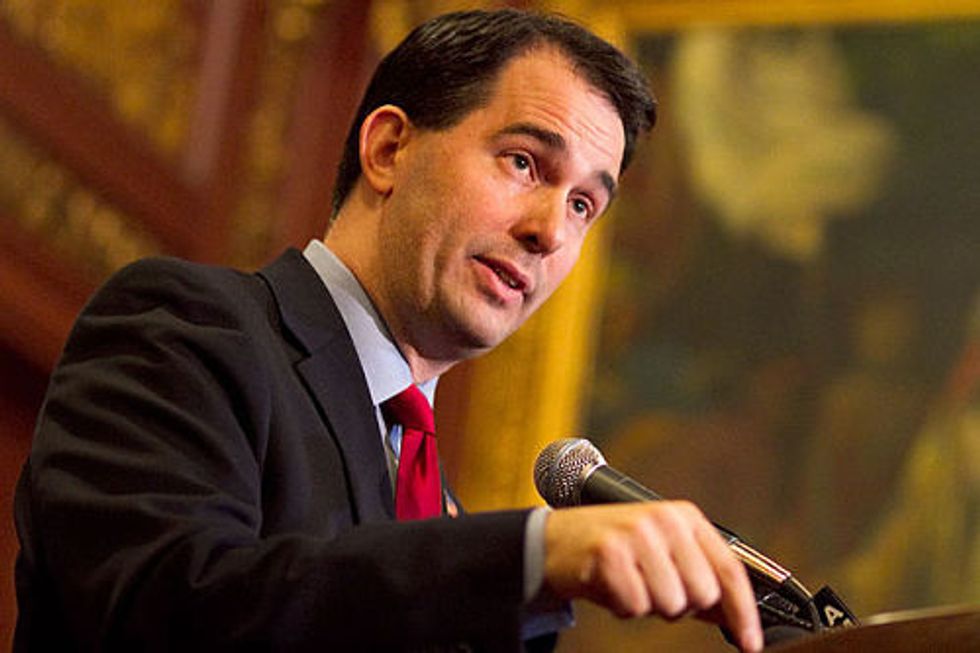 By Jason Stein and Patrick Marley, Milwaukee Journal Sentinel (TNS)
MADISON, Wis. — Here goes.
Gov. Scott Walker is proving this week that his presidential bid isn't just a daydream of his conservative admirers and news media prowling for the next big political story.
On Thursday, he announced he will appear alongside other hopefuls at a major GOP gathering in Des Moines later this month. He has also hired a veteran consultant to manage his increasingly likely run and said he was praying about whether to make a White House run.
"Any major decision I've made in my life, politics or otherwise, I've tried to discern God's calling on, so this would be part of it," he told reporters Thursday after addressing the Wisconsin Bankers Association.
"If I were to run, I wouldn't run just for the sake of running. I'd run because I thought I had something unique to offer the American people and that I could do good for this country and I'd run with the full intention of winning."
Walker has had to mix this political work with demanding official duties like finalizing his Cabinet appointments and the two-year state budget he will introduce Feb. 3. But any potential 2016 candidate who doesn't lay ground work now risks being left behind, as the governor himself acknowledged recently when he said that aspirants "can't go too far into 2015" without deciding on a run.
"We're seriously looking at it," he said Thursday. "It's not something you should just kick around and just go in halfway. If you're serious about considering something, you should spend the time, put in place the right people to advise you and so that if you make that ultimate decision it's not something you back your way into, it's something you've gone into with your eyes wide open and you're fully prepared to act on."
This week has been rife with movement toward a presidential campaign.
On Thursday, Walker committed to appear on Jan. 24 at the Iowa Freedom Summit sponsored by Citizens United and Steve King, a congressman from western Iowa best known for conservative stands such as his criticism of illegal immigration.
Walker said that forum would give him the opportunity to "share our vision, talk about what we've done in Wisconsin and see if that matches the interest of people in states like Iowa."
The Wisconsin governor will have plenty of powerful Republicans for company — 2008 vice presidential nominee Sarah Palin, New Jersey Gov. Chris Christie, former Arkansas Gov. Mike Huckabee, Texas Gov. Rick Perry and former House Speaker Newt Gingrich.
Most potential GOP candidates for 2016 will be at the conference, with several notable exceptions: U.S. Sen. Rand Paul of Kentucky, former Florida Gov. Jeb Bush and U.S. Sen. Marco Rubio of Florida. Bush and Rubio have moderate stances on immigration.
Walker's visit to Des Moines will come during a hectic time at the Wisconsin Capitol, falling between his Tuesday "state of the state" speech and his Feb. 3 budget address. But Republicans in Iowa have repeatedly said that presidential hopefuls like Walker won't be able to compete in their state's first-in-the-nation caucus if they focus exclusively on their official duties for the next few months.
For Walker, a strong showing in the neighboring state where he spent part of his childhood is particularly important if he wants to compete in the states that come afterward.
Craig Robinson, founder and editor of TheIowaRepublican.com, told The Milwaukee Journal Sentinel in November that skipping King's conference would be a mistake for Walker.
"That's an event if (Walker's) not at, a lot of people are going to say, 'Maybe he's not going run,'" Robinson said then of the forum.
After spending 2014 focused on his successful re-election run against Democrat Mary Burke, Walker already needs to make up ground in Iowa on conservatives such as Paul and Christie, who visited the Hawkeye State more than a half dozen times last year to Walker's single visit.
Steffen Schmidt, a political sciences professor at Iowa State University, said Walker is still a "stealth candidate" in his state.
"We know he is interested but are not hearing a lot yet," Schmidt said.
Whether that strategy will save Walker from unwanted scrutiny or leave him too far behind to catch up to the front-runners remains to be seen, Schmidt said.
For now, the governor is taking other steps to close the gap with more established candidates, including hiring Rick Wiley to manage his potential presidential campaign.
"I wanted someone who had an understanding on a national basis but who I had been familiar with from years ago in Wisconsin" to advise the campaign, Walker said.
Wiley, an Illinois native based in Austin, Texas, has served in top posts at the Republican National Committee, Wisconsin Republican Party and Rudy Giuliani's 2008 presidential campaign.
In 2014, he served as a consultant with the Republican Governors Association, helping Walker and others around the country. He had a similar role for the National Republican Senatorial Committee with the campaign of Joni Ernst of Iowa, giving him an entrance to the key caucus state.
Walker said he was not sure if he would set up a political action committee, one key way to start a national campaign. Walker said he was considering that option, as well as others, and would likely make an announcement in a few weeks about how he would proceed.
He did not offer a timeline for getting in the race and said he did not have to speed up his decision making because of Bush's recent steps toward a presidential run.
Asked by an audience member at the bankers meeting about a potential run for president, Walker said if he runs, it would not distract him from governing Wisconsin.
"My viability as a potential candidate is only as good as the work I do for the people of this state," he said. "If I ignore this state and things fall apart, I'll be done. If we continue to do good things and I happen to be a candidate, then I'm a viable candidate."
One sign of Walker's high profile is the attention he is receiving from national media, which are vetting pieces of the governor's background that have already been scrutinized here in Wisconsin.
On Thursday, for instance, The Washington Post published a piece noting that, while the majority of Americans are just like Walker in not having completed college, most of the nation's 44 presidents going back to George Washington did so. That includes every president since 1897 except Democrat Harry Truman.
Comparisons further back in history get more difficult. Of the nine presidents that didn't complete college, for instance, four of them — Andrew Jackson, Millard Fillmore, Abraham Lincoln and Grover Cleveland — read law and were admitted to their local bars to practice it.
For his part, Walker doesn't apologize for embarking on a political career of more than two decades without finishing his studies at Marquette University.
"I've got a master's degree in taking on the big-government special interests, and I think that is worth more than anything else that anybody can point to," he told conservative talk radio host Hugh Hewitt Tuesday.
Photo via Wikimedia Commons