With This Statistic, Canada Demonstrates What A Difference Gun Control Can Make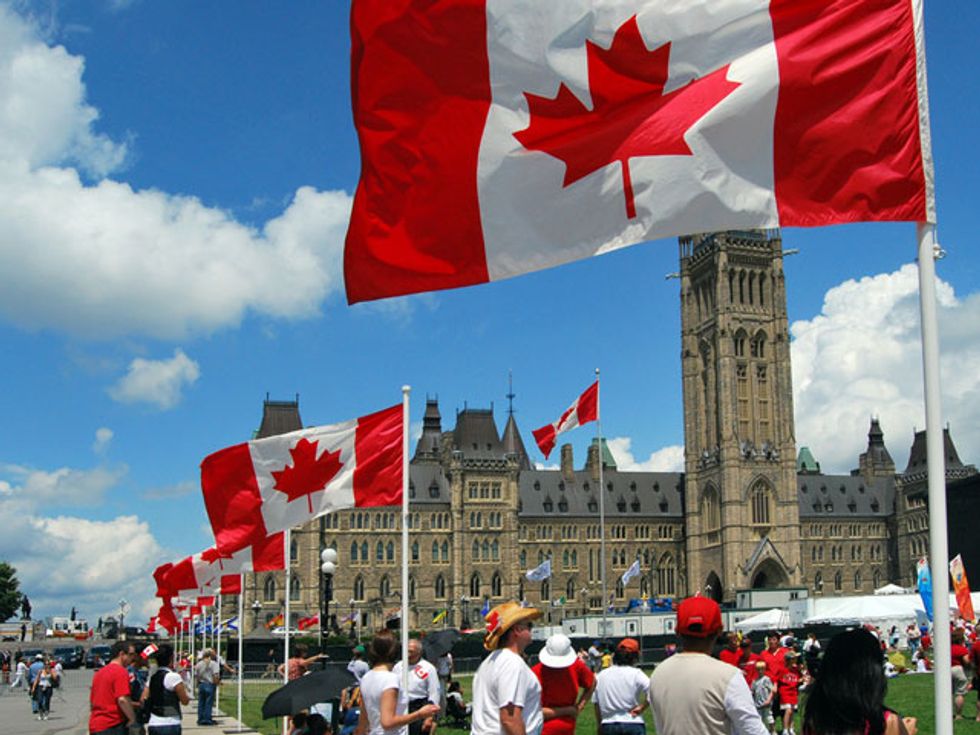 No mainstream American politician would ever propose to get rid of all guns. But what might happen if we seriously approached the issues of gun safety, licensing, and registration?
As a country that allows private gun ownership and also has a robust hunting culture, Canada offers a useful point of comparison with the United States. However, the two countries are quite different in terms of their gun control laws, and, as it happens, their gun murder rates: The United States has a whopping 89 firearms per 100 residents, the number-one rank in the world, while Canada's guns are at 31 firearms per 100 people, putting it in the 13th place globally. The country also has a comprehensive system of gun licensing — with citizens required to take a safety course if they want to own and operate a gun, which is, after all, a dangerous piece of machinery.
Under Canada's laws, handguns have been registered since 1934. Other changes in gun policy have occurred over the decades, including the creation in the 1970s of the Firearms Acquisition License, now known as a Possession and Acquisition License (PAL), which is a permit needed in order to purchase a gun. And licenses to carry guns in Canada are quite rare.
A centralized system of issuing gun licenses began in the late 1980s and early 1990s, as part of a wave of gun control legislation brought forward by both the Conservative and Liberal parties. When the latter party came into office in 1993, much of the implementation became their task — and the new registration of long guns became a wedge issue in rural areas, particularly in western Canada where the Conservative Party would grow to dominate.
In 2012, under Prime Minister Stephen Harper, the Conservative Party repealed the long gun registry and destroyed the records that had been amassed from it — but there are still records on "restricted" and "prohibited" guns, generally various forms of handguns and/or automatic weapons. (As the Royal Canadian Mounted Police makes very clear, the long gun registry repeal "does not change the requirement for all individuals to hold a licensee in order to possess a firearm.") And not even the Conservatives would propose getting rid of the the handgun registry, safety courses, or gun licenses as they now exist.
So what difference, if any, might be gleaned from Canada's focus on gun safety and efforts to keep weapons out of the wrong hands?
To start with a baseline, the United States has a population roughly nine times that of Canada, according to the most up-to-date figures from the U.S. Census Bureau and its northern counterpart, Statistics Canada.
In Canada in 2013, the most recent year for which numbers have been posted by Statistics Canada, there were a total of 505 homicides — which would be proportional to about 4,534 homicides in the United States.
But in the United States, according to the FBI, there were 12,253 homicides in 2013 — a factor of 2.9 times the Canadian equivalent.
Now let's dig in a little further and look at the impact that gun violence might be having on these numbers. In the U.S. figures, 8,454 of these homicides — 69 percent — were committed with firearms, compared to only 26 percent in Canada — 131, or a U.S. equivalent of 1,179, which is less than 1/7th of America's gun killings.
Of the non-gun killings — with various methods including stabbings, beatings, fire, poisoning, and so on — here the numbers are obviously much closer. The United States had 3,799 in 2013, while Canada had 374 — which would correspond to 3,366 in the United States, giving the U.S. a figure only 13 percent greater than Canada's.
Or to put it more simply: Nearly the entire difference in the homicide numbers between the United States and Canada comes from guns.
But to quote the late, great American comedian Bill Hicks: "But there's no connection — and you'd be a fool and a communist to make one — there's no connection between having a gun and shooting someone with it, and not having a gun and not shooting someone."
Photo: Parliament Hill, Ottawa, Canada. (Zhu via Flickr).