Woman Who Took Down Confederate Flag: 'We Want An End To The Hate'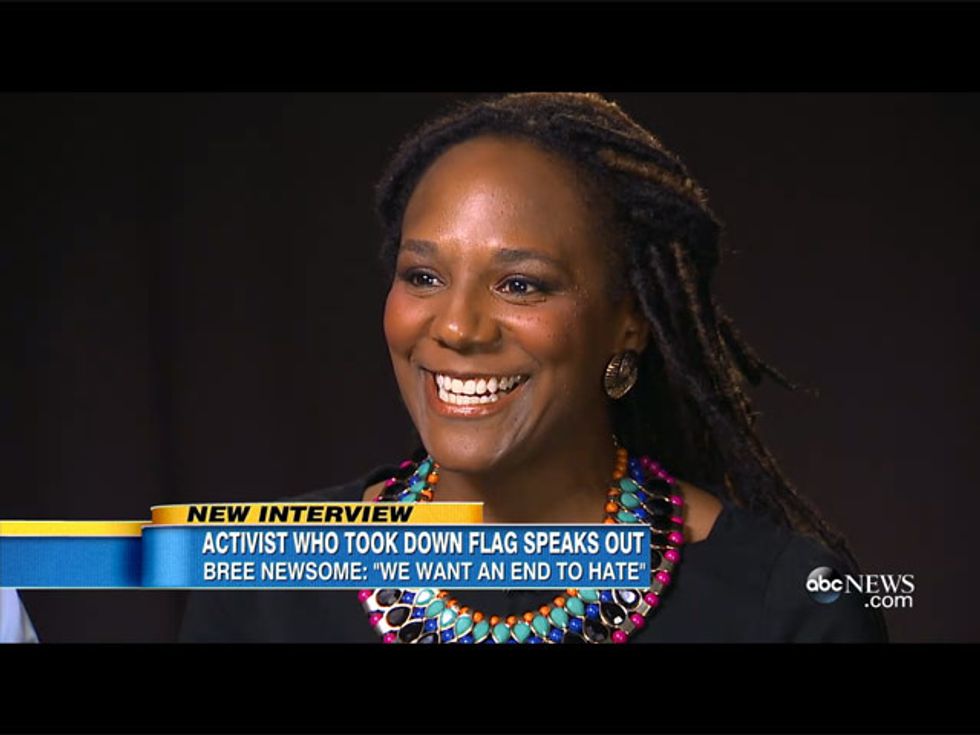 Bree Newsome, the activist who made headlines around the world last Saturday when she took down the Confederate flag on the South Carolina state Capitol grounds, is now taking to the media to spread the deeper message behind her actions.
"I felt very strongly we needed that moment," Newsome said during an appearance on ABC's Good Morning America, which aired Thursday. "We needed that moment to say 'enough is enough.' We want an end to the hate."
After she removed the flag, the State House staff put a new one up — but Newsome still believes she accomplished her goal. "Absolutely," she said, with a wide smile, "because you've seen a lot of people have been inspired by that moment."
Newsome also announced on her Twitter account Thursday that she had recorded an interview with Democracy Now!, and would appear Thursday night on CBS Evening News and The Nightly Show with Larry Wilmore. And it looks like she and Larry might be sharing their thoughts over a nice mixed drink often associated with the South:
Newsome and her compatriot, James Ian Tyson, face maximum possible sentences of three years in prison and fines of $5,000 for defacing a public monument — though they maintain their legal innocence, on the grounds that they did not actually deface the existing monuments.
On Monday, Newsome posted a lengthy message on the website Blue Nation Review, calling for social justice and thanking people for their support. She clarified that it was a deliberate choice among her group of activist friends to have the flag be removed by a black woman, aided by a white male accomplice. The message also discussed her own family heritage in South Carolina, going back to her ancestors who lived in slavery. (Newsome is from North Carolina, which has led to some objections to her taking such a lead role against the Confederate flag in South Carolina.)
The post closes:
It is important to remember that our struggle doesn't end when the flag comes down. The Confederacy is a southern thing, but white supremacy is not. Our generation has taken up the banner to fight battles many thought were won long ago. We must fight with all vigor now so that our grandchildren aren't still fighting these battles in another 50 years. Black Lives Matter. This is non-negotiable.

I encourage everyone to understand the history, recognize the problems of the present and take action to show the world that the status quo is not acceptable. The last few days have confirmed to me that people understand the importance of action and are ready to take such action. Whether the topic is trending nationally or it's an issue affecting our local communities, those of us who are conscious must do what is right in this moment. And we must do it without fear. New eras require new models of leadership. This is a multi-leader movement. I believe that. I stand by that. I am because we are. I am one of many.

This moment is a call to action for us all. All honor and praise to God.