Women Hold Democrats' Keys To Control Of Senate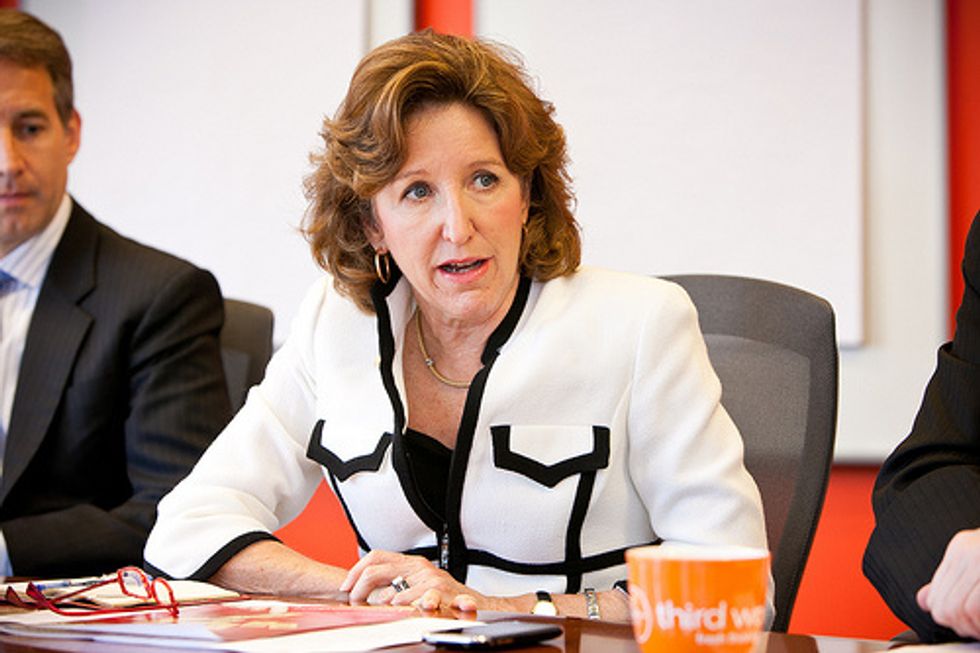 By David Lightman, McClatchy Washington Bureau
WASHINGTON — Women might be the Democrats' 2014 firewall, the force that holds back a Republican wave that appears to be building toward seizing control of the Senate.
Kentucky Secretary of State Alison Lundergan Grimes and Georgia's Michelle Nunn won primaries Tuesday and are their states' Democratic U.S. Senate nominees, joining Sen. Kay Hagan, D-N.C., and other prominent Democratic women as competitive Senate candidates in pivotal battlegrounds.
If Grimes or Nunn could seize Senate seats now held by Republicans, it would greatly help the Democrats offset expected losses elsewhere and perhaps stop the GOP from gaining the net six seats it needs to win majority control.
And if Hagan can fight off a GOP challenge to hold her seat in one of the nation's most hotly contested races, it would further boost Democratic prospects in what otherwise still looks like a challenging year for the party.
As many as 11 seats now held by Democrats are in play. The primary wins Tuesday by Nunn and Grimes at least allow Democrats to play offense, since both women seek Republican-held seats. They also make it easier for the party and sympathetic interest groups to promote a national, women-oriented message that fires up that important base of support.
The battle for women is emerging on several fronts. Hagan has already made mobilizing women the centerpiece of her re-election strategy, and she's getting lots of help.
Planned Parenthood Votes plans to focus on North Carolina with a $3.3 million budget of TV ads, canvassing and other outreach. "We've run the numbers, and we know how to reach the voters who will help ensure that women's health champions remain in office," the group said in a fact sheet on its plans.
In Kentucky, Grimes is expected to wage a strong challenge to Senate Republican leader Mitch McConnell as he seeks a sixth term.
Part of the dynamic there might be driven by contrasts in resume and style. McConnell, 72, is a dour tactician, not known for his warmth. Grimes, 35, come across as more energetic.
In Georgia, Nunn will face the winner of a Republican runoff July 22 between businessman David Perdue and Rep. Jack Kingston.
Nunn, 48, has a long resume as a volunteer organization executive. Perdue was the chief executive officer of Reebok and later Dollar General. Kingston, 59, is an 11-term congressional veteran comfortable among chamber of commerce types.
As a backdrop, Democrats are making a dogged push to turn out votes from women. Unmarried women were one-fourth of the 2012 electorate, and they voted 2 to 1 for President Barack Obama. Eleven women won Senate seats, 10 of them Democrats.
Turnout is expected to be lower this year, and Democratic strategists worry that they'll lose a lot of loyal voters in November.
A memo from Greenberg Quinlan Rosner Research, a Democratic firm, and Page Gardner, the president of the Voter Participation Center, an advocacy group, warned last month that women "are unlikely to vote, and less likely to give Democrats big margins, if Democrats are not laser focused on the issues that matter most to them."
Senate Democrats got the message, pushing for votes on the Paycheck Fairness Act, which would give employees new tools to fight wage discrimination, and a higher minimum wage, which Democrats argue that women disproportionately need.
In an introductory video, Grimes appears with her grandmothers at a dining room table and calls them "two of the strongest women I've ever known." She criticizes McConnell for opposing a minimum wage increase "over and over again, while you became a multimillionaire in public office."
McConnell counters by having his wife, former Labor Secretary Elaine Chao, as an important campaign surrogate. Last year, she cut a 30-second ad in which she looks directly into the camera with a slight smile.
"Mitch works his heart out to protect Kentucky from Washington's bad ideas because Mitch loves Kentucky — we love Kentucky," she says.
In Georgia, Nunn, the daughter of former Sen. Sam Nunn, says in a video that while "I've had a lot of people to look up to in my life, at the very top of my list is my grandmother."
The Kentucky and Georgia races will turn on a long list of factors: loyalty to Obama, disdain for anyone with ties to Washington, views of the Affordable Care Act. But creating a bandwagon for Democratic women might make a big difference — and make it harder for Republicans to win Senate control.
"They just have to get that base excited," said Kyle Kondik, analyst at Sabato's Crystal Ball at the University of Virginia.
Democrats are not alone in nominating women.
Four Republicans are regarded as strong candidates for Senate seats: Terri Lynn Land in Michigan, Rep. Shelley Moore Capito in West Virginia, Monica Wehby in Oregon and incumbent Sen. Susan Collins in Maine.
"The fact is that these men don't understand this struggle and have no idea what a war on women really is," Land says of Obama and her Democratic rival, Rep. Gary Peters. "I'm a woman. Of course I support equal pay for equal work."
Photo: Third Way via Flickr