Women Made Historic Midterm Gains — But Not GOP Women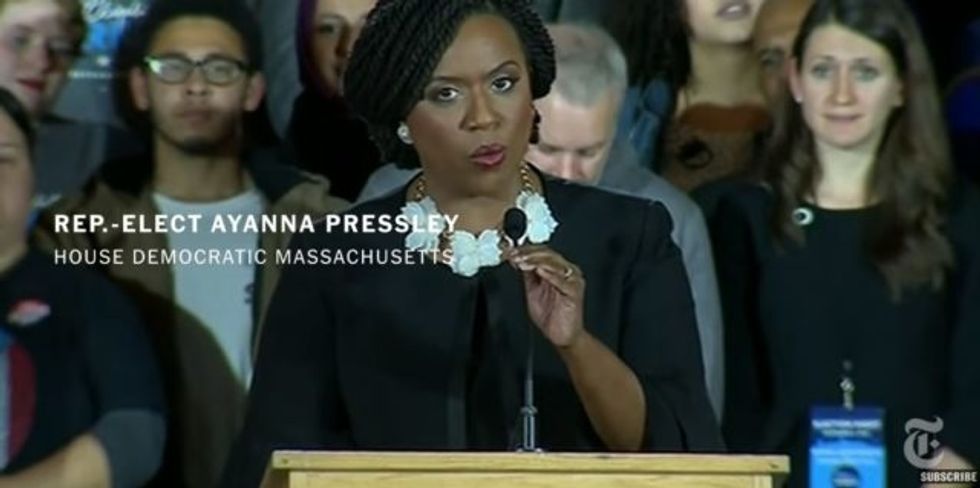 Reprinted with permission from Shareblue.
After a virulently misogynist sexual predator won the presidency in 2016, a lot of women were pissed off — and they turned that fury into action. They got organized on a massive scale and ran for office in historic numbers, both to fight against Trump and to fight for their communities.
So it's no wonder that women made historic gains in Congress on election night. At least 121 women will serve in the next House and Senate. That's a new record, up from the current 107, and the number may grow as more results come in.
For the first time in U.S. history, more than 100 women will serve in the House of Representatives.
And those women are diverse. All at once, Congress will welcome its first two Muslim women (Rashida Tlaib of Michigan, Ilhan Omar of Minnesota) and first two Native American women (Sharice Davids of Kansas, Deb Haaland of Michigan) to serve in the House.
But there's a huge, glaring asterisk attached to this progress: It's all thanks to Democratic women.
In fact, the 116th Congress will have fewer Republican women than the 115th.
The first and only black Republican woman in Congress, Mia Love of Utah, was defeated in her re-election bid. It's possible that Republicans could add another woman of color in their caucus come January if Young Kim is able to hold her lead against Gil Cisneros in California, but that's far from certain.
And the highest-ranking Republican woman in Congress, Cathy McMorris Rodgers, has announced  that she won't run for GOP leadership again after a very challenging re-election campaign.
In general, women are drastically underrepresented at all levels of government, and in both major parties. But the gender gap is much, much worse for Republicans, and has been for decades.
There are a lot of reasons for this, none of them good.
For starters, the Republican Party platform is a regressive carnival of horrors when it comes to women's health and rights. The GOP really has been waging war on women for decades, opposing just about every possible effort to promote gender equality.
That includes not only reproductive freedom, but also issues like equal pay, paid family leave, workplace accommodations for pregnant and nursing mothers, and protections for victims of sexual assault and domestic violence, among many others.
And that's "just" in the policy arena. Republicans are also culturally dismissive of women's dignity and equality, as their disgraceful display over Brett Kavanaugh made clear.
The GOP is now the party of rape — not just rapists, but also the people who protect and excuse rapists. (Not to mention pedophiles and actual Nazis.)
If you're a Republican who hasn't been turned off yet by a party this systemically hostile to women, you just might be less likely than most to support a woman candidate.
That's one reason why GOP strategists were actually discouraging many Republican women, especially more moderate women, from running this year — because that's just how toxic and misogynist the pro-Trump GOP is these days.
But if you're a woman trying to succeed in the Republican Party despite its misogyny, you've actually got much bigger problems than sexist voters: You've also got a sexist party that structurally disadvantages women.
In general, research finds that women in both parties are just as likely to be elected to office as men are — once they actually run. But the hard part is getting women to run in the first place, because they tend to have less robust political networks than men, more conflicting obligations at home, fewer people encouraging them to run for office, and fewer women elected officials to look up to and think, "I could do that too."
Democratic and progressive organizers have spent a lot of time and money trying to change that by actively recruiting and training women to run for office.
The GOP, on the other hand, embraces traditional gender norms that frown on women seeking ambitious careers. Its leaders openly mock the value of diversity and equal representation.
And if you're a conservative Republican woman, chances are that you enthusiastically endorse the very same regressive ideas that end up holding you back as both a woman and a candidate for office.
This is the other important reason GOP women missed out on this year's pink wave: They actually weren't pissed off when the misogynist Trump got elected. Or at least not pissed off enough to do something about it.
Despite Trump's ugly behavior toward women, over half of white women still voted for him. That's about the same share of white women who vote for Republicans in every election.
A lot of those women claimed they didn't care for Trump's behavior, or even said they found it repugnant. But because Trump was the Republican nominee, they found reasons to excuse or minimize his misogyny in order to vote for him.
The Republican Party is holding conservative women back politically, and conservative women are letting it happen.
And until that changes, Democratic women will be the ones making history.
Published with permission of The American Independent.