6 Ways Women Are Already Resisting Donald Trump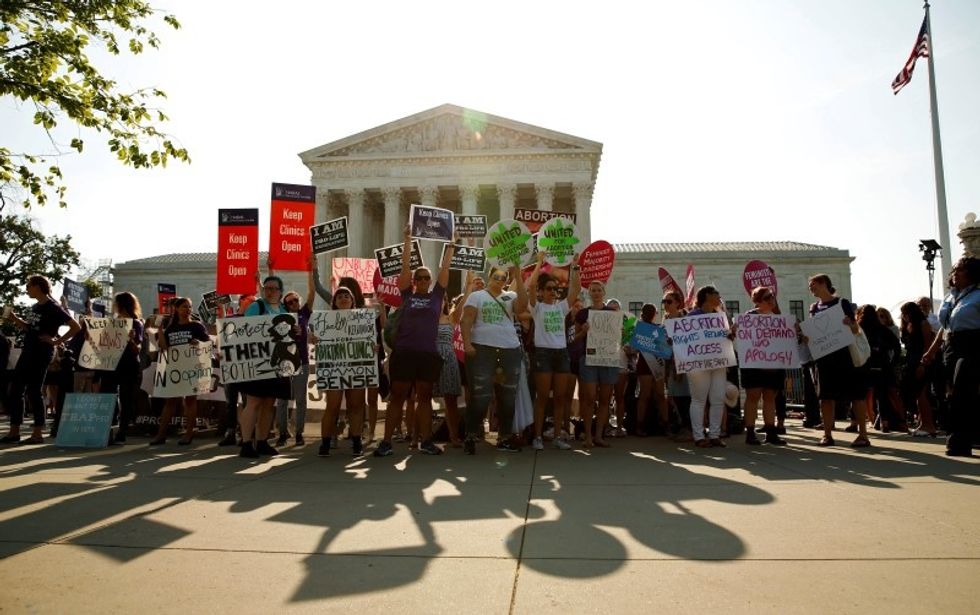 Reprinted with permission from AlterNet.
On November 8, America elected a sexual predator to the presidency. Despite reeling from a collective gut punch, women who were opposed to President-elect Donald Trump channeled their sadness and rage into activism and organization.
The biggest and most well-known way women are objecting to Trump is the Women's March on Washington, headed by three women of color and expected to draw hundreds of thousands. But women are leading the resistance in many other ways, from a teen magazine that called out Trump when the rest of the media still dealt in false equivalencies to a flood of Planned Parenthood donations made in Mike Pence's name.
Here are six ways women are resisting Trump.
1. Women's March on Washington
At 10 a.m. on January 21, more than 200,000 women and their male allies will gather in Washington, D.C. on the corner of Independence Avenue and Third Street near the Capitol Building and continue along the National Mall, according to an email message from Women's March on Washington spokeswoman Cassady Fendlay. On Tuesday, march organizers announced that Gloria Steinem and Planned Parenthood would be official partners of the march.
It all started with rage and a Facebook page. While many of those who thought Hillary Clinton would win the election were still sobbing in their beds the morning of November 9, a Hawaii woman named Teresa Shook created a Facebook event and invited 40 of her friends to march on Washington on January 21 to protest Donald Trump's election. Their idea snowballed all the way to Pantsuit Nation, the 3 million-plus member Facebook group of Hillary Clinton supporters, and suddenly there were multiple event pages with thousands of women signing up to go.
Activist Bob Bland and her team consolidated the Facebook pages, but they quickly realized most of the people involved were a) in way over their heads; b) not professional organizers; and c) white. As the Facebook event page explains, to be more inclusive and more strategic, they brought in some women of color: Carmen Perez, Linda Sarsour and Tamika Mallory, three accomplished social justice activists, who among other achievements, led a 2015 march from New York City to Washington, D.C., walking 250 miles to demand a fairer criminal justice system. If anyone can effectively mobilize the nearly 200,000 people who have signed up to march on the 21st, it's these three powerhouses. Visit the website for more details and to RSVP.
2. Donating to Planned Parenthood in Mike Pence's name.
As of December 8, Planned Parenthood had received 315,000 donations since Donald Trump's electoral victory—and 82,000 of them were made in Mike Pence's name.
No, the man responsible for spiking Indiana's HIV rates and hosting funerals for fetuses hasn't had a sudden change of heart, but who cares? To show their support of the organization and to piss off Pence, tens of thousands of women are using his name for a good cause. The best part is, Pence gets thank-you notes for each donation.
3. Teens send vagina lollipops to Donald Trump.
Send Trump Pussy is a campaign created by an inventive high school couple who are showing their displeasure at Trump's election by making lollipops. For a mere $3.99 (plus $1 shipping), the two will send lollipops to Trump Tower, with 50 percent of the proceeds going to Planned Parenthood. According to their website, the two activists, who go by Gabe and Jules, are "on a mission to show Trump and America that we're unsatisfied."
According to the New York Daily News, the anatomically correct lollipops "are made with a 3-D mold and filled with basic lollipop filling." The couple report that they have filled over 2,200 orders since December 20.
4. Teen Vogue emerges as a political and journalistic force.
Underestimate teenage girls at your own peril. While the rest of the media was contemplating whether to give Trump the benefit of the doubt, a prominent teen publication was quietly publishing articles like "Donald Trump Is Gaslighting America," "How the 'Heartbeat Bill' Is Affecting a Girl Who Had An Abortion" and "What's Happening at Standing Rock, from 2 Native American Girls" (which is among the magazine's most watched videos ever).
Many media observers were surprised that a publication for teenage girls would be so forceful. They shouldn't have been. As the New York Times notes, "Teen Vogue has been speaking frankly about more than fashion for a while." That's thanks to editor-in-chief Elaine Welteroth and digital editorial director Phillip Picardi, who have beefed up the publication's political coverage since the 2016 presidential primary debates. According to the Times, this is only the beginning: "part of the strategy, Ms. Welteroth and Mr. Picardi say, is to let teenage girls tell their own stories of how political issues affect their lives." As Picardi noted, "If you hear someone's story… you are more likely to let your guard down."
5. Women of color elected to most diverse Congress in history.
While America elected the KKK's candidate of choice for president, some states helped to boost the number of women of color in the Senate. Kamala Harris, Tammy Duckworth and Catherine Cortez Masto are the names of the three silver linings who, when sworn in January 20, will quadrupule the number of women of color in the Senate. There is currently just one, Mazie Hirono, from Hawaii.
There were also gains in the House of Representatives, as ABC News reported:
Pramila Jayapal, who won in Washington state, immigrated to the U.S. after being born in India and raised in Indonesia and Singapore. Stephanie Murphy, who won in Florida, is the daughter of Vietnamese refugees; she will be the first Vietnamese-American in Congress.

Nanette Barragan is the first Latina elected by her congressional district in Los Angeles, and the group of incoming congresswomen is rounded out by Colleen Hanabusa from Hawaii. Lisa Blunt Rochester will be the first African-American to serve in Congress from Delaware, and Val Demings will be the first African-American to fill her Florida congressional seat.
6. More women running for office.
Women like Harris, Cortez Masto and Duckworth are only the beginning. Multiple organizations that help women run for office are noting increased interest and pledges from women who say they want to run for a variety of elected offices, from school board, city council and governor, all the way to Congress and eventually the White House.
According to the Huffington Post, the non-partisan female leadership training organization She Should Run, has heard from 4,500 women who want to attend its incubator training. Emily's List, which focuses on electing pro-choice Democrats, told the Huffington Post that it received $770,000 in donations after November 8 through early December, 36 percent of it from new donors. Similar organizations, such as Emerge America, have also seen spikes in interest and donations.
Ilana Novick is an AlterNet contributing writer and production editor.
IMAGE: Demonstrators hold signs outside the U.S. Supreme Court as the court is due to decide whether a Republican-backed 2013 Texas law placed an undue burden on women exercising their constitutional right to abortion in Washington, U.S.  June 27, 2016. REUTERS/Kevin Lamarque