Would You Trust Rubio With Nation's Finances?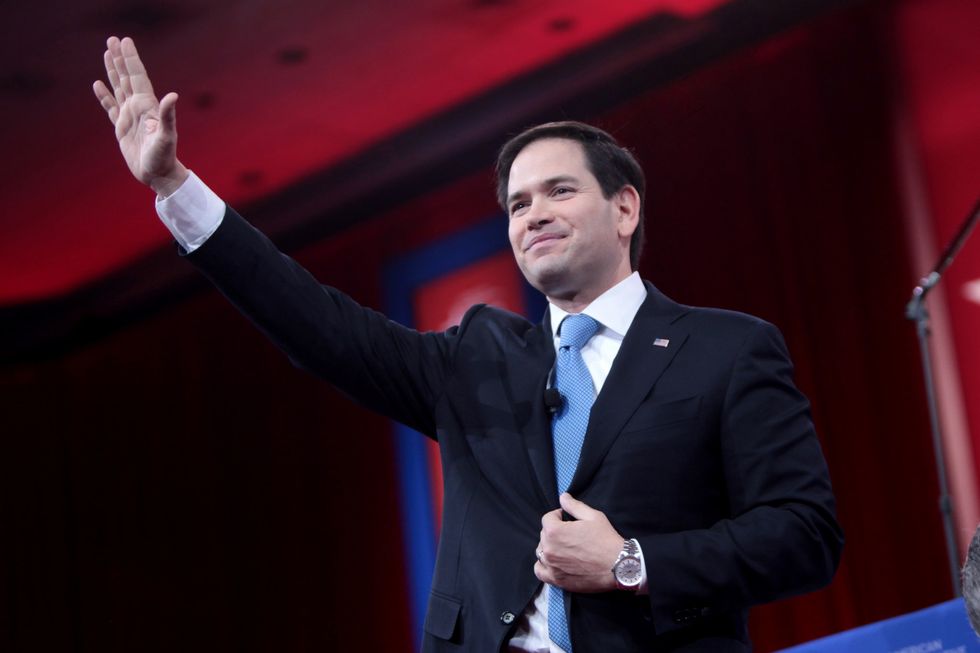 Marco Rubio has a good backstory, and he enjoys telling it.
Hard-working immigrant parents, humble beginnings in South Florida — and now he's a U.S. senator running for president at age 44.
It's a stirring, up-by-the-bootstraps tale, if you leave out the credit-card mixups, unpaid mortgage, and $80,000 speedboat.
On the campaign trail, Rubio promises in scolding tones to rein in government spending, yet in his personal life he has displayed absolutely no talent for managing money.
The idea of him sitting in the Oval Office with billions at stake is a little scary. To believe that prudence and competence will suddenly bloom when he gets a crack at the federal budget is optimistic in the extreme.
Rubio's struggles to handle his own checkbook have been well chronicled by the Miami Herald and other Florida media. A few years ago he was caught nicking the state Republican Party's American Express card for more than $16,000 in personal expenses, including travel to a family reunion and a paving job at his home.
Rubio said he accidentally took out the wrong credit to pay for the stone pavers, and that a travel agent mistakenly billed the GOP account for the reunion charges. All the money was repaid after reporters started asking questions.
While in the state Legislature, where he eventually became Speaker of the House, Rubio set up political-action committees. One of them gave him thousands of dollars in reimbursements for auto expenses, gas and phone bills. That PAC was, on paper, run by his wife.
Rubio also jointly bought a house in Tallahassee with his close pal, then-state representative and future U.S. congressman David Rivera, one of the sleaziest slugs to ever attain public office in South Florida.
During one stretch, Rubio and Rivera went five months without making any mortgage payments and were threatened with foreclosure.
Two weeks ago, they finally unloaded the house at an $18,000 loss. (Rubio no longer hangs out with Rivera, who is the subject of a federal corruption investigation.)
In his first book, the senator freely admitted his financial problems and mistakes.
Ironically, the books have brought him more income than anything else, including his seldom-used law degree.
In 2012, he received $800,000 to write about his experience as the son of Cuban immigrants. Rubio has proudly said that he used some of that money to pay off his law school loans.
He doesn't often talk about what else he spent the book money on: a 24-foot boat that cost $80,000. The purchase came to light last week, when the New York Times took a fresh look at Rubio's finances.
We get it about the boat. You live in Miami, you want to channel your inner Sonny Crockett on Biscayne Bay.
That's terrific, if you can afford it.
Not so terrific if you're trying to build a nest egg for your young family.
Reviewing Rubio's financial disclosure forms, the Times found that he earned $2.38 million from 1998 to 2008, yet he saved so little that his net worth at the end of that 10-year period was only about $53,000.
This is a man who spends money when he gets his hands on it.
Which lots and lots of regular folk do. The difference is, they don't want to be president, and they don't pretend to be qualified to decide our national fiscal policy.
To Rubio's credit, during the last three years his savings have grown by about $150,000, boosted by a second hefty book deal. He and his wife have opened college accounts for their four kids and refinanced their main residence, reducing the monthly mortgage payments.
You see that and think maybe the senator's growing up. Maybe he's getting money-managing tips from Norman Braman, the auto tycoon who employs Rubio's wife and is also his biggest campaign donor.
Then you see other moves and think nothing's changed.
Last year Rubio closed a retirement account holding $68,000 in savings. Most financial advisors would never tell a client to do that, because the taxes and early-withdrawal fees are so high.
There's no reason to cash out a retirement account at age 44 unless you're totally clueless, or frantic for money. Depending on Rubio's income bracket, his loss in taxes and penalties was $24,000 or more.
That's a brutal hit, and for what?
Rubio said he needed to use his retirement fund for personal expenses associated with his upcoming presidential campaign — and also a new refrigerator.
Unless Sub-Zero makes a gold-plated model, he paid too much.
Carl Hiaasen is a columnist for The Miami Herald. Readers may write to him at: 1 Herald Plaza, Miami, FL, 33132.
Photo: Gage Skidmore via Flickr