Yates Warned White House Flynn 'Could Be Blackmailed'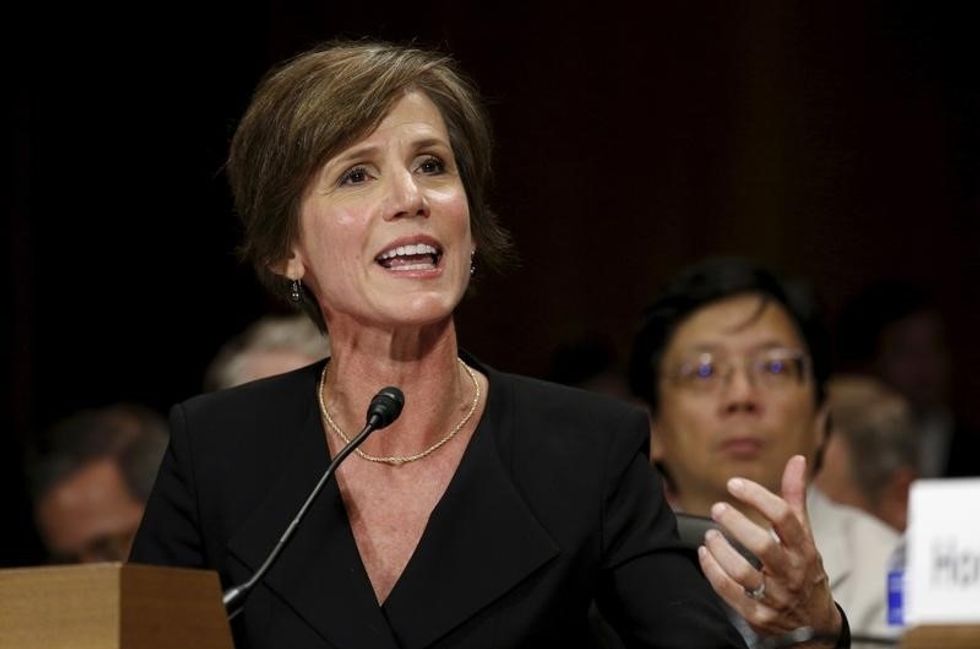 Reprinted with permission from Alternet.
Former Acting Attorney General Sally Yates testified Monday that she first warned the White House days after President Trump's inauguration that national security adviser Michael Flynn was "compromised" by misleading statements about his contacts with Russian officials.
"The national security adviser could be blackmailed by the Russians," Yates told a Senate subcommittee that was largely divided along partisan lines.
Yates testified for the first time about two meetings and a phone call she had with White House counsel Don McGahn in late January after the Justice Department learned about Flynn's conversations with Russian ambassador Sergey Kislyak in late December.
"We knew from press accounts that Vice President Pence and other officials were making statements about General Flynn that we knew not to be true," Yates said. "We walked through Gen. Flynn's underlying conduct, in a fair amount of detail."
Yates' account contradicts the White House claim that Flynn was dismissed as soon as the president learned that Flynn had lied to Pence when he said he and Kislyak had not discussed U.S. sanctions on Russia for interfering in the 2016 presidential campaign.
Yates testified that when McGahn asked her if she thought Flynn had violated the law, she said she did not feel it was her place to make that judgment. She said she shared the information so that the White House "could take action."
Yates was fired four days later when she declined to promulgate the first version of President Trump's ban on visitors from seven majority Muslim nations.
While Yates said she could not talk about Flynn's "underlying conduct" without compromising an ongoing FBI investigation, some of his actions are a matter of record.
Flynn accepted $45,000 for his appearance at the 10th anniversary of Russia Today, the international news organization controlled by the government of Russian president Vladimir Putin, a Trump supporter.
Flynn has acknowledged accepting $600,000 to represent the government of Turkey in Washington. Politico revealed last month that the Turkish man who aided Flynn "has business ties to Russia, including a 2009 aviation financing deal negotiated with Vladimir Putin, according to court records."
President Obama warned Trump against hiring Flynn in a post-election meeting in November, according to three former Obama administration officials who spoke to NBC News.
The other witness at the hearing, James Clapper, former director of National Intelligence, told the committee that the larger issue was the Russians' "influence on activities" in the 2016 election.
"They must be congratulating themselves for having exceeded their wildest expectations with a minimal expenditure of resources," Clapper said.
He added, "If there has ever been a clarion call for vigilance and action against a threat to the very foundation of our democratic political system, this episode is it."
Franken's Question
The hearing, held by the Senate Subcommittee on Crime and Terrorism, demonstrated the problems Trump faces on the Russia issue and the problems Democrats face in trying to investigate them.
The ongoing investigations of the House and Senate Intelligence committees into allegations of possible collusion between the Trump campaign and Russian officials have been stalled by Republican objections to Democratic demands for the issuing of subpoenas.
The subcommittee, chaired by Sen. Lindsey Graham, stepped into the breach with a four-hour hearing during which Democrats called for an independent commission, while Republicans pressed for investigation of the leaks that have kept the story alive, much to the consternation of the Trump White House.
About President Trump's reaction, Sen. Al Franken (D-Minn) asked an obvious question: "Is it possible that the reason he didn't fire him [Flynn] then, was [because he thought,] 'If I fire him for talking to the Russians about sanctions… what about all the other people on my team who've had these contacts, who have coordinated, who are talking to the Russians?'"
"I'm not going to touch that, Senator," Yates said.
Anti-Trump activists are organizing a March for Truth in Washington, Los Angeles, and New York on June 3 calling for "an impartial investigation into Russian interference in the U.S. election and ties to the Trump administration."
This article was made possible by the readers and supporters of AlterNet.