Meadows' Text Messages Show GOP Members Conspiring In White House Coup
@next2godwin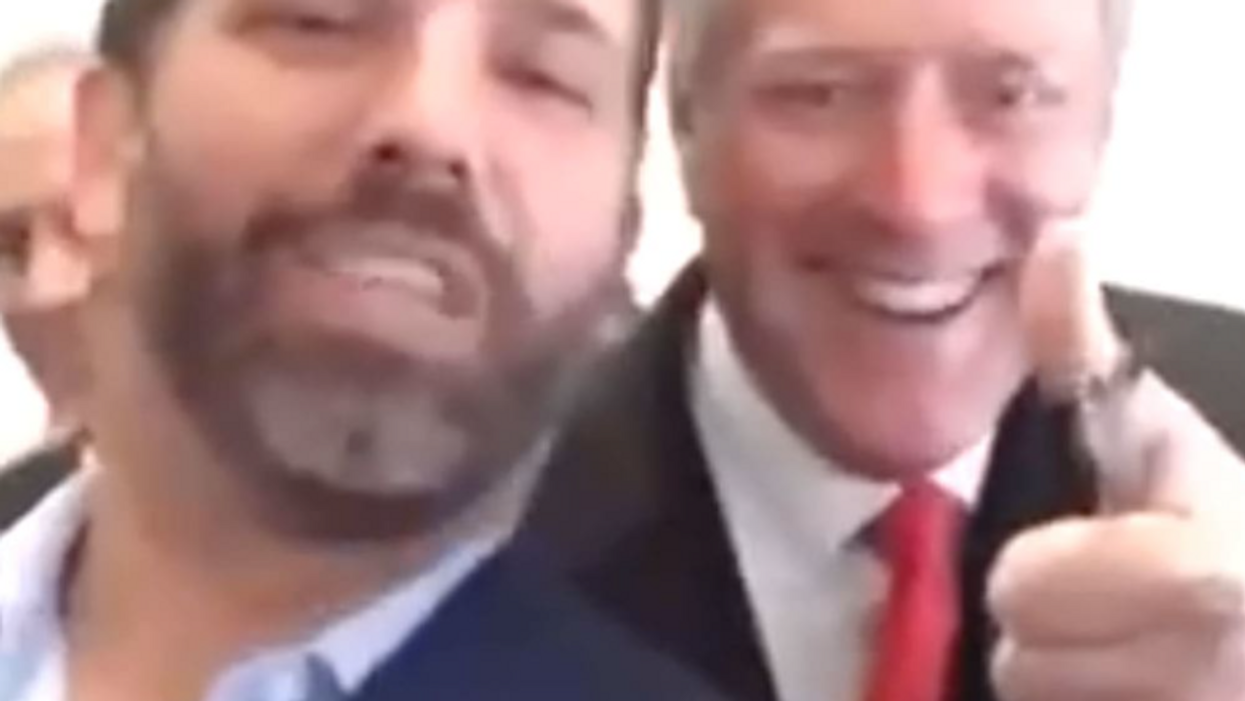 Video screenshot
A new batch of texts from the phone of Mark Meadows, the former White House chief of staff, shows how former President Donald Trump's inner circle pursued conspiracy-driven strategies to overturn the 2020 election -- and the talking points they used to deflect blame after their "stop the steal" campaign incited the January 6 insurrection. The messages from the period between Election Day 2020 and President Joe Biden's inauguration in January 2021 were published by CNN.

Meadows turned over troves of text messages — 2,319 of which CNN said it had obtained — emails, and other documents to the House Select Committee before suddenly ceasing to cooperate.
The tranche contains revealing communications that clarify the picture drawn by the select committee over the last few months: Trump's refusal to condemn the Capitol attack quickly; Justice Clarence Thomas' wife, Ginni Thomas, urged Meadows to overturn the 2020 election result while accusing Joe Biden and "the left" of the "attempting the greatest Heist of our History"; Meadow's insistence that the National Guard was on standby to "protect pro-Trump people"; and how Donald Trump Jr. unveiled plans for then-President to remain in power before the election was called for Joe Biden.
Some never-before-seen texts reveal new alarming details — for instance, how Rep. Marjorie Taylor Greene (R-GA) privately pushed for martial law after Trump's defeat — and underline the reactions of top players in Trumpworld, including family members — Ivanka Trump, Jared Kushner, and Trump Jr. — GOP leaders, January 6 rally organizers, Fox News hosts, Rudy Giuliani, Mike Lindell the chief executive of My Pillow, and 40 past and present Republican members of Congress, per CNN.
Reacting To The January 6 Insurrection
As the pro-Trump crowd stormed the Capitol, Meadows received several texts from GOP members of Congress and, surprisingly, Trump Jr. pleading for an end to the violence.
Greene wrote: "Mark I was just told there is an active shooter on the first floor of the Capitol Please tell the President to calm people This isn't the way to solve anything."
Rep. Barry Loudermilk (R-GA) wrote: "It's really bad up here on the hill. They have breached the Capitol."
"The president needs to stop this ASAP," urged Rep. William Timmons (R-SC).
"This his(sic) one you go to the mattresses on. They will try to fuck his entire legacy on this if it gets worse," Trump Jr. weighed in. "He's got to condem (sic) this shit. Asap. The captiol police tweet is not enough."
According to CNN, when it appeared the election would be called for Biden, Meadows was bombarded with election fraud conspiracy theories, pleas to keep fighting, and tactics to challenge the results.
Rick Perry, former Energy Secretary, contacted Meadows on November 5 and 6 and floated ideas to overturn the election. Perry tried again before the election was called on November 7 in a text message, which he has since denied sending: "We have the data driven program that can clearly show where the fraud was committed. This is the silver bullet."
Meadows himself questioned the authenticity of the absurd claims being peddled by a ragtag group of disgraced informal advisors, including conspiracy theorist Sidney Powell.
"She doesn't have anything or at least she won't share it if she does," Meadows said of Powell in a text to Ginni Thomas when about Powell's sidelining.
Marjorie "Marshall Law" Greene
Greene's communication with Meadows began before January 6, but, according to CBS News, it is unclear if Meadows responded to her texts.
"Good morning, Mark, I'm here in DC," Greene wrote Meadows on December 31, 2021. "We have to get organized for the 6th. I would like to meet with Rudy Giuliani again. We didn't get to speak with him long. Also anyone who can help. We are getting a lot of members on board. And we need to lay out the best case for each state."
After law enforcement regained control of the Capitol, Greene, who had pleaded earlier for Trump to condemn the violence, suddenly changed tunes and blamed "Antifa" for the attack.
"Mark we don't think these attackers are our people. We think they are Antifa. Dressed like Trump supporters," Greene said to Meadows in a text message.
Greene appeared resigned to defeat the day after the riot, texting Meadows, "we tried everything we could in our objection to the 6 states."
Then, she blamed lockdowns and "Antifa" once more for the attack in another text to Meadows.
"I don't think that President Trump caused the attack on the Capitol. It's not his fault. Antifa was mixed in the crowed and instigated it, and safely people followed. But when people try everything and no one listens and nothing works, I guess they think they have no other choice. Absolutely no excuse and I fully denounce all of it, but after shut downs all year and a stolen election, people are saying that they have no other choice. I defended Trump last night on Newsmax. He has been the greatest President. I will continue to defend him. And if anyone attacks you. I hope you are ok. I feel badly for everyone."
On January 17, working hard to keep Trump in office, Greene told Meadows in a text message that some GOP members of Congress were advocating for "Marshall law," according to CNN.
"In our private chat with only Members, several are saying the only way to save our Republic is for Trump to call for Marshall (sic) law. I don't know on those things. I just wanted you to tell him. They stole this election. We all know. They will destroy our country next. Please tell him to declassify as much as possible so we can go after Biden and anyone else!" Greene said. Meadows didn't respond to this message.
Greene is facing off against a group of her constituents in court in a legal battle to bar her from appearing on the Georgia ballot. In the hearing last Friday, Greene ducked and weaved questions about her role in the insurrection. "I don't remember" was her answer to many questions hurled her way.
Hannity: "Yes, Sir!"

Meadows was in communication with news media outlets, including the Associated Press, CNN, New York Times, and the Washington Post, but his most frequent communications were with Fox News' Sean Hannity, according to CNN.
On the afternoon of November 3, 2021, Hannity approached Meadows about turnout in North Carolina.
Hannity wrote: "Hey. NC gonna be ok?"
Meadows responded: "Stress every vote matters. Get out and vote."
Hannity replied: "Yes sir. On it. Any place in particular we need a push."
"Pennsylvania. NC AZ," Meadows answered. " Nevada."
Hannity said, "Got it. Everywhere."
The Fox News host has come under fire after CNN's new round of text messages depicting Hannity readily accepting orders from the Trump White House.
"It should be a humiliation for Fox News that a major network personality is literally taking campaign directions and using his perch to help a candidate. But I'm gathering the line will be: Hannity doesn't present himself as a news man," a journalist, Sam Stein, wrote on Twitter.
Hannity had Last December played down the criticism he garnered for his attempt to ignore an earlier select committee release of his messages to Meadows. "Surprise, surprise, surprise! I said to Mark Meadows the exact same thing I was saying live on the radio at the time and on TV that night ... By the way, where is the outrage in the media over my private text messages being released again publicly?!" Hannity had said on his show.
Hannity also sent one of the final text messages Meadows received as chief of staff. He shared a video of Senate GOP leader Mitch McConnell's speech blaming Trump for the riot and then said, "Well this is as bad as this can get."