2016 Prospects Encouraged To Do The 'Full Grassley' In Iowa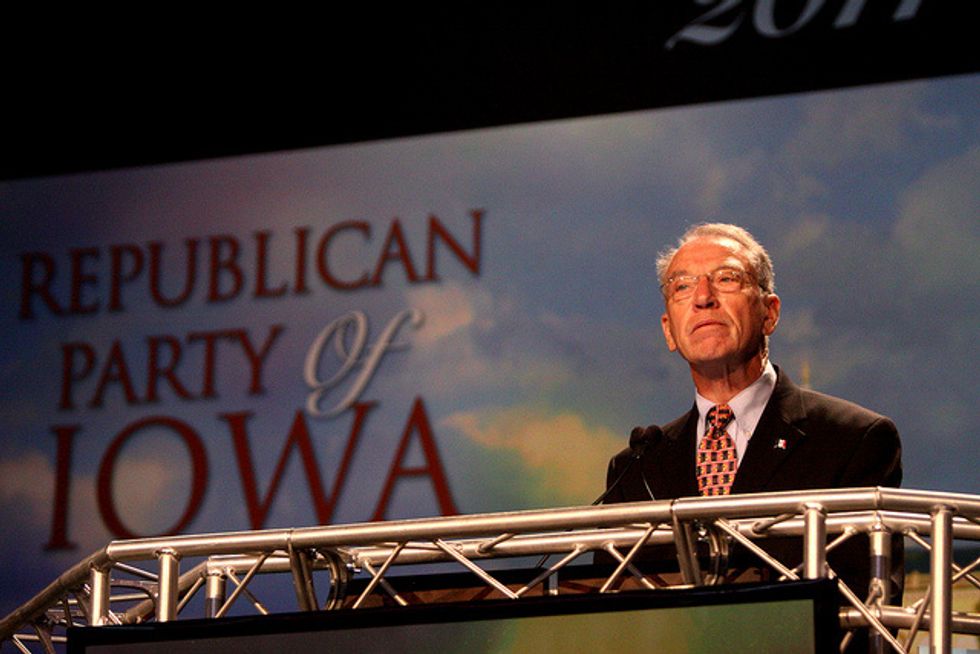 By Niels Lesniewski, CQ-Roll Call (TNS)
Sen. Joni Ernst's motorcycle ride and barbecue got most of the attention last weekend as Republican presidential candidates descended on Iowa, but the state's senior senator spent plenty of time with the presidential prospects as well.
Sen. Charles E. Grassley isn't expected to have any trouble winning a seventh term, but he's taking nothing for granted. He told Roll Call last week he anticipates making appearances with other candidates and said there would be more fundraisers for his own political efforts.
Grassley told reporters in Iowa over the weekend he would encourage presidential prospects to attempt what he called the "full Grassley" — a reference to his annual tour of each of the 99 counties in his home state.
"Senator Grassley really appreciates the assistance he is receiving from the presidential candidates and all of the events have been successful," Grassley's longtime general consultant and strategist, John Maxwell, said in an email this week.
Maxwell said Grassley was interested in hosting events with each of the dozen-plus prospects who are expected to get into the race, with the expectation Iowa will be of interest well beyond the 2016 caucuses as a general-election battleground.
Maxwell noted that the only time in the past five presidential cycles that the GOP carried Iowa in a presidential contest came in 2004, when Grassley also appeared on the ballot. Grassley's race is considered Safe Republican by the Rothenberg & Gonzales Political Report/Roll Call.
Grassley has not held an event of a scale similar to Ernst's "Roast and Ride," which some have compared to the annual steak fry thrown by Sen. Tom Harkin, who has since resigned from the Senate. But Grassley has welcomed all presidential prospects to join him at the Iowa State Fair and at smaller events, such as the fundraiser he held with Wisconsin Gov. Scott Walker on June 6."We welcome the opportunity to be first in the nation. We want to be first in the nation," Grassley said at a media availability coinciding with the fundraiser with Walker, who had earlier ridden with Ernst. "We want all candidates to feel welcome here. So, it isn't only because he's been a good governor that I would want him to be here campaigning. I think that this is the one state where it doesn't matter whether you've hundreds of millions of dollars to run for president of the United States, or very little," Grassley said.
"I want a strong party in here Iowa … not just should I be a candidate and ultimately be the nominee, but I want to make sure that Sen. Grassley and the great members of Congress are sent back, not just for Iowa's sake but for the nation's sake," said Walker, who is expected to formally enter the presidential contest sometime after Wisconsin wraps up work on its state budget.
Grassley has said that his home state's key role in the presidential nominating process does have fundraising benefits, and Republicans would seem well-served to appear with the longtime lawmaker. Grassley's among the most popular and well-connected figures in the state and does more than fundraising, Maxwell said.
"For example he has a long history of accompanying and introducing candidates around the Iowa State Fair. He and the candidates have great fun doing that and it is an experience the visitors never forget," Maxwell told CQ Roll Call. "These activities give Iowans the opportunity to learn about the candidates and in turn allows the candidates to learn about Iowa, its people and priorities. We have one of the lowest unemployment rates in the nation and believe our experience can help the whole country."
In addition to the warm words for each other, Grassley and Walker praised Sen. Ron Johnson, the first-term Republican senator from Wisconsin who faces one of the most difficult re-election contests in 2016, with an expected rematch against Democrat Russ Feingold, who Johnson ousted in 2010.
Walker pointed to the contrast between Johnson and Feingold, while Grassley pointed to Johnson's committee chairmanship, making an argument about his clout.
"He's chairman of one of the most important committees in the United States Senate, the committee on Homeland Security and Governmental Affairs. It's not only homeland security. That part of it is obviously very important, particularly in the time of terrorism, but the other aspect of it, it's the committee that does the most investigations of any committee in the Congress of the United States."
(c)2015 CQ-Roll Call, Inc., All Rights Reserved. Distributed by Tribune Content Agency, LLC.
Photo: Gage Skidmore via Flickr