US Agrees Turkish 'Cease Fire' To Cleanse Kurds From Syria Region
@dailykos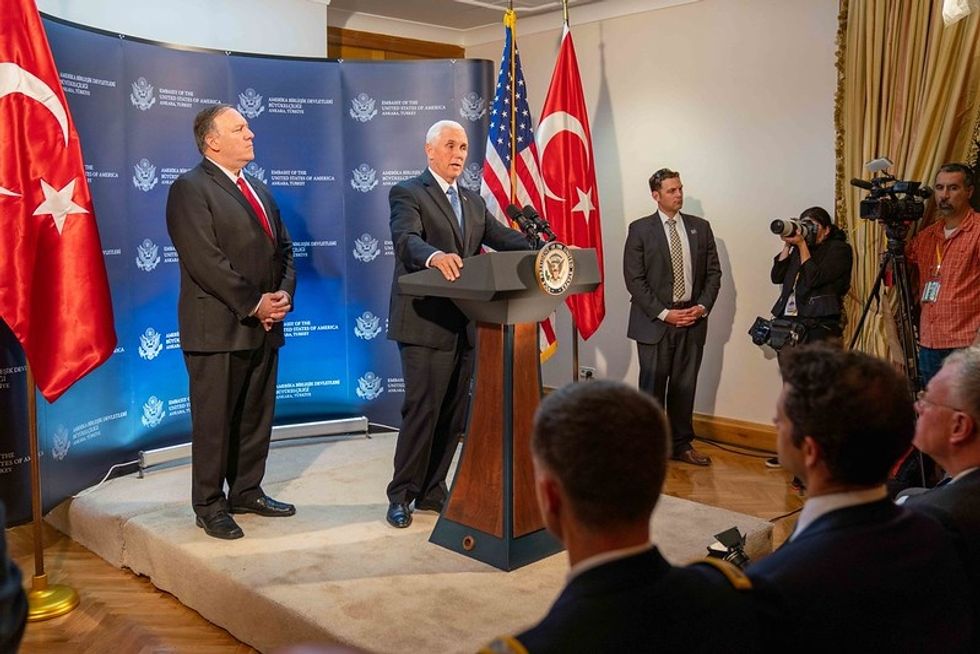 Reprinted with permission from Alternet
BREAKING: Vice Pres. Mike Pence: "Today, the United States and Turkey have agreed to a ceasefire in Syria." https://t.co/o4UjO7BtjE pic.twitter.com/XgNgxbGqlG

— ABC News (@ABC) October 17, 2019
During a live press conference in Turkey on Thursday, Vice President Mike Pence announced a "deal" with Turkish President Recep Erdogan to give Turkey … everything it wanted.
With great pride and voluminous sucking-up, Pence announced a 120-hour "cease-fire" agreement with Turkey, during which time the United States will "assist" Turkey's Kurdish targets in fleeing the region Turkey is attacking. In other words, Kurdish forces, their families, and others have five days to withdraw from their own homes, after which Turkey will control the region. It is unclear where those forces are expected to retreat to. Pence's announcement amounts to an agreement for Turkey to ethnically cleanse a Turkish-demanded "safe zone" with the United States' approval, and possibly its assistance.
In "exchange" for a cease-fire agreement—an ultimatum to Turkey's Kurdish targets to withdraw, or else—Pence announced that the United States "will not impose further sanctions" on Turkey for its assault.
In other words, it's a complete capitulation. Donald Trump's team agreed to "assist" Turkey in removing Kurdish forces and civilians from the "safe zone" in northern Syria that Turkey is now claiming, and simultaneously promises no further repercussions for Turkey.
Pence went out of his way to praise Donald Trump many, many times for his leadership as he proudly announced the administration's complete buckling to Syrian demands. He also confirmed that United States forces would indeed be withdrawing, leaving the remainder of the Syrian conflict to be resolved by Turkish forces in the north and the Russian-assisted forces of Assad in the south.