4 Crazy Revelations From Omarosa's Bombshell MSNBC Interview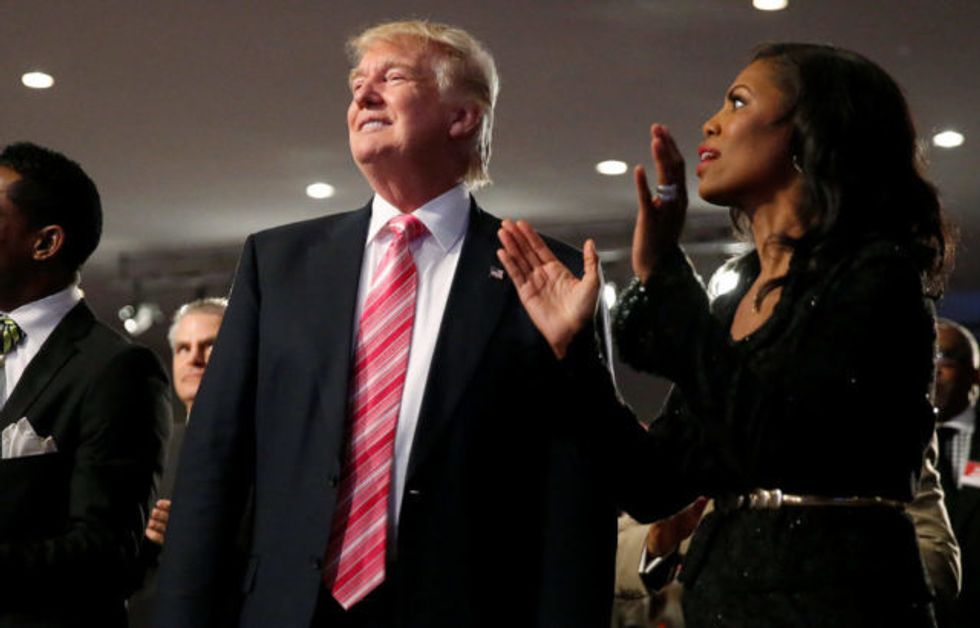 Reprinted with permission from AlterNet.
MSNBC's Katy Tur interviewed Omarosa Manigualt-Newman on Tuesday afternoon, and the whistleblowing former White House official did not hold back.
She dropped revelations about multiple members of President Donald Trump's administration and even revealed a previously-unreported derogatory nickname he has for a member of his own Cabinet.
Omarosa also called into further question the relationship between Wikileaks and the Trump campaign.
Here are four of the most explosive claims from the interview.
1. Trump Knew About Clinton's Emails Before Wikileaks Released Them
"Did Donald Trump know about the e-mails before they came out?" Tur asked.
"Absolutely," Omarosa responded.
Tur asked if Trump knew about the emails even before Wikileaks released them. She answered with an unequivocal "yes."
"You are saying that he had a back channel?" Tur pushed.
"You said that and I didn't," Omarosa teased. "I will expose the corruption in the White House and I will continue to blow the whistle about it."
2. Trump Has Derogatory Nicknames for Everyone
Omarosa said Trump would talk about "everyone" behind their backs after they left the room.
He would "call Betsy DeVos 'Ditsy Devos," Omarosa said.
She said that "when General Kelly left the office he had a nickname" but didn't reveal what it was.
"Because of the small ability to communicate, he would give them derogatory nicknames," Omarosa said. "And it was just not appropriate."
3. Trump Only Kept Hope Hicks on Staff for Her Looks
Omarosa writes in her book that Trump "would rather have a pretty woman with no experience around than a qualified, less attractive woman."
"You're talking about Hope Hicks there?" Tur asked.
"Yes, I'm talking about Hope Hicks," Omarosa responded.
"I[]t is interesting that people haven't really examined the fact that he would rather have someone who has absolutely no political experience and no knowledge of politics at all, because she is pretty," Omarosa continued. "And I am someone who served in two tours of duty, this is my second time in the White House, and he calls me a dog.
4. John Kelly Is Responsible for Horrific Puerto Rico Response
"John Kelly was blaming Puerto Rico saying that they are using the hurricane in order to to get the government to fix the power grid," Tur explained of Omarosa's claim in her new book.
"John Kelly was slow to act," Omarosa said of relief efforts. And it baffled me how they worked so quickly to get resources to Florida after the hurricane and resources to Texas, and yet they allowed the people of Puerto Rico to suffer."
"Right now the condition is lack of inaction from John Kelly acting," Omarosa stated flatly.
Watch the full interview below in two parts:
Chris Sosa is the Senior Editor at AlterNet. His work also appears in Mic, Salon, Care2, Huffington Post and other publications. Follow him on Twitter @ChrisSosa.