5 Reasons The GOP Should Not Shut Down The Government Over Immigration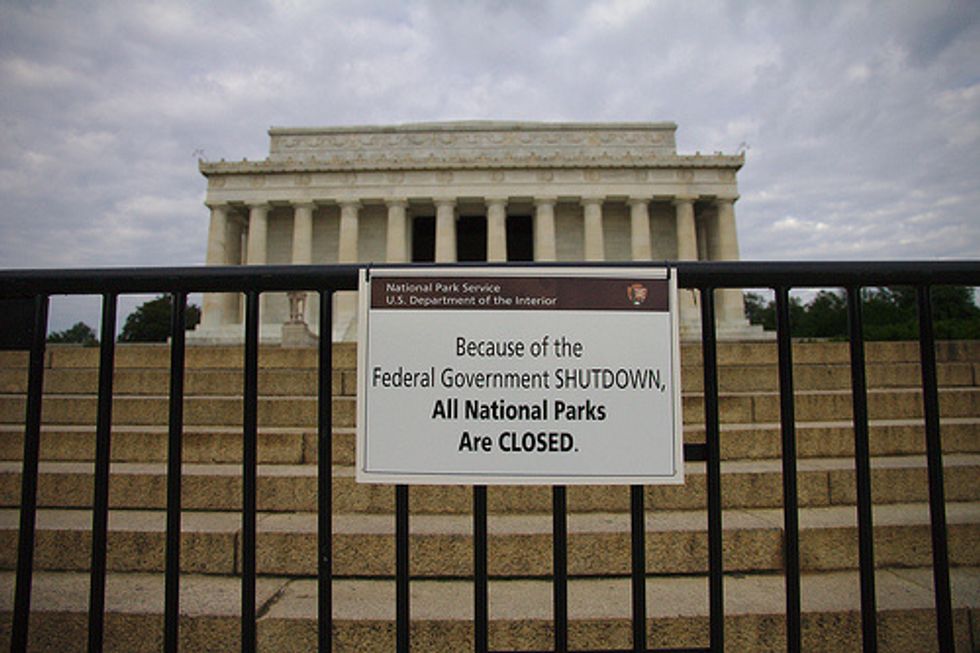 As President Barack Obama weighs using executive action to protect some 5 million undocumented immigrants from deportation, Republicans are struggling to craft a response. Some, like House Deputy Majority Whip Tom Cole (R-OK), are pushing for a legal challenge to the president's plan. But many others, both inside and outside the Capitol, are agitating for a more confrontational approach: refusing to pass a long-term government funding bill unless it blocks the president from taking executive action on immigration.
This would inevitably cause the federal government to shut down. And it would be a very, very bad idea for the GOP. Here are five reasons why:
The Last Shutdown Was A Disaster
The last time Republicans attempted to force President Obama's hand with a government shutdown, it didn't go very well for them. The 2013 debacle sent the party's poll numbers straight to the gutter, cost the economy about $24 billion, and completely failed in its vain goal to bully Obama into dismantling the Affordable Care Act.
Republican leaders are well aware of this; House Speaker John Boehner (R-OH) has described the episode as a "very predictable disaster, and Senate Minority Leader Mitch McConnell's (R-KY) advisors have been circulating a memo warning his caucus about how damaging the last crisis was to the party (although he struck a far more confrontational tone during his re-election campaign). Still, the right wing of the party may not care.
It Would Doom The Party In 2016
As unpopular as the last shutdown was, the Republican Party was able to survive it in November due to an extremely favorable electoral map, several weak Democratic candidates, and startling apathy among Democratic base voters. In 2016, with a presidential election and several blue-state Republican Senate incumbents on the ballot, the GOP probably won't be so lucky.
According to exit polls, Democrats won 63 percent of the Latino vote in the 2014 midterms — down slightly from their 69 percent support in 2012, but still an overwhelming margin. Given that 45 percent of Latino voters view immigration reform as the most important issue facing their community, according to a recent Latino Decisions poll, it's safe to assume that shutting down the government in the hopes of maximizing the deportation of immigrants won't help the GOP improve its standing within the Latino community.
That could have a major impact on the 2016 elections. In the midterms, the swing races took place in red states where Republicans could, and did, win without making major inroads with Latino voters. But in 2016, Republican incumbents will face tough races in states like Florida, North Carolina, and Arizona, where the Latino populations are rapidly growing. Given that Latino turnout has been more than 40 percent higher in presidential years than in midterm elections, that is a big problem for Republican Senate candidates. It will also present a huge challenge for the Republican presidential nominee, who will almost certainly be forced to take a position to the right of Mitt Romney's much-derided "self-deportation" plan to escape the GOP primaries.
And that's not even mentioning the many non-Latino voters who would be furious at a second Republican-created shutdown in three years.
The Executive Order Won't Be Unconstitutional
The GOP's shutdown threat hinges on the idea that President Obama's planned executive action would be unconstitutional. But, given the reported details of the president's plan, that seems highly unlikely.
Were President Obama to declare "amnesty" for all 11 million undocumented immigrants in the country, as many Republicans claim he will, then they would have a case. But if he instead instructs immigration authorities to utilize prosecutorial discretion with regards to deportation, as he did in 2012 with the Deferred Action for Childhood Arrivals (DACA) program, then legal experts widely agree that he would be acting within his authority.
Republicans also used to agree that the president could use executive action to tweak the nation's immigration policies; Ronald Reagan and George H.W. Bush specifically issued executive orders very similar to President Obama's rumored plan.
Immigration Reform Is Actually A Good Idea
Passing an immigration reform bill — or at least refraining from shutting down the government to prevent President Obama from patching the system through executive action — wouldn't just be good politics for the GOP. As National Memo Editor-in-Chief Joe Conason has pointed out, it would be good policy as well.
Republicans claim to be the party of family values, business growth, and national security. Flatly refusing to fix the broken immigration system — and shutting down the federal government to prevent anyone else from doing so — flies in the face of those supposed priorities.
It Wouldn't Work
Ultimately, if Republicans do decide to shut down the government to stop President Obama, they will fail. The president proved in 2013 that he will not let Republicans take the federal government hostage to force him to abandon his agenda. While it's true that a shutdown over his immigration plan would be more politically fraught for the White House than the shutdown over Republicans' Obamacare plans, there's no reason to believe that this changes President Obama's calculus. He knows that Congress can't keep the government shuttered forever — and while he never has to face the voters again, his opponents do.
If congressional Republicans do shut down the government to prevent President Obama from taking executive action on immigration, they will only be delaying the inevitable. And, for all of the aforementioned reasons, it will only hurt their party going forward.
This post has been updated for clarity.