A Solution For Money In Politics Highlighted By The Election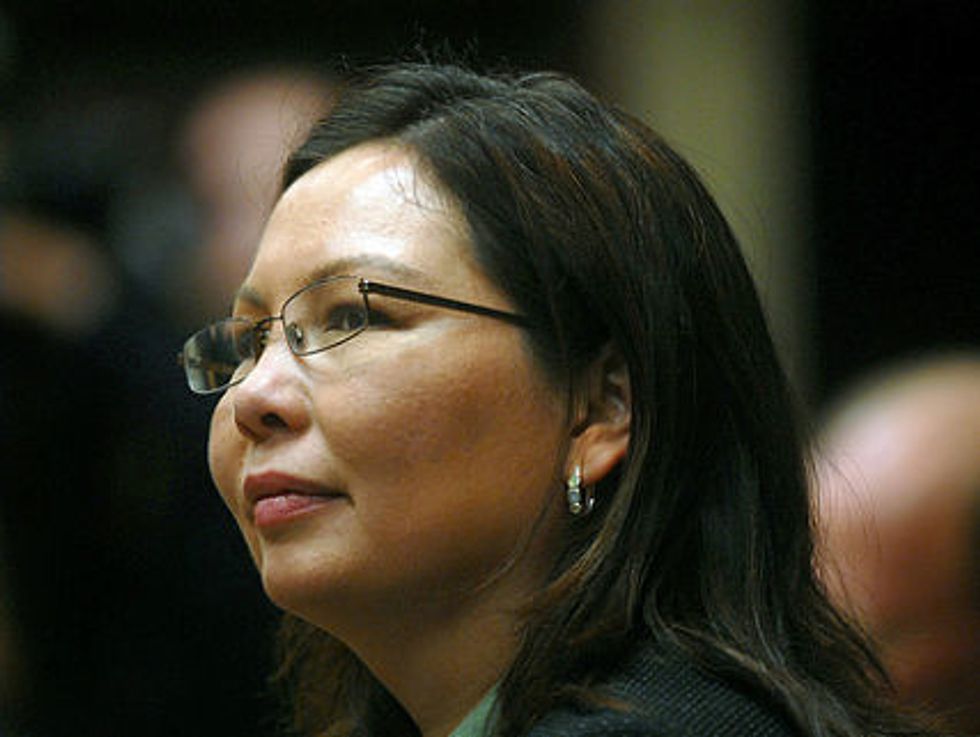 As part of our series "A Rooseveltian Second-Term Agenda," an acknowledgment that the election didn't just showcase the problems of outside money in campaigns, but a potential way forward.
It's been tempting to treat the 2012 election as proof that money in politics doesn't matter as much as commonly believed, or that Citizens United and the emergence of Super PACs and political nonprofits didn't change things as much as predicted. "Effect of  'Super PACs' proved to be less than expected," the Los Angeles Times declared in a post-election headline.
It is true that the presidential candidacy most dependent on Super PACs and other "dark money" support was soundly defeated, and the same was true of the Senate candidates backed by Karl Rove's American Crossroads and related groups. Prophecies that corporate money would flood in and swamp the candidates, particularly Democrats, didn't come true. (Some of us were always skeptical of this prediction.) And it turned out the Super PACs had some particular disadvantages because they couldn't purchase media time at the favorable rates that are available to campaigns. The Republican dark money committees' focus on broadcast advertising to the exclusion of other campaign activities turned out to be misplaced in an election where the "ground game" of identifying voters and getting them to the polls is what mattered. (It's also likely that the Republican Super PAC operators focused on radio and television because there are financial incentives for consultants to buy media and collect a commission of 10 or 15 percent. Voter mobilization efforts don't have the same payoff.)
But a general election presidential campaign, and even a high-profile Senate campaign, is not where we would expect to see the decisive power of money in election outcomes. Presidential candidates, especially incumbents, are well known and have ample opportunity to get their message out without paying for it. For example, half the number of people who voted watched at least one of the presidential debates. Money is more significant in determining who has an opportunity to run for office and whether that candidate has sufficient resources to be heard.
This year's elections for the House showed just how much money still matters. More than 9 out of 10 incumbents were re-elected, despite a backlash against the Republican House reflected in the aggregate vote (48 percent to 47 percent). While some of this incumbent advantage was a result of redistricting that entrenched Republican seats, a great deal of incumbent advantage involves money that incumbents can raise from lobbyists and few challengers can. According to the Campaign Finance Institute, incumbents who won with more than 60 percent of the vote, which accounts for more than two-thirds of races, outspent their challengers by a factor of nine. Notably, most of the seats captured by Democrats in this cycle involved very high-profile Tea Party Republicans like Allen West of Florida or Joe Walsh of Illinois and opponents who were either well known in progressive circles, such as Walsh's successful opponent Tammy Duckworth, or former members of Congress with established fundraising bases. In many of those high-profile races, such as West's, outside groups played a large role. Data from the Campaign Finance Institute indicates that successful challengers spent $2 million, suggesting that that is the new price of entry for a viable campaign, although this will vary greatly by region.
But even these results show some hope. Many of the successful Democratic candidates, like President Obama, were able to build strong bases of small donors. While Obama's small donors accounted for 44 percent of his total, Duckworth, for example, raised 37 percent from small donors. The small donor era, which began in 2008, has continued in both parties. This suggests that the best path to making elections competitive and offsetting the influence of big money, outside money, and dark money is to enhance the value of small contributions. This can be done through a matching program such as New York City's successful model, the proposed Fair Elections Now Act (supported by a majority of Democrats in 2010), or Rep. John Sarbanes' Grassroots Democracy Act.
Since Citizens United, many reformers have worried that such initiatives would be rendered ineffective by the flood of big money, which would overwhelm the small donors, or that candidates would resist participating in these matching programs, fearing big outside-money attacks. That would argue for pursuing a remedy for Citizens United, in the Constitution or the Court, before moving on to matching fund public financing. But the election results, in which neither Obama nor successful candidates for House and Senate were overwhelmed by outside money, indicates that these systems are likely to be more resilient than we think. Giving every candidate the opportunity and encouragement to build a participatory base of small donors isn't the only thing we need to do to offset the influence of money in politics, but it is a good start. House Minority Leader Nancy Pelosi identified campaign finance reform as a major priority for her caucus in the next Congress. The first step is to reach consensus on what is to be done, and the election points in a clear and positive direction toward solutions that encourage participation and grassroots campaigns.
Mark Schmitt is a Senior Fellow at the Roosevelt Institute.
Cross-posted from The Roosevelt Institute's Next New Deal blog
The Roosevelt Institute is a nonprofit organization devoted to carrying forward the legacy and values of Franklin and Eleanor Roosevelt.
Photo of Tammy Duckworth by Staff Sgt. Jon Soucy via Flickr.com