Wisconsin GOP Senate Candidates All Support Abortion Ban
@jeisrael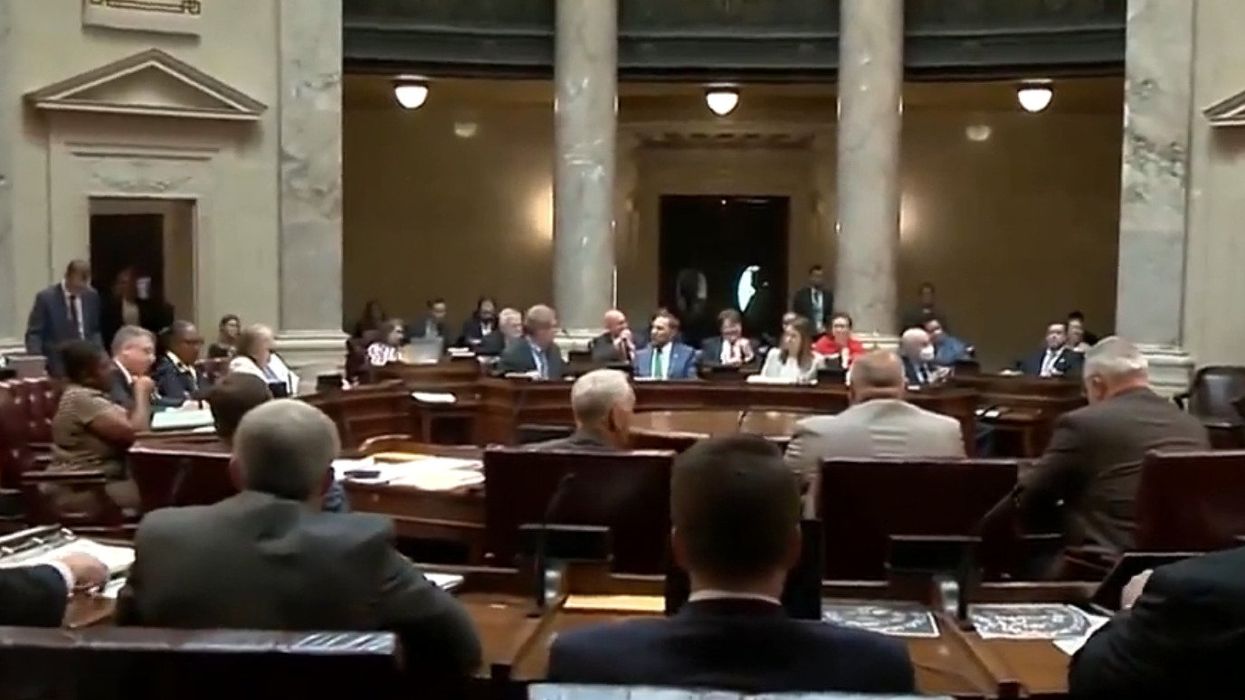 The Republican field for the 2024 Wisconsin Senate race remains in flux as several potential candidates mull over whether to challenge incumbent Democratic Sen. Tammy Baldwin. Despite strong support among Wisconsin voters for reproductive rights, each of the likely GOP contenders has a history of opposing legal abortion or actively working for an abortion ban.
In the 2022 midterm elections, Republicans expected a "red wave" would net them a pickup of at least two Democratic-held U.S. Senate seats and a GOP majority in the chamber. Instead, every single GOP challenger lost, and Democrats ended up gaining an open Republican-held seat in Pennsylvania.
Many analysts have attributed the lack of predicted Republican victories to voters' anger over the 2022 Supreme Court decision in Dobbs v. Jackson Women's Health Organization, which overturned the nearly 50-year-old guarantee of reproductive rights established in Roe v. Wade. Republicans nominated abortion rights opponents in targeted Senate races across the country in 2022, and they all lost to Democratic backers of reproductive freedom.
As the 2024 elections approach, Senate Republicans seem poised to repeat the same failed approach.
On June 17, the WisPolitics political news site held a straw poll at the convention of the Republican Party of Wisconsin in La Crosse. Six possible Republican Senate candidates received support: former Milwaukee County Sheriff David Clarke; real estate developer and 2012 Senate candidate Eric Hovde; staffing firm executive Scott Mayer; former College Democrats of America president turned 2018 GOP Senate candidate Kevin Nicholson; former state Senate President Roger Roth; and U.S. Rep. Tom Tiffany.
Clarke has repeatedly backed state and federal abortion bans. After House Democrats passed a ban on semi-automatic assault weapons in July 2022, he tweeted: "Oh bag it Democrats. They claim gun control will save lives. SO WILL A BAN ON ABORTION. That kills more lives than guns do."
A month earlier, Clarke compared abortion rights to slavery, tweeting: "These same devils would have called reversing Plessey v Ferguson [sic] and Dred Scott decision was a step backward. WRONG. It righted a wrong by the US Supreme Court just like reversing Roe v Wade has done. Killing babies is as immoral a wrong as slavery."
According to the progressive website Blogging Blue, Hovde said at a July 2012 campaign event, "I'm 100% pro-life," and added that he only would make an exception in cases of rape and incest. In campaign radio ads that year, he noted an endorsement from the anti-abortion rights group Wisconsin Right to Life and said: "I believe that we're all created in God's image. Defending innocent human life is a basic responsibility of civilized people."
Wisconsin Right to Life said in its June 2012 endorsement, "Eric Hovde has indicated strong support for federal right-to-life issues should he be elected."
"I am absolutely unapologetically pro-life, I really am," Mayer told USA Today in May, " but we have to have some access." In April, he told NBC News that he was "absolutely pro-life" and would likely allow the procedure only in the first three months, except in cases of rape, incest, or health risk.
Though Nicholson said in a 2000 address at the Democratic National Convention that Democrats "care about a woman's right to choose," he has since abandoned his support for reproductive rights. During his unsuccessful 2018 bid for the Senate, he said he would back an abortion ban but would consider exceptions "case by case" as long as the legislation "saves the unborn and does it in a way that's enforceable." In an aborted 2022 gubernatorial campaign, Nicholson promised to "protect innocent life" by providing state funding for anti-abortion crisis pregnancy centers.
During Roth's unsuccessful 2022 campaign for lieutenant governor, his biography on his campaign website said, "Despite radical moves from liberals to push partial-birth abortion, abortion on demand, or murdering a child based on their sex, Roger has stood to thwart the left's ruthless ambition to end the life of thousands of future Wisconsinites."
Roth sponsored a 2015 bill in the Wisconsin Senate to prohibit "abortion of an unborn child considered capable of experiencing pain." Abortion rights opponents have falsely claimed that fetuses can feel pain as early as 15 weeks into a pregnancy, though the American College of Obstetricians and Gynecologists says on its website, "The science conclusively establishes that a human fetus does not have the capacity to experience pain until after at least 24–25 weeks."
Tiffany received "A+" ratings from the anti-abortion rights group SBA Pro-Life America for the past two Congresses, indicating consistent agreement with its positions. He is currently a co-sponsor of a bill that would ban abortions nationally after a "fetal heartbeat is detectable." Abortion opponents falsely claim that there is a heartbeat at six weeks into a pregnancy, while the science shows that there is no cardiac structure in a fetus at that age.
"All of the potential GOP candidates for Senate want to help Mitch McConnell and MAGA Republicans pass a national abortion ban and keep abortion illegal in Wisconsin," Arik Wolk, a spokesperson for the Democratic Party of Wisconsin, told the American Independent Foundation. "That's out of touch with Wisconsin values and dangerous for our state and our country."
According to the report "Abortion Attitudes in a Post-Roe World: Findings From the 50-State 2022 American Values Atlas," produced by the nonprofit research organization PRRI, 64 percent of Wisconsin residents believe abortion should be legal in most or all cases.
A June 2023 survey by the polling firm GQR of voters in Wisconsin and six other Senate battleground states, commissioned by the Democratic Senatorial Campaign Committee, found that 65 percent support abortion being legal in all or most circumstances.
Reprinted with permission from American Independent.