After 11 Votes, Far Right Digs In Against McCarthy's House Speaker Bid
@reuters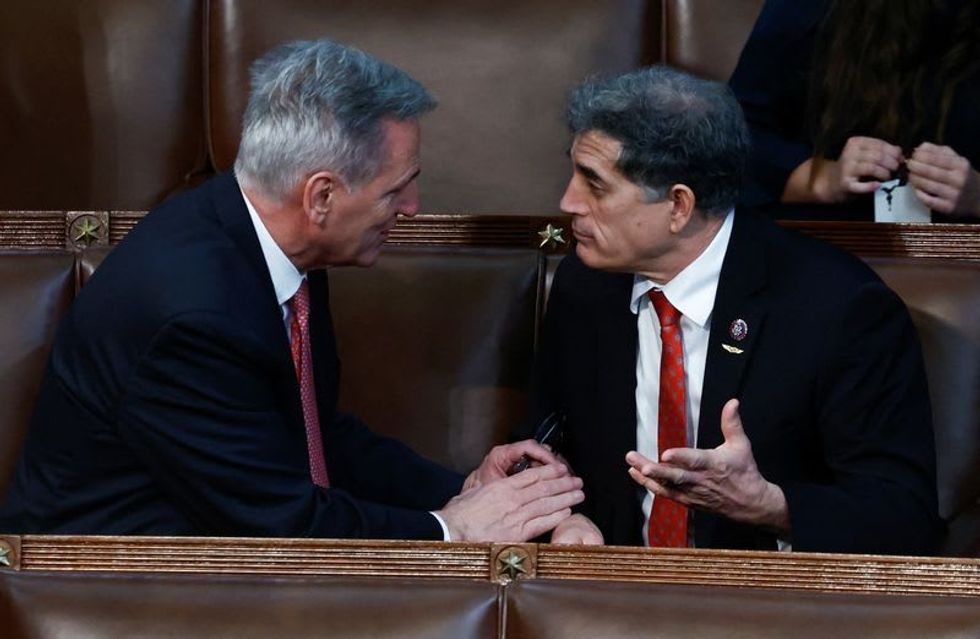 By Gram Slattery and David Morgan
WASHINGTON (Reuters) -Hardline Republicans in the House of Representatives rejected Kevin McCarthy's speakership bid for an 11th time on Thursday evening, while his supporters worked behind closed doors in hopes of cementing a deal that could bring success.
The voting propelled the House to a level of dysfunction not seen since the turbulent era just before the Civil War, even after McCarthy offered to curb his own clout, raising questions about the party's ability to wield power.
After the 11th ballot, the House adjourned for the third time this week without electing a speaker. Lawmakers will reconvene at noon on Friday.
McCarthy's opponents say they do not trust him to fight for the deep spending cuts and other restrictions they want to impose on President Joe Biden and the Democratic-controlled Senate.
But some Republicans held out hope of an agreement between the California Republican and at least some of the 20 hardline conservatives who have opposed his candidacy in ballot after ballot.
"Things are coming together in a very healthy way," said Rep. Patrick McHenry (R_NC), a close McCarthy supporter who is poised to lead a top congressional committee.
"We don't know the timeframe. But the engagement is there and that's why I'm optimistic," he said.
Among other things, a possible agreement would allow for a vote on term limits for members of Congress, according to Rep. Brian Fitzpatrick (R-PA).
But McCarthy's supporters stopped short of predicting a resolution to the stalemate anytime soon.
Because of its inability to choose a leader, the 435-seat House has been rendered impotent -- unable even to formally swear in newly elected members, let alone hold hearings, consider legislation, or scrutinize Biden and his administration.
Republicans won a slim 222-212 House majority in the November midterm elections, meaning McCarthy cannot afford to lose the support of more than four Republicans as Democrats united around their own candidate.
McCarthy, who was backed by former President Donald Trump for the post, offered the holdouts a range of concessions that would weaken the speaker's role, which political allies warned would make the job even harder if he got it.
At least 200 Republicans have backed McCarthy in each of the votes this week. Fewer than 10 percent of Republican lawmakers have voted against him but they are enough to deny him the 218 votes needed to succeed Democrat Nancy Pelosi as speaker.
"What you're seeing on this floor does not mean we are dysfunctional," said Republican Rep.-elect Anna Paulina Luna (R-FL) as she nominated a McCarthy rival, Rep. Byron Donalds (R-FL), for the 10th vote.
'Construct A Straitjacket'
"I can tell you there's some good things happening," said Rep. Marjorie Taylor Greene (R-GA), a McCarthy supporter who is among the most outspoken conservatives in the House. "I think we're going to see some movement."
But some of McCarthy's opponents showed no sign of yielding.
"This ends in one of two ways: either Kevin McCarthy withdraws from the race or we construct a straitjacket that he is unwilling to evade," said Rep. Matt Gaetz (R-FL), who voted for Trump for speaker.
As speaker, McCarthy would hold a post that normally shapes the chamber's agenda and is second in the line of succession to the presidency behind Vice President Kamala Harris. He would be empowered to frustrate Biden's legislative agenda and launch investigations into the president's family and administration in the run-up to the 2024 presidential election.
In a late-night bargaining session, McCarthy offered the holdouts greater influence over what legislation comes up for a vote, according to a source familiar with the talks.
He also offered the ability for any single member to call a vote that could potentially remove him from the post - a step that helped drive at least one prior Republican speaker, John Boehner, into retirement.
Those concessions could potentially help McCarthy win over some of the holdouts but would leave him more vulnerable to the hardliners through the rest of the next two years if he ultimately wins the speakership.
That has even alarmed some Democrats, who have largely served as bystanders in the drama of the past three days.
"With every concession, he has to wake up every day wondering if he's still going to have his job," Democratic Representative Richard Neal told reporters.
The inability to agree on a leader also raises questions about whether Republicans will force a government shutdown or risk default later this year in a bid to extract steep spending cuts. Some of the holdouts say they expect McCarthy or any other Republican leader to take that approach.
If McCarthy ultimately fails to unite Republicans, they would have to search for an alternative. Possibilities include No. 2 House Republican Steve Scalise and Representative Jim Jordan, who have both backed McCarthy. Jordan received 20 votes when nominated by the holdouts on Tuesday.
(Reporting by Moira Warburton, Doina Chiacu, David Morgan, Kanishka Singh and Gram Slattery; Writing by Andy Sullivan; Editing by Will Dunham, Howard Goller and Christian Schmollinger)