Critics Roast January 6 'Coward' Clyde For Handing Out Assault Rifle Pins
@next2godwin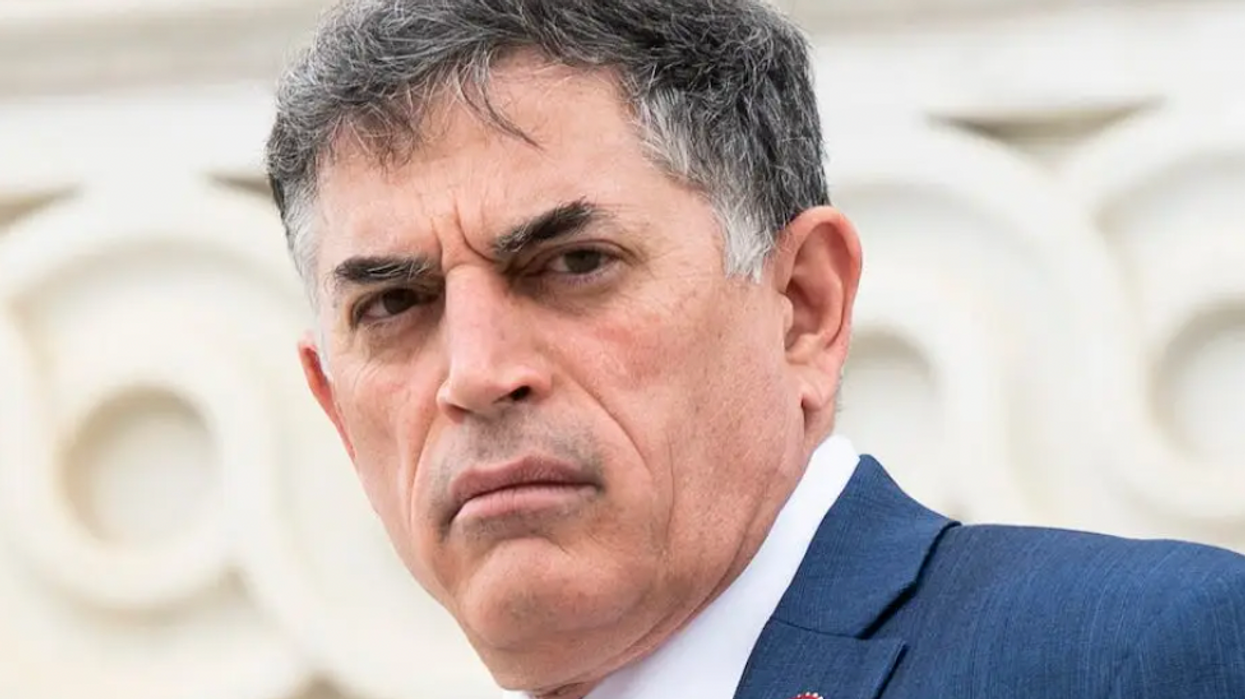 Days after provoking backlash for circulating inert 40-millimeter grenades inside the U.S. Capitol, House Republicans are again facing fierce criticism for their latest stunt to own the libs — donning assault rifle lapel pins, despite there being over 58 mass shootings in 2023 alone so far.
Rep. Andrew Clyde (R-GA),who came under fire late Thursday after he took credit for the assault rifle-shaped lapel pins members of the House GOP were spotted wearing during meetings and on the House floor.
His stunt came days after another House Republican, Rep. Cory Mills (R-FL), distributed dummy grenades with a logo of the Republican Party to his colleagues inside the People's House.
A photo posted to Twitter by Rep. Jimmy Gomez (D-CA) showed Reps. Anna Paulina Luna (R-FL) and George Santos (R-NY) wearing the pins inside the House chamber.
Luna, Gomez added, was photographed wearing the pin "less than 48 hours after her state experienced a mass shooting." Eleven people were hurt in the shooting — which occurred in Lakeland, Florida — and the suspect is still at large, Lakeland police said, according to CNN.

Rep. Cori Bush (D-MO) expressed disgust that Republicans had chosen to wear the pins during National Gun Violence Week.
"Weapons of war have no place on our streets, much less on our lapels," Rep. Dina Titus (D-Nev.) tweeted Thursday.
Clyde, an NRA-backed gun rights advocate and gun store owner, responded to the fallout with a video expressing glee at "triggering" his Democratic colleagues while reminding "people of the Second Amendment of the Constitution and how important it is in preserving our liberties."
Twitter users reacted quickly, circulating photos that showed Clyde -- who got slammed after he compared the Capitol attack to a "normal tourist visit" -- cowering behind a Capitol Police offer as the mob of Trump supporters breached the halls of Congress on January 6, 2021.
Also circulating was a photograph of Clyde with Capitol law enforcement pushing furniture against the door to keep the invaders out, prompting a Twitter user to wonder aloud why the Republican would resort to such a measure to keep "tourists" out.

A former Metropolitan Police officer injured in the attack, Michael Fanone, lambasted Clyde months after the Trump-led attack on Congress for fleeing "like a coward" when the officer tried to shake his hand.
"I extended my hand to shake his hand. He just stared at me," Fanone told CNN's Don Lemon. "So I introduced myself. I said that… I was a D.C. Metropolitan police officer who fought on January 6 to defend the Capitol. And as a result, I suffered a traumatic brain injury as well as a heart attack…
"At that point, the congressman turned away from me" and "pulled out his cellphone," the officer continued, adding that once the elevator opened, Clyde "ran as quickly as he could, like a coward."
Despite Clyde saying nothing more of the pins in the face of public outcry, critics on Twitter have continued to drag the lawmaker, using his cowering photo.