Alt-Right Celebrates Denunciation In Clinton's Speech: 'We've Made It'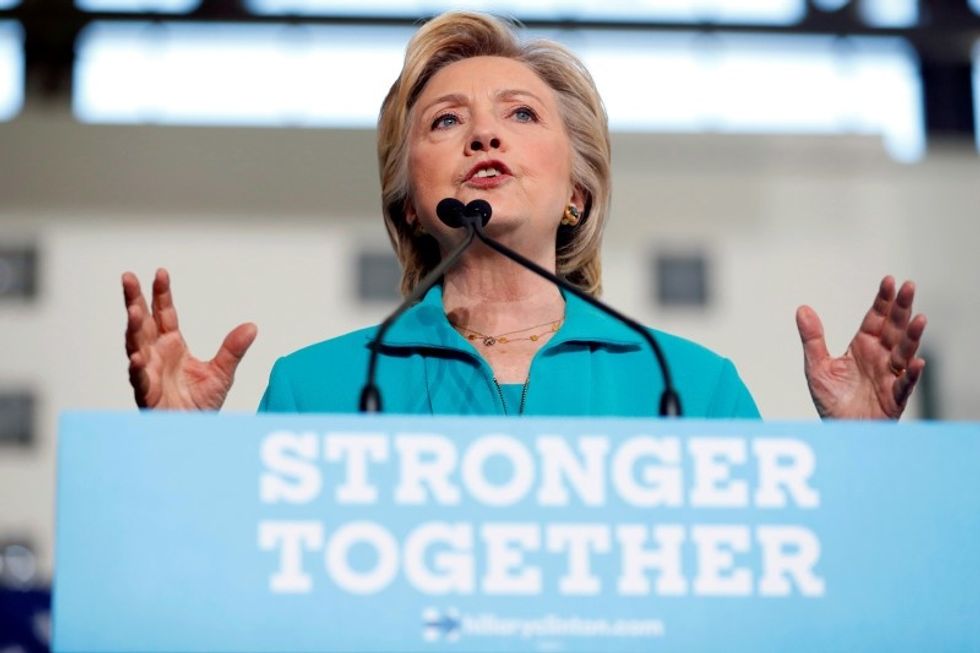 In Hillary Clinton's speech in Reno Thursday night , she called out the alt-right movement and its "racist," "race-baiting," "anti-Muslim," "anti-immigrant" and "anti-woman" tenets. The speech was intended to highlight the strong ties between Donald Trump and this group of nationalists, and paint the picture of a bleak future of a Trump presidency.
Clinton called Trump's hiring of Stephen Bannon a "de factor merger between Breitbart and the Trump campaign" and said it constituted a "landmark achievement" for the alt-right, a "fringe element" that had "effectively taken over the Republican party."
Although Clinton's talk was hard-hitting, today, the worst players in the alt-right movement — some are simply white supremacists — are celebrating their national recognition by a major party candidate.
Jared Taylor, editor of American Renaissance, a white nationalist magazine, live-tweeted the event and expressed his desire for Clinton to discuss the alt-right. After she did, Taylor spoke to The Huffington Post , telling the publication: "We have important things to say and are glad for any opportunity to speak to national audiences."
William Johnson, leader of the American Freedom Party — and, at one point, a Republican National Committee delegate for the Trump campaign — said of Clinton, "She is doing the white nationalism movement a great service by bringing attention to our issues to the forefront of political debate."
Taylor and Johnson weren't the only ones: major players from every corner of the alt-right movement were celebrating.
Andrew Anglin, founder of The Daily Stormer, a neo-Nazi website, wrote: "Well guys. We've made it."
"Hillary Clinton is giving a speech about us today," he continued.
Most concerning, the man who is viewed as coining the term "alternative right," Richard Spencer, said, in a tweet, that the alt-right was now "the right wing."
Spencer may not be wrong, considering this is the first time a major party candidate, Trump, has given a platform to such a fringe, toxic group through his new campaign CEO.
Photo: Democratic presidential nominee Hillary Clinton speaks at a rally at Truckee Meadows Community College in Reno, Nevada, August 25, 2016. REUTERS/Aaron P. Bernstein/File Photo