Americans In All 50 States Will Protest Trump's Attack On Families
@EricBoehlert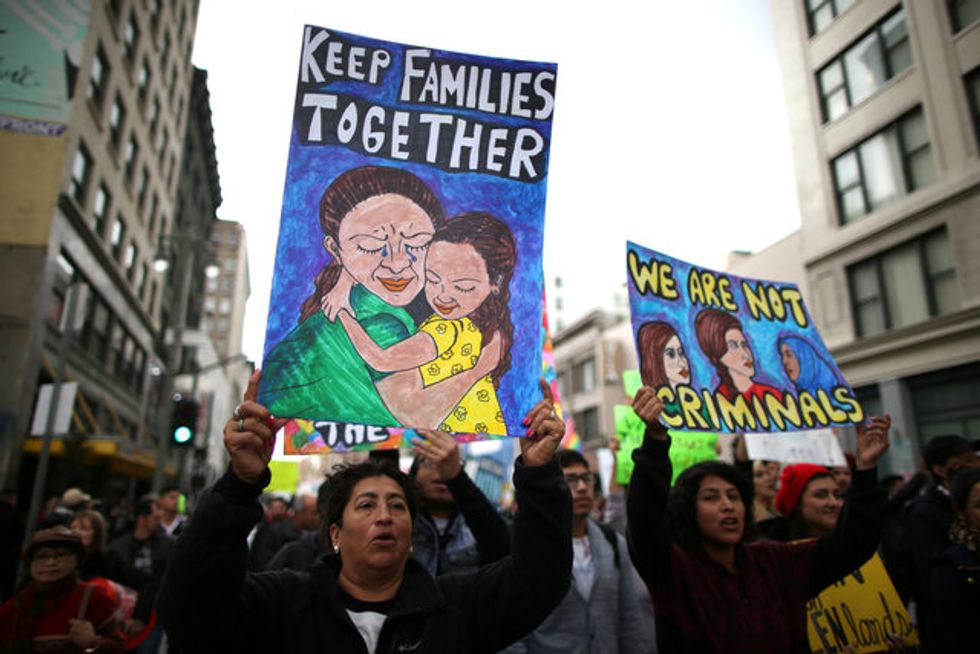 Reprinted with permission from Shareblue.
Three months after activists drew historic crowds at massive protests nationwide to fight gun violence, hundreds of thousands of protesters are set to take to the streets on Saturday in all 50 states to denounce Trump's push to rip families apart.
Taking place under the banner of Families Belong Together, the more than 700 events nationwide are being sponsored by an activist coalition that includes MoveOn, the American Civil Liberties Union, Leadership Conference on Civil Rights, the National Domestic Workers Alliance, and more than 100 other organizations.
Their demands: "End family internment camps. End the 'zero-humanity' policy that created this crisis. And reunify the children with their parents."
"If children in cages isn't something that gets American people out on the street and saying 'never again,' then I don't know what is," one San Francisco rally organizer told the Mercury News.
More than 100 separate protests are scheduled in California, with another 40 in Florida.
The sprawling, coast-to-coast demonstrations will come two days after hundreds of women allowed themselves to be arrested as an act of civil disobedience inside a Senate office building in Washington, D.C. The "Women Disobey" protesters demanded an end to Trump's policy of separating children and babies from their families at the border.
The ongoing humanitarian crisis was created by Trump and Attorney General Jeff Sessions, who implemented a "zero tolerance" policy earlier this year of prosecuting every person who illegally crosses the border in federal criminal court.
This drastic change from existing policy meant that all families making unauthorized border crossings, including those seeking legal asylum in the U.S., were separated, since children cannot be detained in federal prisons with their parents.
This week, U.S. District Judge Dana Sabraw demanded all detained children be reunited within 30 days, and those younger than five years old within two weeks.
"We are a country of laws, and of compassion," Sabraw wrote. "We have plainly stated our intent to treat refugees with an ordered process, and benevolence, by codifying principles of asylum."
Despite that ruling, there appears to be no government process in place to make family reunifications happen in 15 or 30 days.
Indeed, the border crisis shows no signs of abating.
Trump has turned to the Pentagon to spend nearly $1 billion on his long-term plans to create sprawling tent cities across the country to hold nearly 120,000 detained immigrants on military bases around the country.
The U.S. is also preparing to detain as many as 20,000 children in tent cities at U.S. military bases in Texas and Arkansas.
Both plans make clear that Trump has no intention of backing off his radical border agenda.
And that's why protests are more important than ever.
Published with permission of The American Independent.