And Then There Were Three: Democratic Candidates Hold Court In MSNBC Forum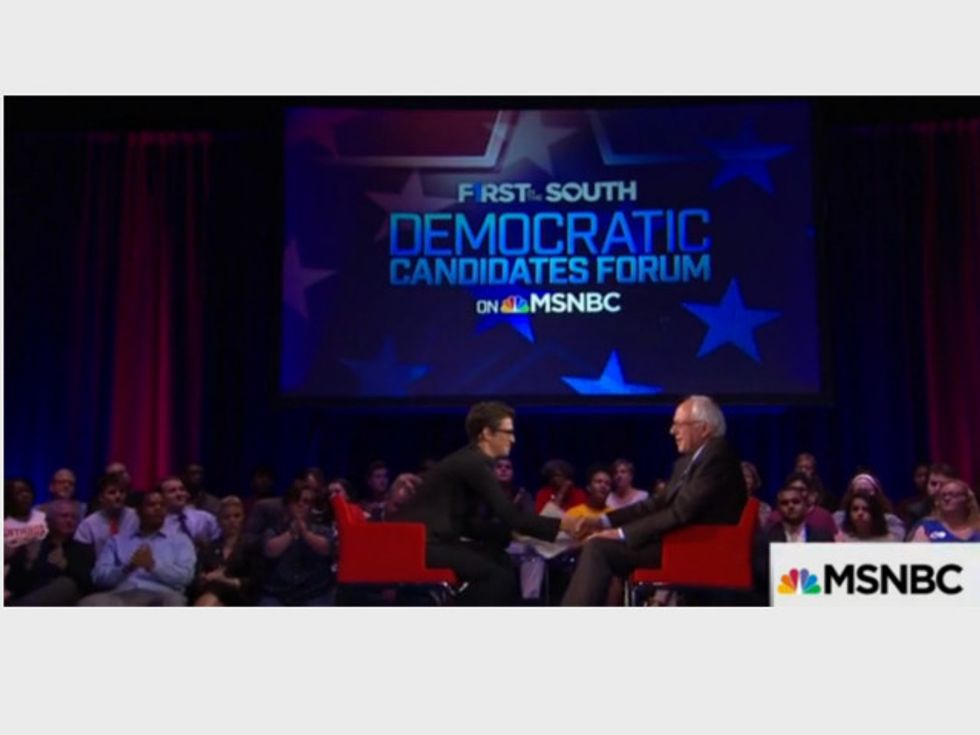 It may have been held in an echo chamber. (Aren't they always?)
But, despite the roaring enthusiasm coming from within the university auditorium, the Democratic presidential candidates forum Friday night cast a spotlight on the difficulty the party faced drumming up support just outside the room. To wit: the Democratic party's inability in recent decades to secure a foothold in the American South.
Each of the three Democratic candidates sat down with MSNBC host Rachel Maddow at Winthrop University in Rock Hill, South Carolina for an individual one-on-one Q&A session. And the questions arose more than once: Why was there no Southern Strategy for the Democrats? Why have the Democrats failed to argue effectively that their economic policies could actually work for Southerners?
Bernie Sanders, the independent U.S. senator from Vermont and the second candidate to speak, told Maddow that the party could not give up on states like South Carolina, Alabama, and Mississippi, and that he intended to speak to white working class people, and ask them why they continued to vote against their own best interests.
Candidates, he said, needed to bring white working class people back into the Democratic party, and convince them that their enemies are not gay people, not immigrants — but rather the billionaire class.
Martin O'Malley, now the only Democrat in the race polling in the single digits, repeatedly touted his 15 years of executive experience, as mayor of Baltimore and governor of Maryland, and his progressive triumphs: passing gun control legislation, marriage equality, and the Dream Act in the Old Line State.
He and Sanders both lambasted the decision to go to war in Iraq, and O'Malley emphasized that the country's failure to close Guantánamo Bay had served well as a major recruitment tool for Islamic State. "For us to maintain internment camps," O'Malley said, "is contrary to our principles as a people"
When Sanders was asked if he — a senator from a state that is 95-percent white — could connect with African-Americans in the South, he affirmed that the issues that affect the people of South Carolina and the South were the same that affect the people of Vermont.
And while he asserted that there was no candidate with a stronger record on civil rights, acknowledging his participation in the 1963 March on Washington, he pivoted, as he has before, from racial inequality to economic inequality, a move which has drawn criticism before, emphasizing the need to raise the minimum wage and expand social programs.
Despite the emphasis on progressive causes, the Black Lives Matter movement and the deaths of unarmed black men at the hands of police were scarcely mentioned, and not at all during conversations with O'Malley and Sanders.
On the issue of climate change, O'Malley argued that even though Democrats were "the party that actually believes in science," they had failed to connect the issue of climate change to the economic benefits of building a green energy infrastructure.
"I think we've made a big mistake as a party when we talk about climate change," he said. "We rush to connect the dots, but it all leads us in a straight line to hell. … [W]e need to connect climate change to the opportunity for more jobs."
"If we are not extremely aggressive transforming our energy system away from fossil fuels," Sanders said, the planet would likely become uninhabitable. Regarding the Keystone XL Pipeline, which the president rejected Friday, Sanders claimed that dismissing the proposal "was kind of a no-brainer" and that he had "said no to the Keystone on day one," contrasting himself with another politician whom he declined to name — but didn't have to.
Maddow mentioned the recent reports that Sanders had admitted he disagreed with Hillary Clinton on "virtually everything"  — to which the senator responded "'virtually' being the key word."
"Media drives me nuts," he said, emphasizing his exasperation with the drama the press tries to induce into politics. The senator said he couldn't walk down a hallway in Congress without people begging him to attack Hillary Clinton.
In contrast, when O'Malley and Clinton have tried to attack Bernie from the left, they have had an inviting window — what has been characterized as the senator's less-than-progressive views on guns — specifically his votes against the Brady Bill and his 2009 vote to allow passengers on Amtrak trains to carry firearms in checked baggage.
Sanders affirmed that he did want to do away with the so-called gun show loophole and also see a radical change how the county deals with mental illness. He further claimed that he was in support of background checks, and the regulation of "weapons solely designed to kill people."
But, he cautioned, "if we are going to make progress on this issue, as a nation, we're going to have to stop shouting at each other." The most strident anti-gun advocates, he said, would have to find middle ground with people who believed that owning a missile launcher was somehow a constitutional right.
He spoke of his intention to expand voter turnout and his contempt for Republicans who have passed legislation designed to limit the number of people who can vote.
Everyone over the age of 18 should be registered to vote automatically, he said. "End of discussion." In his political career, Sanders said, "it has never occurred to me to deny the vote to people who might vote against me." Those who do so are "political cowards," he said.
While Bernie Sanders, the self-proclaimed "democratic socialist," dutifully called for a "revolution," Hillary Clinton, the protean frontrunner, parried her questions with characteristic aplomb.
On the subject of capital punishment, Clinton said that terrorism and racially motivated crimes (like the mass shooting in Charleston, South Carolina) warranted a conversation about the use of the death penalty — but too many states (predominantly, but not exclusively, in the South, she said) had been too quick to send people to death row.
Maddow challenged Clinton on her recent remarks in defense of her decision to support the Defense of Marriage Act (DOMA). Clinton said that in 1996 DOMA was "a defensive action" to forestall a constitutional amendment that would have prohibited gay marriage outright, a claim which has been disputed.
Clinton said that conversations about such a constitutional amendment were occurring privately, but not publicly, and cited as evidence the Republican party's decision to push state constitutional amendments barring gay marriage on ballots in 2004, which negatively impacted John Kerry's presidential campaign.
The important thing, she said, was that even though DOMA was gone — struck down by a 2013 Supreme Court ruling — "discrimination… still exists."
"People can legally get married on Saturday and get fired on Monday," she said, and mentioned the "very successful" fear-mongering tactics that the far right had used to successfully kill an anti-discrimination ordinance in Houston this week.
Without the distraction of crosstalk chatter, or the grandstanding opening and closing statements that dog the debate format, bandying with Maddow within what undergraduates might call a "safe space," each of the Democratic candidates came across as a distilled, well-honed version of themselves:
O'Malley the vanilla John Edwards throwback, Sanders the curmudgeon idealist, and Clinton the consummate politician who, when asked if she was an extrovert or an introvert — about as black-and-white a question as you can get — gave a vintage Clinton response.
The former secretary of state demurred, and then responded slowly, carefully: "I am an extro-intro-vert."