GOP Rep. Ogles Admits He Was 'Mistaken' About His College Degree (VIDEO)
@next2godwin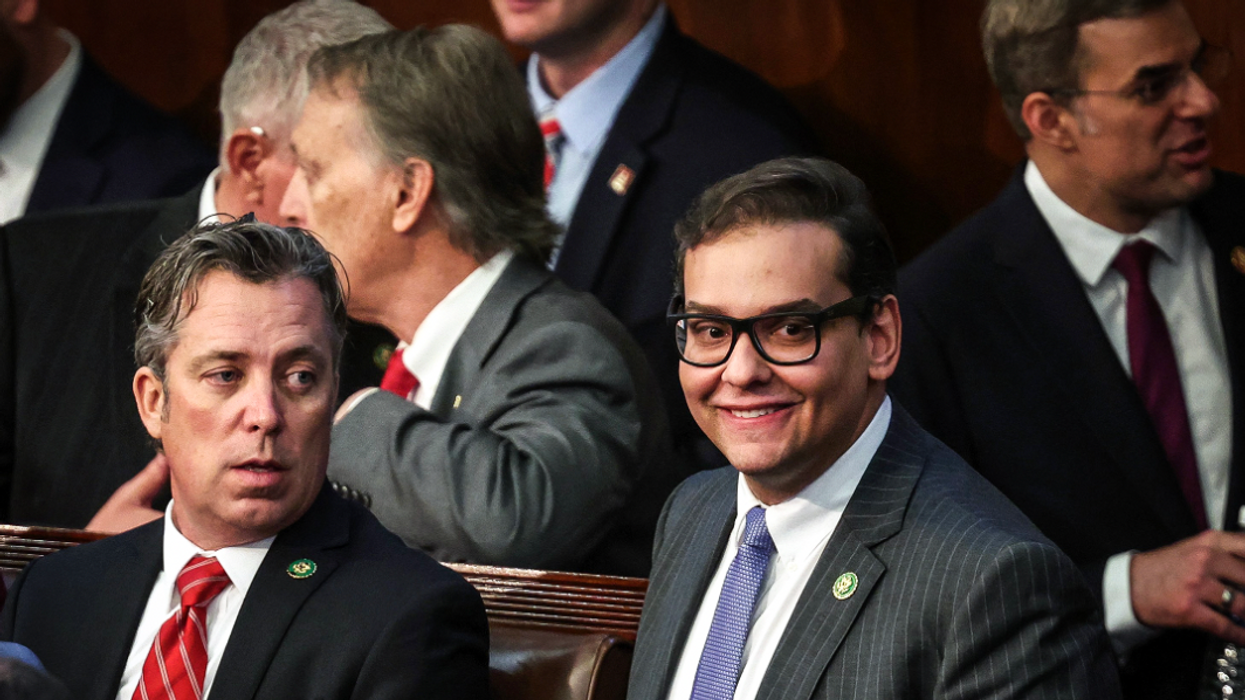 Rep. Andy Ogles (R-TN), charged in recent bombshell reports with embellishing his credentials, released a statement on the discrepancy between the educational background he touted on the campaign trail and what he actually studied: "When I pulled out my transcript to verify, I realized I was mistaken."
Ogles — a freshman and one of the holdouts in Rep. Kevin McCarthy (R-CA)'s speakership bid — faced backlash after a NewsChannel 5 investigation earlier this month questioned Ogle's claims of being an economist, a former law enforcement member, and even a human trafficking expert.
In an effort at damage control, Ogles told a Nashville radio station on Sunday that he "doesn't recall ever saying I had an economics degree" because "I've been quite clear that I studied political science and international relations."
However, even that was a lie. Ogles had actually pursued liberal studies, not political science and international relations as he had so often claimed, even since his election -- as NewsChannel 5's Phil Williams reported Monday, citing an MTSU transcript Ogles appended to a job application over a decade ago.
The transcript also revealed that the only formal training Ogles received in economics was a community college Principle of Economics course, in which he earned a "C." The Republican lawmaker also scored a "C" in American History and failed the nine political science courses he took during college, the transcript showed, per the New Republic.
\u201cHere is Tennessee GOP Rep. Andy Ogles college transcripts from MTSU. Ogles claims to be a world renowned Economist. Ogles only took one course in economics. He just barely passed the one course he took. Ogles is a liar about who and what he is .This is only the tip of the\u2026\u201d

— Marty Taylor (@Marty Taylor) 1677537050
Ogles preemptively issued a statement on Sunday night — hours before NewsChannel 5 released its exposé on his college transcript — claiming that it wasn't until he requested an official copy of his transcript that he realized he had been "mistaken" about his background.
"I previously stated that my degree from MTSU was in International Relations. When I pulled my transcript to verify, I realized I was mistaken. My degree is in Liberal Studies. I apologize for my misstatement," the statement read.
Ogles said he transferred to Middle Tennessee State University (MTSU) during his senior year to pursue a degree in political science and international relations.
"Due to an interfamilial matter, I dropped out of college and returned home to financially support my family during a difficult time. Though leaving school was a difficult decision, it was the right one. I would do the same thing again today, even though withdrawing left several incomplete grades that would ultimately be registered as failing," he wrote.
"After completing the online courses, I was awarded a Bachelor of Science, and MTSU mailed me my college degree a few months later. At the time, it was my understanding I had completed my course of study in Political Science and International Relations.
"Last week, I requested an official copy of my transcript and learned that I was actually awarded a broader degree in Liberal Studies with minors in Political Science and English," Ogles added.
\u201cICYMI: Businessman, economist, cop, international sex crimes expert? The stories of freshman Republican Congressman @AndyOgles from Tennessee 1/\u201d

— Phil Williams (@Phil Williams) 1676739610
And as for his claim of being a "trained economist," Ogles suggested to NewsChannel 5 in an interview that a "historical" link existed between political science and economics.

"It looked at political science from, you know, not only the historical perspective but the economic perspective," Ogles said. "So that was really my first taste into economics and understanding the dynamics that go into place of why certain countries are allies."
Randy Stamps, the former political director for the Tennessee Republican Party, blasted Ogles for exuding a "level of deception" fast becoming rampant in today's GOP.
"What it shows is the level of deception that he is willing to participate in in order to get elected to the United States Congress — and that's disturbing," Stamps told NewsChannel 5.
"If he is willing to run around and say, 'Hey, I'm an economist,' who knows what else he is going to tell you that is not true," Stamps added.