Santos 'Owned' On Twitter After Attacking Democratic Rival For Jaw Surgery
@MJBoddie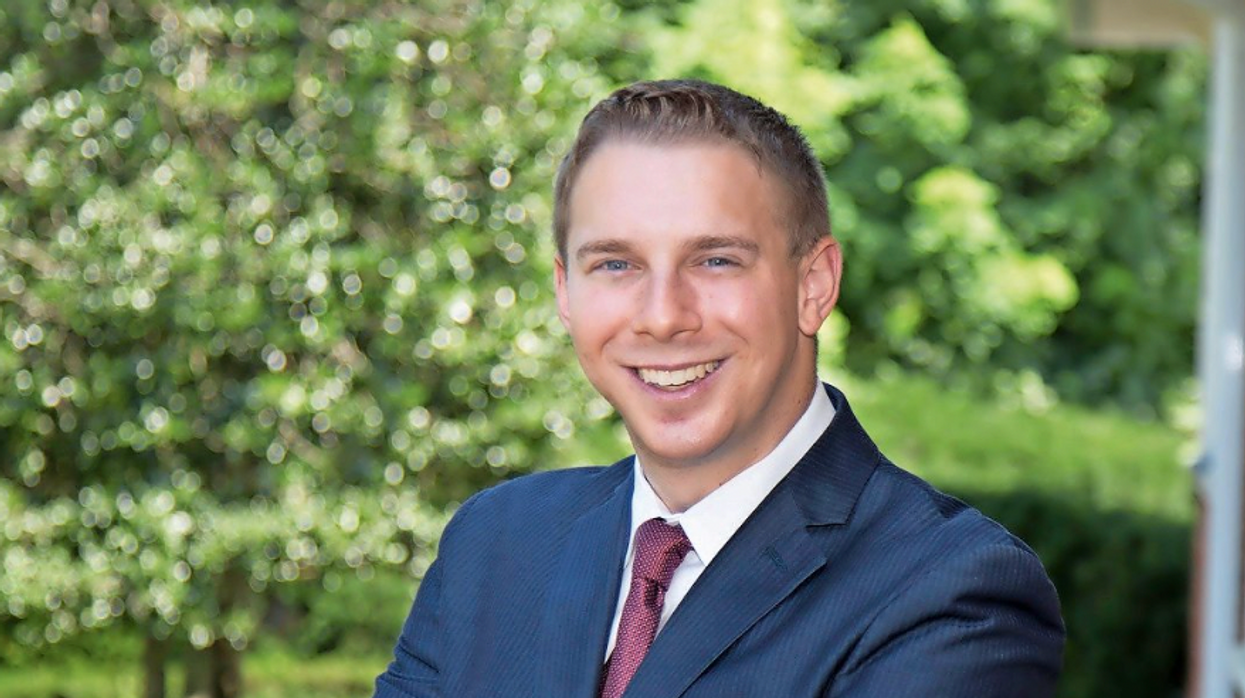 New York State Rep. Josh Lafazan, a Democrat, is not fond of United States Rep. George Santos (R-NY), and has no problem showing it.
Santos became known for fabricating his resume, and has since become the subject of several Federal Bureau of Investigation (FBI) and Department of Justice (DOJ) probes for telling even more lies.
In February, Lafazan, who is also a University of Pennsylvania doctoral student, protested outside the GOP congressman's Washington, D.C. office, demanding his resignation as well as the revocation of his security clearance.
On Saturday, the pair engaged in an intense Twitter exchange after the Democratic lawmaker wrote, "George Santos is going to launch his re-election campaign on Monday. He is a liar, a fraud, and a failure. New York's 3rd Congressional district deserves an honest Congressman willing to put our district first. Resign now @Santos4Congress, and end this national embarrassment."
Lafazan emphasized, "Unlike @Santos4Congress, I didn't have to lie to get elected. My credentials are clean, I'm actually Jewish, & unlike yours, my diploma from Harvard is real," adding, "Donate to my campaign to get this serial liar George Santos out of the house."
The lying lawmaker then mocked his potential future opponent, sharing a picture representative of the physical impact of Lafazan's corrective jaw surgery, writing, "Real like your chin?"
The Democratic state representative immediately clapped back, saying, "Corrective jaw surgery helped me breathe normally & saved my life. My insurance covered it, & it's why I'm fighting so hard for universal health care. You are beneath the office you hold. And I can't wait to replace you in Congress, in 2024 or sooner. Send postcards from jail."
After Lafazan's response, Santos turned his replies off.
Social media users sided with Lafazan, criticizing Santos for his callous comment and cowardice.
Tom Suozzi Stan: "Santos attacked you for getting life-saving surgery. He's among the lowest of scum, and you handled his disgusting attack with integrity. You should get a medal for all the stuff you have to put up with from your haters"
Harvey Birdlaw: Haha, he turned off replies. Owned.
@ms_synonym: "So, serial liar, George Santos, mocks someone who had corrective surgery, and cowardly disables comments. .@Santos4Congress you disgust me, and I can't wait until you're out."
@edabney62: "What a man you are. George— mocking someone's looks shows real leadership. How statesmanlike of you. /sarcasm You're an embarrassment to this nation. I'd reply to George, but he's not strong enough to see the replies. SMH."
@Janus917: I love how George Santos is so macho, he doesn't let his constituents respond. When he's jailed, his jaw will likely need some work. Karma never loses an address.
Concerned Citizens of NY-03: "George Santos attacked a fellow elected official for a previous medical condition. Lafazan handled it with grace. Santos is an embarrassment to the entire district. @Santos4Congress you should be ashamed of yourself."
Elle Belle: "Attacking someone for looks is a cheap cop out by people who lack intelligence and self control. Neither characteristic is what we need in our leaders."
Marty Glovin: "@Santos4Congress is a first class putz and MTG disciple. Kick his lying AR 15 pin wearing a** out of Congress."
Reprinted with permission from AlterNet.