GOP Leaders Protect Indicted Santos Despite Bipartisan Demands For Ouster (VIDEO)
@next2godwin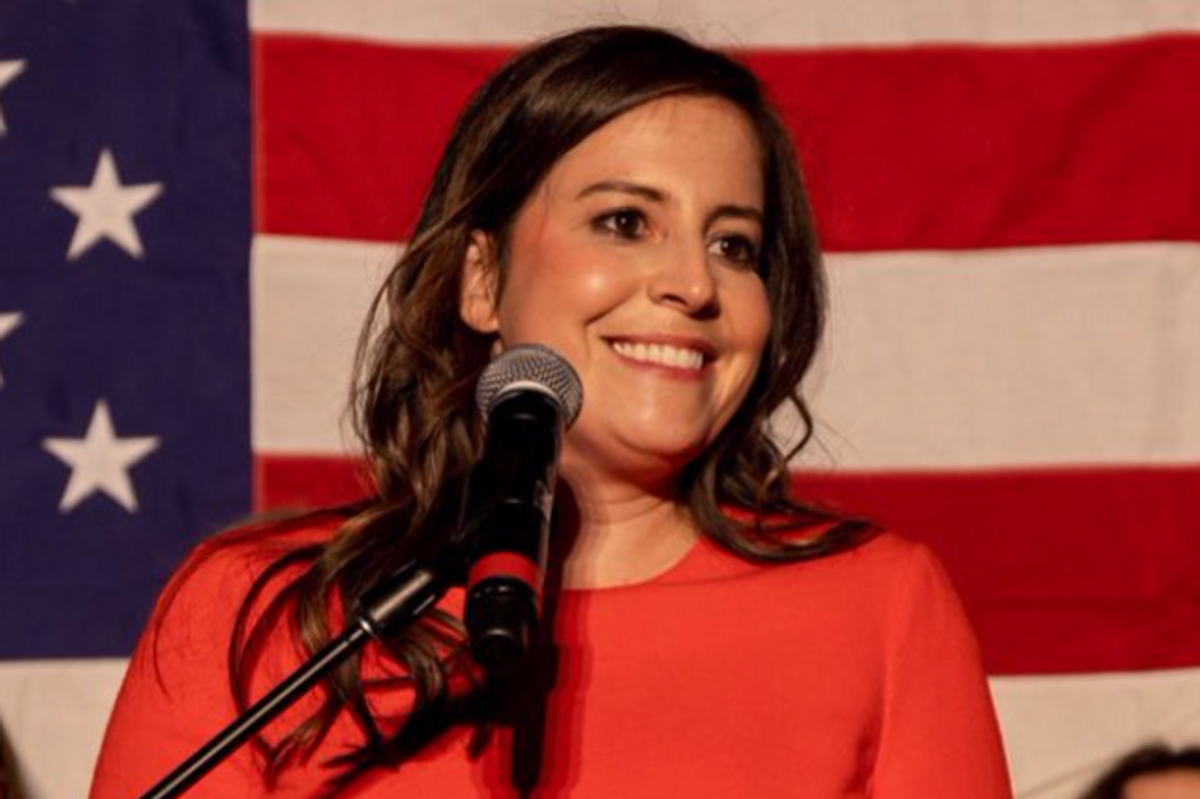 Screenshot from Rep. Elise Stefanik's verified Twitter
Rep. George Santos (R-NY) blasted the criminal charges against him as a "witch hunt" — and vowed to remain in office, despite bipartisan calls for his resignation — after his release from federal custody on a $500,000 bond Wednesday.
The embattled freshman, infamous for fabricating his life story, addressed a crowd of reporters outside federal court in Central Islip after his arraignment on 13 federal charges, including fraud, money laundering, theft of public funds, and lying to Congress.
In a rambling speech that elicited laughter and boos from the media present, Santos denounced the federal inquiry as harassment, insisted he wouldn't resign and pledged to run for reelection, and raised recent baseless far-right allegations against President Joe Biden and his family.
Overseeing a paper-thin 222 - 213 majority, House Republican leaders stood by Santos, declining to discuss a potential ouster despite the contrast between his charges and their purported aversion to corruption, as well as the growing calls from within their own ranks for Santos' resignation.
"I think in America, you're innocent 'til proven guilty," House Speaker Kevin McCarthy said Tuesday after multipleoutlets broke the news of Santos' indictment, according to HuffPost.
On Wednesday, McCarthy told CNN's Manu Raju that he wouldn't support Santos' reelection bid, saying, "I think he has other things to focus on in his life."
House Majority Leader Steve Scalise (R-LA), who previously slammed the Manhattan indictment of former President Trump, emphasized the importance of respecting the legal process when a reporter asked if Santos should resign.
"In America, there's a presumption of innocence, but they're serious charges. He's going to have to go through the legal process. … [T]hat court process is going to play itself out," Scalise said.
Rep. Elise Stefanik (R-NY), the chairwoman of the House Gop Conference — who heartily endorsed Santos in the 2022 midterms and stayed silent as revelations emerged that he had made up his resume — also waxed lyrical about trusting the process and suggested the GOP would do nothing more about Santos in the short term.
"As I've said, from the very beginning, on questions on this subject, this legal process is going to play itself out," she said.
However, several House Republicans, including Santos' fellow Long Island colleagues, broke with their leaders and demanded the freshman resign immediately.
"I think he needs to go right away, and I hope that he resigns," Rep. Nick LaLota (R-NY) told CNN. "He's a complete embarrassment. The nation's focusing on solutions that matter, not George Santos."
Rep. Nicole Malliotakis (R-NY) told Axios on Tuesday that "the sooner [Santos] leaves, the sooner we can win the seat with someone who isn't a liar."
Rep. Tony Gonzales (R-TX) called for Santos' immediate expulsion and "a special election initiated at the soonest possible date" in a tweet Wednesday.
Rep. Steve Womack (R-AR) on Wednesday said that Santos should resign, calling his indictment and subsequent arraignment "a distraction" and "a punch line for a lot of commentary regarding the Republican Party that we don't need."
House Democrats heightened their calls for Santos to resign, blasting him for co-sponsoring the House GOP's bill on covid unemployment fraud, which is now one of the federal charges he is facing.
"You can't make this up: House Republicans are beginning floor consideration *today* of a bill that would defund efforts to crack down on unemployment fraud. On the same day that one of their own members was hit with a criminal indictment for unemployment fraud," Rep. Don Beyer said in a tweet Wednesday afternoon.
Santos has largely ignored the new calls for his ouster. He's still grifting off his own disgrace. In a tweet after leaving the courthouse, the Republican pleaded with his followers for their financial "support to keep me fighting for freedom."