What Those Diligent Reporters Dug Up About Shapeshifting George Santos
@LucianKTruscott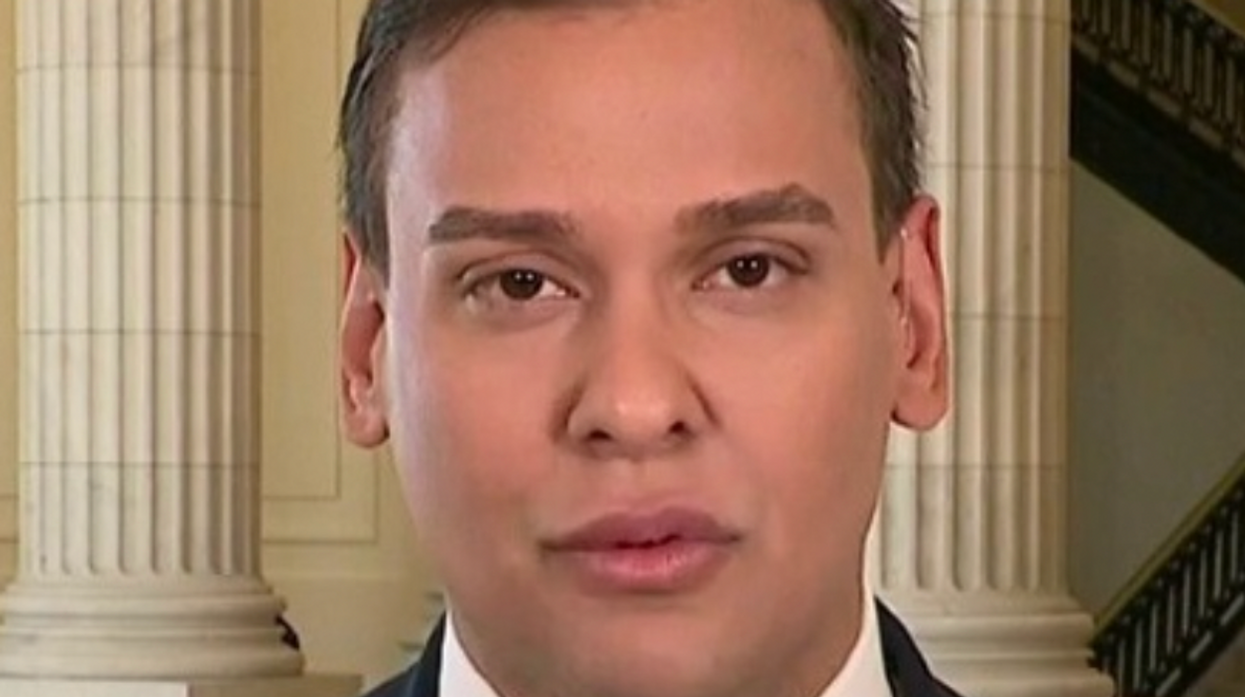 I have a lot of fun doing this, but I do have electric and cable bills to pay. (Sometimes, it even comes with Internet.) If you'd like to help out the column, you can become a paid subscriber to my Substack right here.
Looked at one way, representative-elect George Santos is a lying sack of shit who never opened his mouth that a fantastic fib didn't emerge unscathed by doubt or shame from his heretofore pristine vocal chords. Multiple news sources – the aforementioned reporters more patient than I – have spent the Christmas holidays unraveling the tangled web of tall tales that Santos uttered about himself as he ran, and won, his race for congress in western Long Island and parts of Queens.
We'll get to those in a moment, but I think I have another way of looking at this lie-spewing wunderkind: he is the most perfect manifestation of today's Republican Party yet.
His lies represent a certain kind of modern Republican genius. A nobody from nowhere without a single accomplishment that would qualify him even for a position as junior-assistant legislative aide to a state rep, Santos saw his political nullity as an asset: as no one at all, he could be all things to all people.
You want a good Christian boy who was happily married to the woman of his dreams? You got him. Santos was married for five years -- in fact, he stayed married until just 12 days before he announced his campaign for Congress. "I did marry young, and I married a young woman at the time, and we pretty much were in love. And then we weren't," he told the Daily Beast.
Think a gay Republican might do better than a boring divorced straight guy? Presto! Santos is your man! He told the Beast he is currently married to a man whom he "previously referenced as a fiancé in campaign materials," as the Beast reporters discovered. After assiduous digging through records of marriages in several locations, the Beast says it "could not find a record of that marriage."
In case he saw a need mid-campaign to switch back to straight because the whole gay Republican thing wasn't working, perhaps? Only Santos knows for sure, but it looks a lot like this guy covered every base he could find.
With a fairly large Jewish vote in his district, Santos also claimed to be not only Jewish, but the grandchild of grandparents who escaped the Holocaust by fleeing from Ukraine first to Belgium and then to Brazil. Reporters more patient than I at the Jewish publication The Forward, found genealogy records proving his grandparents were born in Brazil before World War II, making their escape from the Holocaust just a tad difficult.
Ever the shapeshifter, Santos has now told reporters more patient than yours truly at the New York Post that he is a practicing Catholic who only claimed during the campaign to be "Jew-ish." Got that? Jew-ish like Jesus, apparently, ticking off the "Jews for Jesus" box, just in case there are a few of them still around.
You see what I mean about trying to figure out this guy? Somebody had to dig out genealogy records to track down his claims about being descended from Holocaust survivors. Just between you and me, I wouldn't even know where to find genealogy records, much less how to interpret them, especially when they involve other countries – Brazil – and other languages – Portuguese.
Having covered all the bases he could identify with his sexuality and descendancy, Santos proceeded to the more mundane parts of his presumed resume. Degrees from NYU and Baruch, claimed Mr. All Things to All People. The New York Times took on that claim and found no one at either university had ever seen or heard of anyone called George Santos from Long Island, Florida, Brazil, or any other place Santos has claimed he once called home.
How about that old stand-by: what have you been doing for a living since you didn't graduate from the colleges who never heard of you, George? He had that one covered, too: Goldman Sachs and Citigroup – couple of nice, big well-known, prestigious-sounding places to have drawn a paycheck. Very patient reporters from the Times called both places: Let's see…how are you spelling that last name? S-a-n-t-o-s. Is that right? Lemme check…nope. Nobody by that name ever worked here.
Not to worry. Santos, who ran as a former employee of the two mega-banks, now says he didn't actually work there, but rather made deals with both places through his association with several companies he either worked for or started (and ended and re-started) himself. He was an employee of a Florida operation called Harbor City Capital…at least he was until that firm was accused by the SEC of being a ponzi-scheme that ripped some $17 million from unsuspecting investor pockets.
Shapeshifting yet again, Santos claims he then went to work for something called Linkbridge Investors, reporting on a financial disclosure form in 2020 that his pay was $55,000 a year. According to some incredibly patient reporters at The Hill, Santos listed no other income or liabilities on that financial statement.
Which is interesting, because just over a year later, Santos reported taking in a salary of $750,000 a year from yet another operation, a Florida company, the Devolder Organization, which he claimed was managing more than $80 million in assets. Whose assets? Huh? Of what kind? Double huh. But Santos in the aforementioned financial disclosure form reported having between $1 million and $5 million in a savings account – I know, I know, I have the same problem you do keeping track of those millions in my savings account at a bank – as well as having between $100,001 and $250,000 in a checking account – pesky things, those bank statements…I'll bet you have the same trouble I do understanding those complicated checking account balances.
All of that, and an apartment in – get this – Brazil worth between $500,001 and $1 million. Because, you know, while you're living with your parents on Long Island and associating yourself with ponzi-schemes in Miami and starting companies in Florida to handle more than $80 million in assets, and showing up for your no-show jobs at Citigroup and Goldman Sachs, jetting off to Brazil just kind of comes with the territory, especially when you can afford the private jets and Brazilian apartments on a corporate income of $43,688, as the Washington Post discovered the Devolder Organization made in 2022 when they patiently checked in with Dun & Bradstreet.
Are you beginning to see a trend here? The Devolder Organization that made so much money in 2021 and 2022 that Santos could loan his own campaign $700,000 this year…well, it was shut down less than a year after it was incorporated in Florida for failing to file a proper corporation report with the state.
But not to worry. Santos got on the phone today with the exceedingly patient Washington-based web magazine Semafor and explained the whole thing: Devolder, he said, was in the very complicated and quite opaque business of "capital introduction business, including deal building and specialty consulting for high net worth individuals."
Don't you just wish you could get a gig doing some "deal building" and "specialty consulting" that would bring in so much money – in less than a year – that you could loan your own campaign $700,000?
How did Devolder work, Semafor patiently asked. Our gay-straight-married-divorced-claimed-to-be-married-again-Christian-Jew-ish-practicing-Catholic shapeshifter was ready with an answer. As he told Semafor, one of his "high net-worth" clients "might want to sell a plane or a boat. I'm not going to go list it and broker it. What I will do is I will go look out there within my Rolodex and be like: 'Hey, are you looking for a plane?' 'Are you looking for a boat?' I just put that feeler out there."
Me too. I want a job where all you have to do is "put that feeler out there" to take down several mil a year. "If you're looking at a $20 million yacht, my referral fee there can be anywhere between $200,000 and $400,000," Santos told Semafor. Exactly how did doing "referrals" work? Well, Santos claimed he had "a network of wealthy investors, family offices, institutions and endowments that included about 15,000 people." Six months after starting up Devolder, the company he shut down a couple of months later, Santos claimed to have "landed a couple of million-dollar contracts," according to Semafor.
This from referral fees on single transactions that could bring in "between $200,000 and $500,000" because, you know, when you're working with "high net-worth individuals" that's how the beans are counted.
With $700,000 in what is clearly funny-money from funny-somewhere that is not George Santos and his funny-corporations like Devolder that exist for less than a year and yet yield "savings accounts" with $1 million to $5 million in them, as well as Brazilian apartments nobody can find worth between $500,000 and $1 million, it's beginning to look like Mr. gay-straight-married-divorced-married-again-Jew-ish-Catholic-lie-a-minute Santos just might find his feet getting a little hot pretty soon.
Let's see him shapeshift out of that.
Lucian K. Truscott IV, a graduate of West Point, has had a 50-year career as a journalist, novelist, and screenwriter. He has covered Watergate, the Stonewall riots, and wars in Lebanon, Iraq, and Afghanistan. He is also the author of five bestselling novels. You can subscribe to his daily columns at luciantruscott.substack.com and follow him on Twitter @LucianKTruscott and on Facebook at Lucian K. Truscott IV.
Please consider subscribing to Lucian Truscott Newsletter, from which this is reprinted with permission.