Santos Busted For Unemployment Fraud, So Republicans Aim To Cut Crackdown
@jeisrael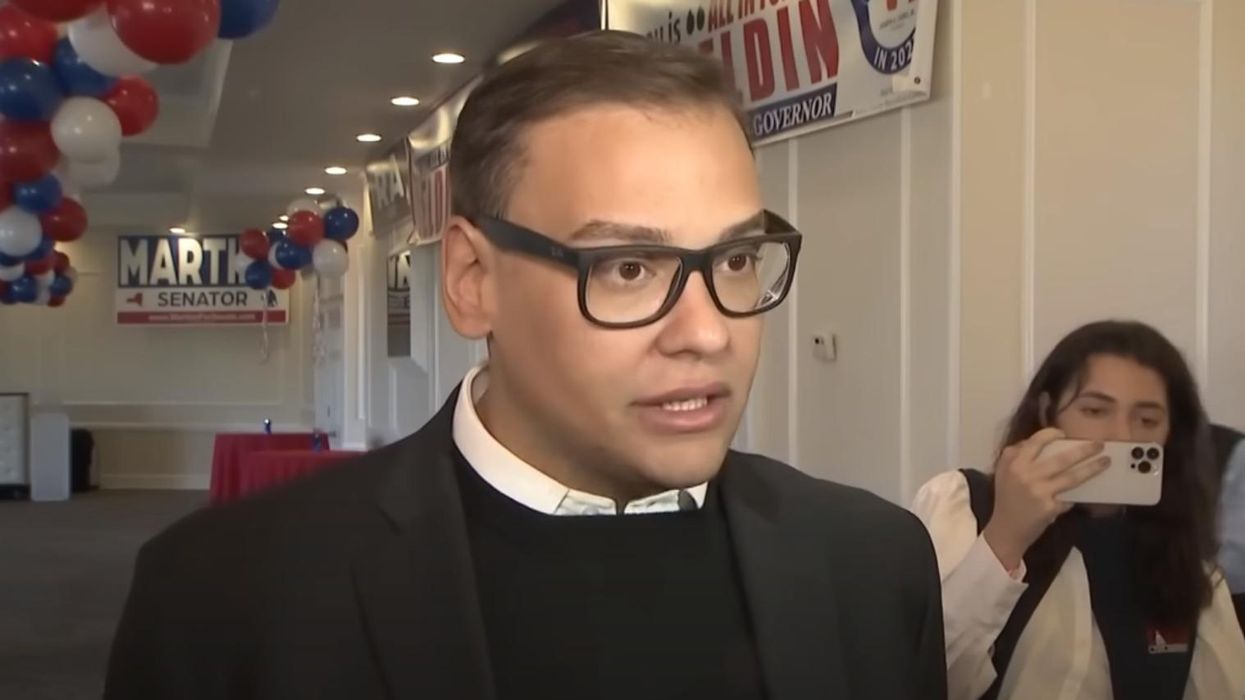 Rep. George Santos (R-NY) was arrested and charged with 13 federal crimes on Wednesday, including unemployment insurance fraud. On Thursday, the House of Representatives is set to vote on a bill he is co-sponsoring that would repeal $2 billion in federal funding to crack down on that kind of illegal activity.
Scott MacFarlane of CBS News tweeted that Santos had pleaded not guilty and was being released on a $500,000 bond.
According to the indictment, in June 2020 Santos repeatedly took funds intended for people who lost employment during the COVID-19 pandemic, even though he was not eligible:
On or about June 17, 2020, the defendant GEORGE ANTHONY DEVOLDER SANTOS applied to receive unemployment insurance benefits through the New York State Department of Labor ("NYS DOL"). In that application, DEVOLDER SANTOS falsely claimed to have been unemployed since the week of March 22, 2020. Beginning on or about June 19, 2020, and continuing through on or about April 15, 2021, DEVOLDER SANTOS certified his continuing eligibility for for unemployment benefits on a weekly basis, in each case falsely attesting inter alia, that he was unemployed, available to take on new work, and eligible for benefits.
He allegedly continued to receive regular payments for his work as a regional director at an investment firm, for which he was paid $120,000 annually, while also receiving about $25,000 in unemployment insurance payments.
A spokesperson for Santos did not immediately respond to an inquiry about the allegations.
The indictment comes the same week as the Republican-controlled House is scheduled to vote on H.R. 1163, the Protecting Taxpayers and Victims of Unemployment Fraud Act, of which Santos is a co-sponsor.
The bill's Republican backers say it would "recover potentially hundreds of billions of dollars in stolen unemployment benefit" by giving incentives to states to crack down on fraud and extending the statute of limitations for prosecutions.Democrats have noted, however, that the bill would actually repeal about $2 billion previously approved for the Department of Labor "to detect and prevent fraud, promote equitable access, and ensure the timely payment of benefits with respect to unemployment compensation programs."
In a March 28 statement opposing the bill, Rep. Richard Neal (D-MA), the ranking member of the House Ways and Means Committee, said:
This legislation slashes the fraud fund from the American Rescue Plan. It favors contractors who enabled fraud during the pandemic over the hard-working state workers who were actually on the frontlines of getting benefits out during the pandemic. The bill completely ignores the recommendations from the Republicans' own hearing witnesses earlier this month to modernize state unemployment systems. That's what this bill would do about fraud. Needless to say, more harm than good.
In a Tuesday blog post, the progressive nonprofit Center for Budget and Policy Priorities predicted the legislation was "more likely to hurt than help anti-fraud efforts" and noted:
In responding to the massive and unprecedented surge in UI claims in early 2020, while also attempting to implement new temporary programs to fill the huge gaps in the regular unemployment system, state UI agencies made payment errors when processing claims. Suggesting that states should undertake a decade-long effort to reclaim these amounts — rather than focus on preventing criminal rings from defrauding the system — would both unduly target individuals who did nothing wrong while also misdirecting public resources.
Democratic Rep. Don Beyer of Virginia pointed out the absurdity of the timing, tweeting: "You can't make this up: House Republicans are beginning floor consideration *today* of a bill that would defund efforts to crack down on unemployment fraud. On the same day that one of their own members was hit with a criminal indictment for unemployment fraud."
House Majority Leader Steve Scalise was asked on Wednesday if the indictment undermines the Republican message on unemployment benefit fraud and whether Santos should resign. After noting that his colleague is entitled to the presumption of innocence, the Louisiana Republican said: "We're gonna continue to root out fraud, and there's lots of it. We're talking about tens if not hundreds of billions of dollars in fraud in many federal programs."
Pressed again about whether the indictment undermines the party's message, Scalise did not answer the question.
Reprinted with permission from American Independent.