McCarthy Still Protecting Santos As Democrats Prepare Censure Resolution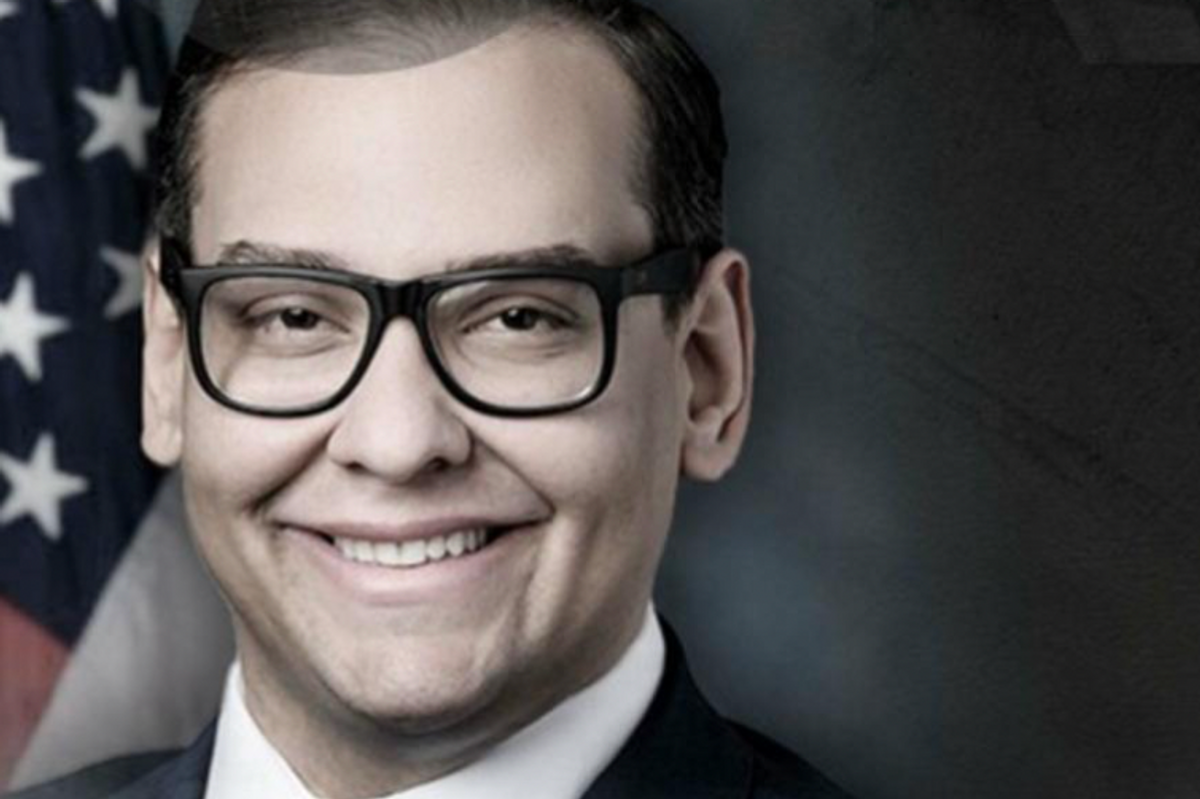 A group of Democratic House members announced on Monday that they plan to introduce a resolution to formally censure Rep. George Santos, the indicted New York Republican who has been caught in a wide array of lies about his upbringing, resume, and family and faces multiple charges of money laundering and fraud.
The censure resolution, the strictest punishment Congress can hand down aside from expulsion, is being led by Rep. Ritchie Torres (D-NY).
"For too long, House Republicans, under the leadership of Speaker [Kevin] McCarthy, have been shielding and protecting Rep. Santos from any shred of accountability," Torres said in the announcement.
Torres said he is filing the resolution because the House Ethics Committee has yet to release its report on Santos, after House Republicans referred an expulsion resolution against Santos to the the committee in May. Rep. Nick LaLota, one of the New York Republicans who wants Santos to resign, said at the time they expected the House Ethics Committee to issue a report a couple of months later.
"We expect a result within 60 days and for the terrible liar to be gone, by resignation or expulsion, before August recess," said LaLota, who has said he thinks Santos should resign but voted against expelling him from Congress.
The Ethics Committee has not issued a report.
"It has now been 60 days and Rep. Santos continues to defraud the people of his district and disgrace our institution. I invite all those who have condemned his repeated lies and deception or called on Rep. Santos to resign to join House Democrats in voting to support my resolution to formally censure him and to stop treating him as untouchable," Torres said.
McCarthy said in May that he hoped the Ethics Committee would move quickly. He said on Monday in response to the censure resolution that Democrats should allow the Ethics Committee to carry out its process.
"They have brought this up numerous times. This is their entire agenda," McCarthy told reporters on Monday, according to CBS News. "We don't get involved within the Ethics Committee. These are individuals who will do their job and get their work done and follow through on whatever they need to find."
Despite his criticism of efforts to censure and expel an indicted member of Congress, he blessed Republicans' censure of Democratic Rep. Adam Schiff for investigating former President Donald Trump.
McCarthy said Schiff deserved to be censured because, he claimed, Schiff had lied to the American public during Congress' investigation of Trump's ties to Russia about whether he knew the whistleblower whose alleged evidence led to the first Trump impeachment inquiry. The Washington Post Fact Checker did not find any evidence of a lie, but that hasn't stopped accusations from Republicans.
"Adam Schiff abused his position as Chair of Intel to lie and lead America through a national nightmare with the fake Russia collusion narrative," McCarthy tweeted ahead of Republicans' successful censure vote against Schiff. "As Speaker, I removed him from the Intel Committee, and now the full House will vote to censure him and open an ethics investigation."
Santos, however, has been caught lying.
The censure resolution Torres filed along with fellow Democratic New York Rep. Daniel Goldman and Democratic California Rep. Ted Lieu lists 11 of those lies, including that Santos "deliberately misrepresented that his grandparents survived the Holocaust"; "falsely claimed that his mother died during the terrorist attacks on September 11th, 2001 "; "deliberately misrepresented that 4 of his employees were killed in the Pulse nightclub shooting"; and "falsely claimed that he helped produce the Broadway musical 'Spider-Man: Turn Off The Dark.'".
Because Democrats are in the minority in the House, they do not control what legislation makes it to the floor. However, any member can force a vote on a censure resolution over the House majority's objections.
"Republican leadership and the six New York Republicans who profess to want George Santos out of Congress continue to embrace an admitted liar and an indicted fraudster in the halls of Congress," Goldman said in a news release announcing his co-sponsorship of the censure resolution.
Goldman continued: "Their refusal to hold George Santos accountable is an insult not only to this institution but to the people of NY-03. Speaker McCarthy said we would get a report from the Ethics Committee today — yet another false promise designed to protect Santos. I am proud to stand with my Democratic colleagues in doing what Republican leadership refuses to do – fight for George Santos' constituents and censure him for his repeated lies and deception."
Reprinted with permission from American Independent.