Anti-Abortion Group Continues Its Attack On Planned Parenthood With New Video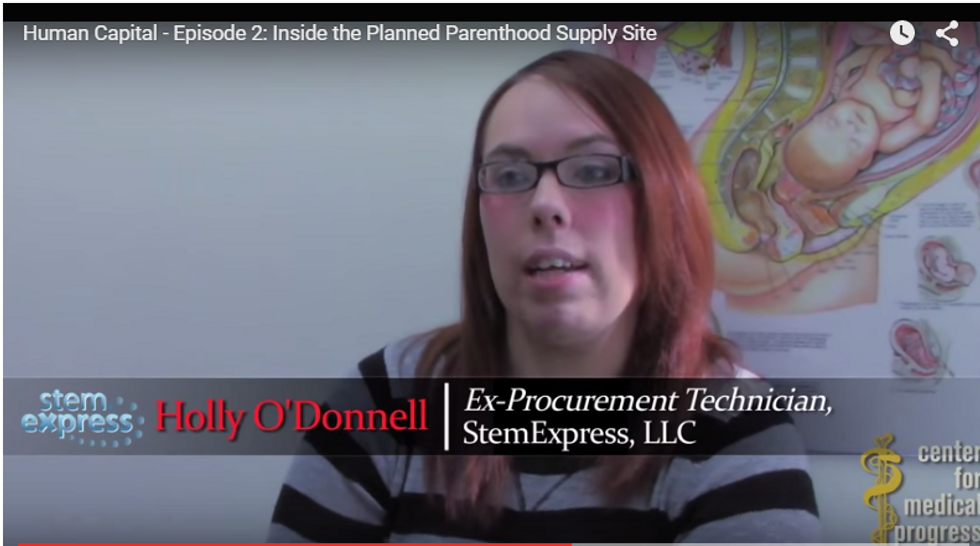 An anti-abortion group's campaign to discredit Planned Parenthood with deceptively edited and dubiously produced videos continues.
The latest release from the Center For Medical Progress (CMP) is the second in its "Human Capital" series, which focuses on a previous employee of a California-based company that provides blood and tissue samples to biomedical researchers.
Holly O'Donnell, a procurement technician at StemExpress, said that it was her job to procure fetal tissue from Planned Parenthood clinics in California — with the woman's consent or, she claims, without it.
O'Donnell, who clearly felt uncomfortable working at StemExpress, identifies as "pro-life," and the entire video revolves around her explaining the company's process of extracting fetal tissue from women. Unlike the other videos, this one does not feature graphic images of fetuses, and O'Donnell does not go into the specific medical points of the procedure.
According to O'Donnell, technicians at StemExpress were told to "look for opportunity to consent" from patients, whether they were there for an ultrasound, medical or late-term abortion, or even just a pregnancy test. Everything, she said, was considered an opportunity. Specimens, which she was tasked with obtaining, were known as a "product of conception."
O'Donnell alleges that certain employees took fetal tissue without the woman's consent, which would be illegal, and that StemExpress let employees not certified in drawing blood do so. She also alleges that some of the women weren't sure they were going to get an abortion, implying that these women were pressured to do so.
"The women I worked for were cold. Just cold. They didn't care. They just wanted their money. They didn't care that girls were throwing up in the trashcan, crying…" she said. "I'm not gonna tell a girl to kill her baby so I can get money. And that's what this company does. Straight up, that's what this company does."
Like all previous videos that the CMP has released, most of which feature heavily edited footage of Planned Parenthood executives being covertly filmed, ominous music underplays portions of the video where the filmmakers want to drive home the point.
StemExpress won a motion by Los Angeles Superior Court that prevented the Center for Medical Progress from releasing a video showing CMP operatives — under a front group — talking to senior executives of the company. So far, in both "Human Capital" videos, O'Donnell is the only person ever affiliated with StemExpress heard talking (although other employees from the company are shown in the background of the first video).
The videos targeting Planned Parenthood have triggered media attention and national outrage, the latter mostly from conservatives. Republican presidential candidates have consistently called for Planned Parenthood to be defunded, despite calls from the other side that very little (3 percent) of Planned Parenthood's operations have anything to do with abortions. It was a central issue in last Thursday's Republican debates. Pro-choicers argue that calls to defund Planned Parenthood are less about abortion and more about stripping women – often those with little means – of their rights to be in control of their bodies.
Sen. Elizabeth Warren of Massachusetts took to the Senate floor last week to chastise her colleagues as they prepared to vote on whether to continue to fund Planned Parenthood. She vociferously detailed all the ways in which Republicans — both federally and at the state level — have tried to cut, repeal, and derail anything remotely having to do with women's health care.
"The Republican scheme to defund Planned Parenthood is not some sort of surprise response to a highly edited video," she said. "Nope. The Republican vote to defund Planned Parenthood is just one more piece of a deliberate, methodical, orchestrated right-wing attack on women's rights and I'm sick and tired of it. Women everywhere are sick and tired of it."
The attacks on Planned Parenthood by the Center for Medical Progress have been long in the making. For over two and a half years, anti-abortion activists posed an undercover operatives, even going so far as to create a fake biomedical group, to weasel their way into conferences with members of the reproductive rights community. The Hill reported that the CMP, who had been mentored by another anti-abortion group, met with certain anti-abortion lawmakers in advance of the videos' release to "prepare" them for the coverage and to get their talking points ready.
To the Republicans' chagrin, Democrats in the Senate have blocked the motions to strip Planned Parenthood of its funding, a chunk of which comes from the federal government in the form of Medicaid (although none of that funding goes toward abortions).
However, with up to a dozen more videos promised – that's the strategy for continued publicity – it's safe to say that the issue won't go away.
Image: Holly O'Donnell, an ex-procurement technician at StemExpress, speaks at length in the Center for Medical Progress' video on how fetal tissue samples — "products of conception" — were procured. She alleges that some women whose tissue was taken from procedures had not signed consent forms, which would be illegal. The video pans over a consent form that patients would sign. Center for Medical Progress/YouTube