Anti-Vaxxers Coming Out Of The Woodwork On The Right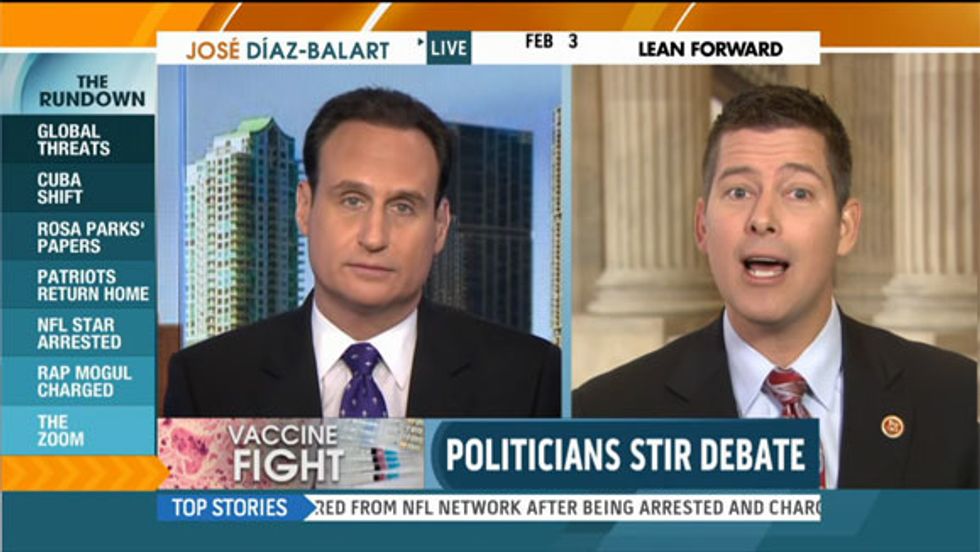 There's been an outbreak on the right wing — of paranoia against big government making you get those insidious vaccinations against terrible diseases.
To be clear, anti-vaccination hysteria is a problem on the fringes of both the left and the right. (Possibly more so on the left, at least among regular civilians.) But in the case of the conservative extremes, they now have actual public officials and prominent commentators voicing the discredited idea that vaccines are dangerous — creating a new headache for more responsible GOP leaders to deal with.
It all started this week with some strange comments by New Jersey governor Chris Christie about finding a "balance" between governmental and parental choice. But pretty soon, Christie and his office tried to backpedal.
The poster child at this point is now Senator Rand Paul (R-KY), who after some earlier comments dug in even further in a particularly disastrous appearance on CNBC: "I have heard of many tragic cases of walking, talking normal children who wound up with profound mental disorders after vaccines."
Paul later released a statement, hoping to clear this up: "I did not say vaccines caused disorders, just that they were temporally related — I did not allege causation." However, it has since been discovered by the right-wing Washington Free Beacon that in 2009 Paul appeared on fringe talk-radio host Alex Jones' show, denounced mandatory vaccinations as the first step towards "martial law," and said vaccines themselves were dangerous.
And now Paul has posted this photo of himself getting a booster shot on Tuesday — practically daring the liberal media to try and twist it around.
Congressman Sean Duffy (R-WI) has also gotten in on the action. During an appearance on MSNBC, he said that vaccinating kids should be up to parents instead of "an oppressive state telling us what to do." He even went out of his way to defend anti-vaccination parents as smart and well-read people — in contrast to less informed people who are vaccinating — as opposed to simply being "a bunch of crackpots."
In a segment on his Fox News show, Sean Hannity probably summed up the conspiratorial ideas quite nicely: "I'm not trusting President Obama to tell me whether to vaccinate my kids, by the way."