As Supreme Court Ruling Looms, Churches Divided Over Gay Marriage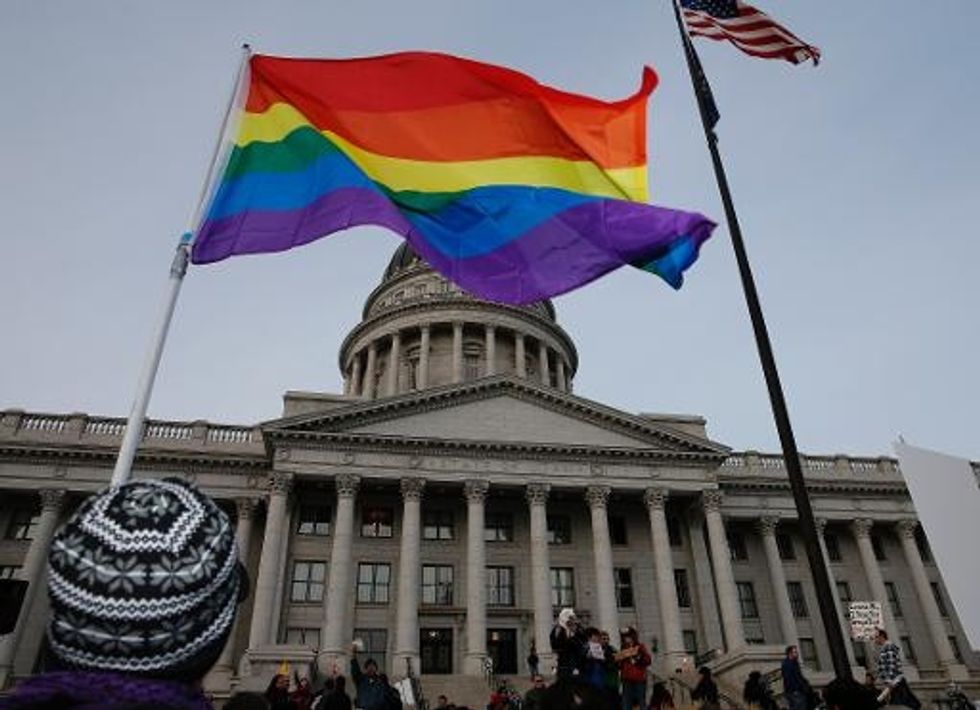 By Shelia M. Poole, The Atlanta Journal-Constitution (TNS)
ATLANTA — The Rev. Kenneth L. Samuel invites same-sex couples to marry at Victory for the World Church in Stone Mountain, but so far no one has asked for a ceremony on church property.
He hopes that will change if the U.S. Supreme Court, in a ruling later this month, decides that gay couples have a constitutional right to marriage.
At the other end of the pew, so to speak, is the Rev. Bryant Wright, senior pastor of Johnson Ferry Baptist Church. Wright says he won't allow two men or two women to wed at the Marietta church, no matter what the court decides.
"God's word is about marriage being between one man and one woman," Wright said. "That is starting with the first marriage in Genesis 2 with Adam and Eve."
The two pastors find themselves with differing views on the issues of same-sex marriage and homosexuality, which have divided churches and denominations for years.
Eight years ago, for instance, Samuel lost more than 60 percent of his church's membership when he took steps to make Victory for the World more welcoming and affirming for the LGBT community. Few returned.
"This is still a very controversial issue, especially in black church circles," said Samuel, whose church now has about 2,000 members. "In most black churches, being gay is still denounced. If you're going to be an open and affirming church in the black community, it's a minority stance. The majority of churches and pastors believe that being gay is not in the will of God."
It seems churches have not been as split over an issue since divisions over the civil rights movement, the role of women in the church, and abortion.
"The faith community is very divided" with regard to same-sex marriage, said Ed Stetzer, executive director of LifeWay Research, an evangelical research firm. "Mainline progressives are very much on one side and evangelicals tend to be on the other." This, even as polls suggest there is a cultural shift in how some Americans view the issue.
For instance, millennials tend to be less bothered by gay marriage, which is legal in 36 states and the District of Columbia. A recent Pew Research Center poll found that support for legalizing gay marriage is at its highest point in nearly two decades.
"The more you go to church, the less you have shifted on the LGBT issue," he said. And while some church hierarchies, for instance the Roman Catholic Church, have not swayed in their thinking, "for the rank and file, it's a difference scenario. Many Catholics, particularly those who attend church less regularly, have shifted."
Among White evangelical Protestants, while 27 percent favor allowing same-sex couples to wed, an overwhelming 70 percent oppose it, according to the Pew study.
By contrast, according to Pew, a slight majority of Catholics (56 percent) and white mainline Protestants (62 percent) support same-sex marriage.
In 2012, the Right Rev. Robert C. Wright, bishop of the Episcopal Diocese of Atlanta, wrote a letter to clergy allowing them to perform blessings of same-sex couples.
The letter states that a priest is not obligated to perform a blessing and, in fact, may decline to preside at one without fear of penalty.
If a couple's desire to have their union blessed at the parish is "vehemently opposed," the bishop must be consulted. Wright himself blessed the marriage of two women last September at Church of the Epiphany in Atlanta, with Rector Benno Pattison. The couple married earlier in New Mexico.
That's not likely to happen with the Rev. Garland Hunt, senior pastor of The Father's House in Norcross. He has led services in which members pray for each Supreme Court justice by name, asking that "the Lord will touch their hearts and (make them) sensitive to the biblical foundation for the institution of marriage."
The issue took center stage last week during the Southern Baptist Convention annual meeting in Columbus, Ohio.
Russell Moore, an ordained minister and president of the SBC's Ethics & Religious Liberty Commission, said in a statement that regardless of how the court rules, "Southern Baptists will remain steadfast. As Christians, we believe that the state did not create the family, and cannot recreate it, so we appeal to the Supreme Court to recognize and to stay within the limits of its authority."
(c)2015 The Atlanta Journal-Constitution (Atlanta, Ga.) Distributed by Tribune Content Agency, LLC.
AFP Photo/George Frey