Bank Of America Earnings Rise On Better Credit Quality
@AFP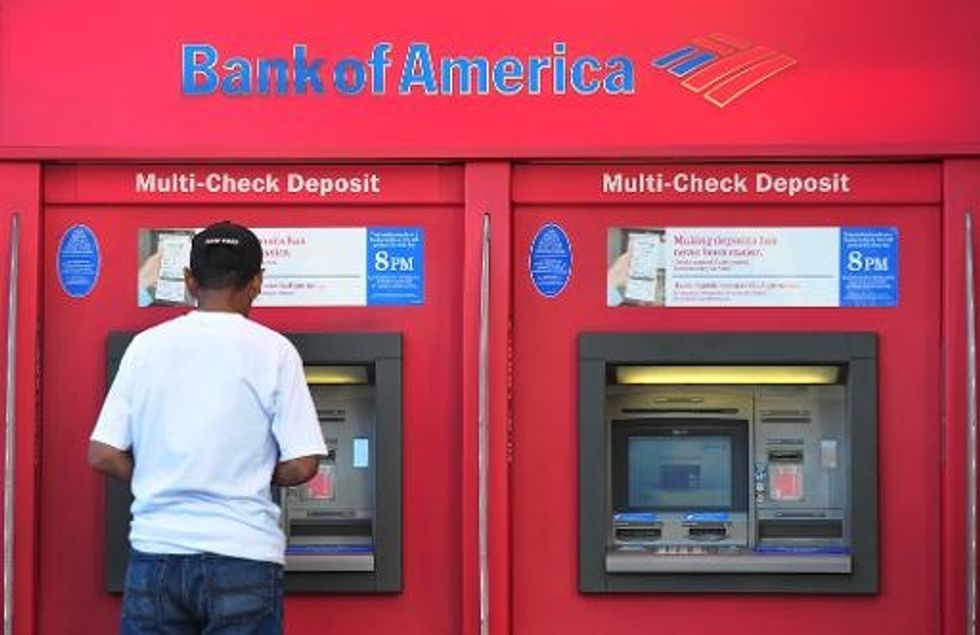 New York (AFP) – Bank of America Wednesday reported an eightfold increase in quarterly earnings on improving credit quality as it positions for a strengthening U.S. economy.
The U.S. banking giant reported fourth-quarter earnings of $3.2 billion on revenues of $21.5 billion, compared with earnings of $367 million on revenues of $18.7 billion in the year-ago period.
Those results translated into per-share income of 29 cents, above the 26 cents projected by analysts.
Chief financial officer Bruce Thompson characterized 2013 as a year of progress after the company suffered badly in the 2008 financial crisis due to its heavy exposure to the housing bust.
"The foundation is there for us to grow and move the company forward," Thompson said in a conference call with reporters.
Bank of America slashed its long-term debt in 2013, significantly reduced operating expenses and made progress on resolving lawsuits in the aftermath of the financial crisis.
However, like many of its peers, Bank of America still is not completely out of the woods on litigation related to the housing bust. It spent $2.3 billion on litigation in the fourth quarter, up from $916 million in the year-ago quarter.
"We feel like we made great progress cleaning some stuff up and we still have additional work as we go into 2014," Thompson said.
Results were boosted by much lower provisions for credit losses than in the 2012 period. Bank of America booked just $336 million in provisions for credit losses compared with $2.2 billion in the 2012 quarter.
Thompson said consumers are paying off a much higher percentage of their credit card balances than in the past. Consumers are using the cards "more as a means to transact and do business as opposed to carry balances," he said.
"We continue to see a trend across the board where our consumers are managing their affairs on a more conservative basis."
In the consumer real estate segment, Bank of America reported a quarterly loss of $1.1 billion compared with a loss of $3.7 billion a year earlier. The 2012 fourth quarter was hit by a large settlements with the Federal National Mortgage Association, or Fannie Mae.
Earnings in consumer and business banking rose to $2.0 billion thanks to better credit quality and higher average deposit balances. Earnings in this category were $1.4 billion a year ago.
Bank of America also pointed to higher commercial loan balances and record global banking revenue.
Bank of America reported full-year earnings of $10.1 billion compared with $2.8 billion in 2012.
Shares were up 2.9 percent in pre-market trade.
AFP Photo/Frederic J. Brown