Bannon: Biden's 'Deep State' May Be Planning To Assassinate Trump
@next2godwin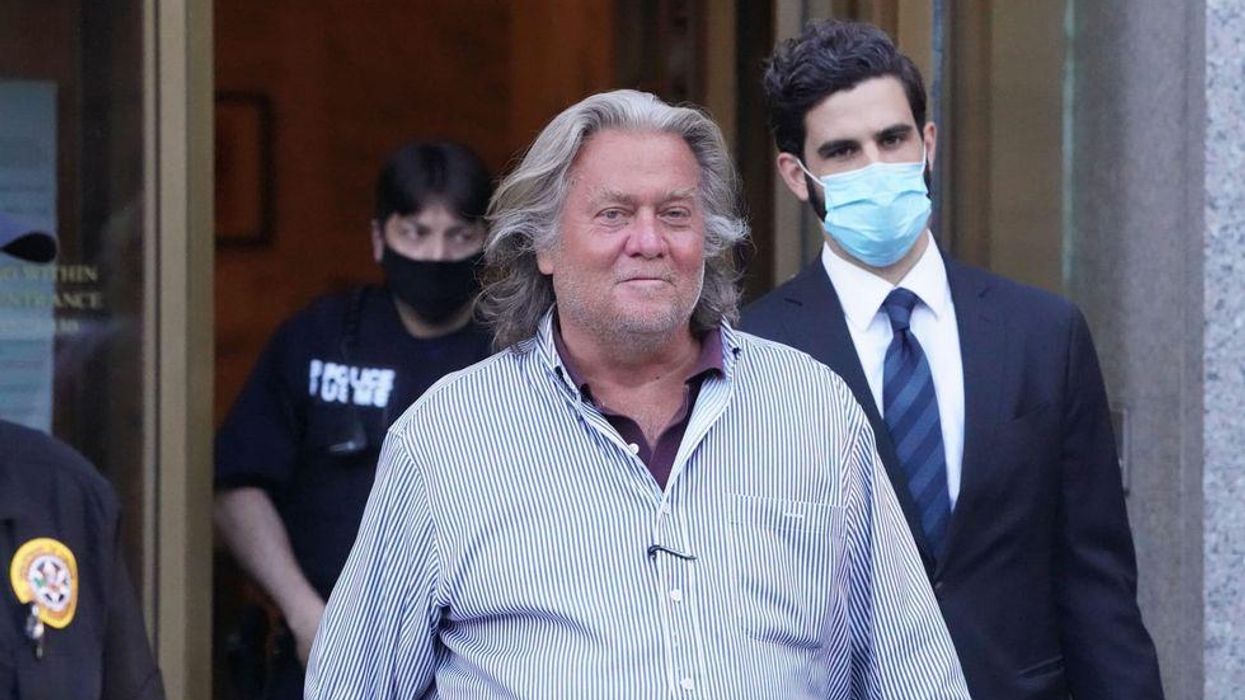 BRYAN R. SMITH/AFP/Getty Images North America/TNS
As Republicans cash in on right-wing outrage over the FBI raid on former President Donald Trump's winter home Mar-a-Lago — pelting Trump supporters with fundraising emails and pleas for donations — Trump ally Steve Bannon is taking things a step further, leveling bogus accusations against the FBI and invoking the "deep state."
Bannon, a former Trump White House strategist indicted and then pardoned by Trump, appeared on a recent version of Infowars with conspiracy theorist Alex Jones, and performed a bogus rant. He accused the FBI of planting evidence against Trump at Mar-a-Lago and claimed that the Biden government had plans to assassinate the ex-president.
"I do not think it's beyond this administrative state and their deep state apparatus to actually try to work on the assassination of President Trump. I think – I think everything's on the table," Bannon told Jones in the interview.
The "deep state" is a prominent term in the QAnon lexicon used to describe a fictitious group of actors in the highest levels of government independently running the United States in secret.
"I think security ought to be at the highest it's ever been. And honestly, I think he ought to – and I think he should – have flown down [to] Mar-a-Lago this morning, walked out there at noon today, and said, 'hey, I'm running for president, United States. Suck on that,'" Bannon added.
Bannon, who was arrested on federal charges of conspiracy to commit wire fraud and money laundering but later pardoned by Trump, was convicted of contempt of Congress for defying a congressional subpoena and faces up to two years in prison.
Bannon also denounced the FBI raid as a "desecration" on "one of the great buildings in this country" that has seen "many iconic moments."
"We need...you [Donald Trump] need to get to Mar-a-Lago, the exact place that they desecrated, because it was a desecration. They did it on purpose. They understand how Mar-a-Lago resonates with not just MAGA, but to the American people," Bannon said on the show.
\u201cAfter a long time coming, Steve Bannon appears with Alex Jones on Infowars\n\nBannon suggests the "deep state" is working on assassinating Trump and claims the FBI planted materials at Mar-a-Lago\u201d

— Justin Horowitz (@Justin Horowitz) 1660065966
Referring to the notable figures that Trump hosted at Mar-a-Lago, Bannon continued his tirade, saying, "So many important things happened there – to go and desecrate it the way they did, particularly over this administrative issue at the National Archives... clearly they're, as you know, Alex, on a fishing expedition or on a planting expedition, I wouldn't put it past [them] to have planted stuff ... this is criminal."

Then, the former strategist labeled the FBI — led by Christopher Wray, a Trump appointee — and the DOJ "lawless criminal organizations."
Trump, his allies, and almost all senior Republicans have expressed outrage at the raid, which, according to multiple reports, concerns classified documents Trump kept at Mar-a-Lago from his tenure in the White House.
"MAR-A-LAGO was RAIDED," Trump messaged his supporters on Tuesday morning. "The Radical Left is corrupt. Return the power to the people! Will you fight with me? Donate."
The feigned outrage followed a familiar script: anger at the raid, claims of political persecution, QAnon-style accusations against the Biden administration -- and an invitation to send money.