Before Seeing Any Charges Or Evidence, Senate Republicans Vow To Acquit Trump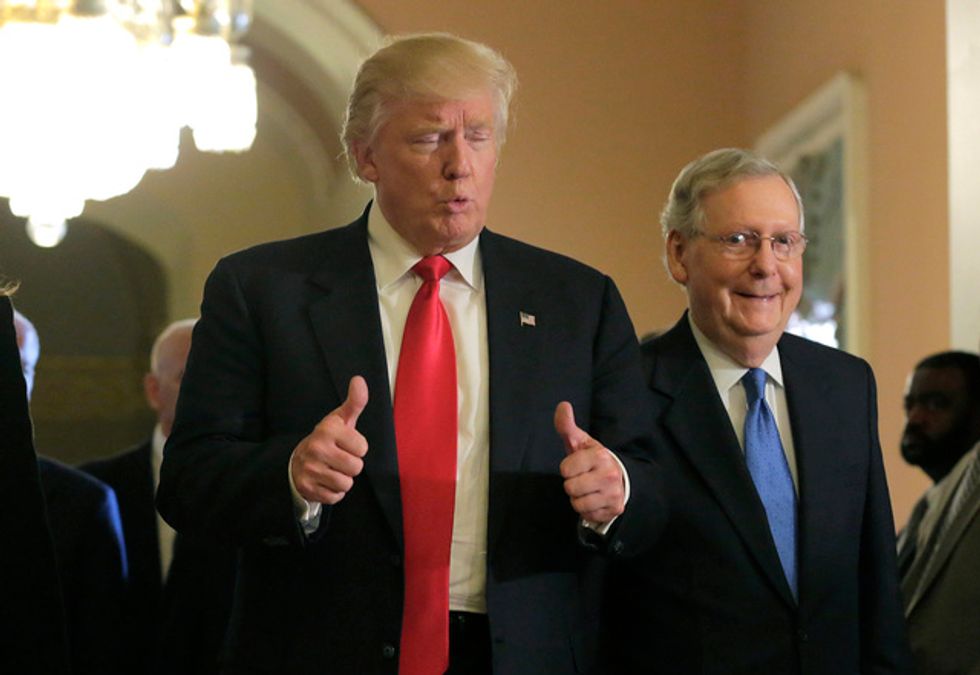 Senate Republicans have vowed that Trump will face no punishment if the House draws up articles of impeachment — no matter what the evidence shows,
The House has yet to begin impeachment proceedings, but if it were to file articles of impeachment, the Senate would then have to hold a trial to determine whether Trump is guilty of the charges and decide whether to remove him from office.
According to a report from The Hill newspaper published Monday, Senate Majority Leader Mitch McConnell — who runs the Senate with a 53-47 Republican majority in the chamber — would hold a sham trial that would acquit Trump of the charges, no matter what the charges are or how strong the evidence against Trump is.
McConnell and Senate Republicans "have the power to set the rules and ensure the briefest of trials," and they are already set on the plan of dismissing impeachment proceedings, the Hill wrote.
Senate Majority Whip John Cornyn vowed that "nothing" would come of the House filing articles of impeachment.
"It would be defeated," Cornyn promised, according to the Hill.
"I think it would be disposed of very quickly," Senate Judiciary Committee Chairman Lindsey Graham (R-SC) told the Hill.
However, there is a mountain of evidence already from special counsel Robert Mueller's report that shows Trump attempted to obstruct justice multiple times throughout his presidency by trying to squash Mueller's inquiry.
Two presidents have already been impeached for similar obstruction charges, including former President Bill Clinton, who was impeached for lying about an affair. In fact, Graham himself voted to impeach Clinton.
Yet now, Graham and his other Republican Trump sycophants on Capitol Hill are abandoning any past principles they may have possessed to protect Trump.
"We have to perform our constitutional duty, but if people think that we're going to try and create a theater that could give you the perception that this is a matter that rises to the level of Watergate, that's nonsense," Sen. Thom Tillis (R-NC) — who has capitulated to Trump at every turn — told the Hill.
Short-sighted Republicans, who have done everything in their power to excuse Trump's bad behavior, simply don't care about the frightening precedent they're setting.
All they want is to appease the GOP base in a desperate attempt to hold onto power. It's a dereliction of duty.
Published with permission of The American Independent.